BWW Review: SPAMALOT, King's Theatre, Edinburgh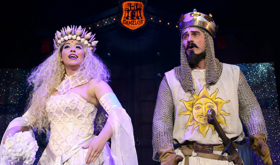 A musical comedy adapted from the 1975 film Monty Python and the Holy Grail, Spamalot premiered on Broadway in 2005 to great acclaim with a cast including Tim Curry and David Hyde Pierce, and received a Tony Award for Best Musical. A West End premiere followed quickly in 2006, and this new production of Spamalot is its third UK tour.
As with each of these previous outings, this incarnation of Spamalot is very, very funny. Whether it be slapstick moments or clever wordplay, it's hard to think of a musical containing such a high quota of comedy which hits the mark. It's true that a knowledge of the film it's based on would help in order to fully appreciate some scenes, but it's hard to imagine even those who are not fans of the Python canon leaving the theatre unimpressed.
This UK tour is visiting smaller venues than previously, and the first ten minutes do look rather cheap - the lack of Finland scenery and the very small fisch schlapping cast being testament to this. Slowly but surely, however, the production plays knowingly on this issue to good effect. The relocating of the 'grails' from stage to auditorium, for example, actually makes "Find Your Grail" more entertaining than in either the Broadway or West End productions - special mention to the usherettes for their non-credited assistance with this.
For those familiar with Spamalot, it's also a revelation to have a King Arthur with a proper singing voice, and that's certainly what Bob Harms offers here, whilst not sacrificing the comedy. Indeed, the cast is consistently strong, although at times one does wish for just a little more subtlety at times from Sarah Harlington as Lady of the Lake - as, for example, Lauren Kennedy demonstrated in the Broadway production. There's no denying that both "The Song That Goes Like This" and "The Diva's Lament" need full theatrics, but some of the character's other scenes could benefit from more underplayed emotions.
It's also good to see that "You Won't Succeed in Showbiz" (which replaced "You Won't Succeed on Broadway" when the show crossed the Atlantic) has had its lyrics updated again, and there's a surprise in store for seasoned Spamalot fans towards the end, when this time the use of the Holy Hand Grenade of Antioch does NOT reveal the code 'done' or 'gone'! The loudest cheer, meanwhile, is reserved for Jonathan Tweedie's rendition of the disco number "His Name Is Lancelot".
What this tour of Spamalot lacks in lavishness is made up for by its charm, intimacy and ingenuity, and as always it's a hugely entertaining couple of hours, with a catchy score too.
Spamalot continues on UK Tour
Gregor is a Principal Teacher at a large secondary school in Edinburgh. He has loved musical theatre since the age of eight, and enjoys seeing (read more...)