BWW Review: ROMANTICS ANONYMOUS, Sam Wanamaker Playhouse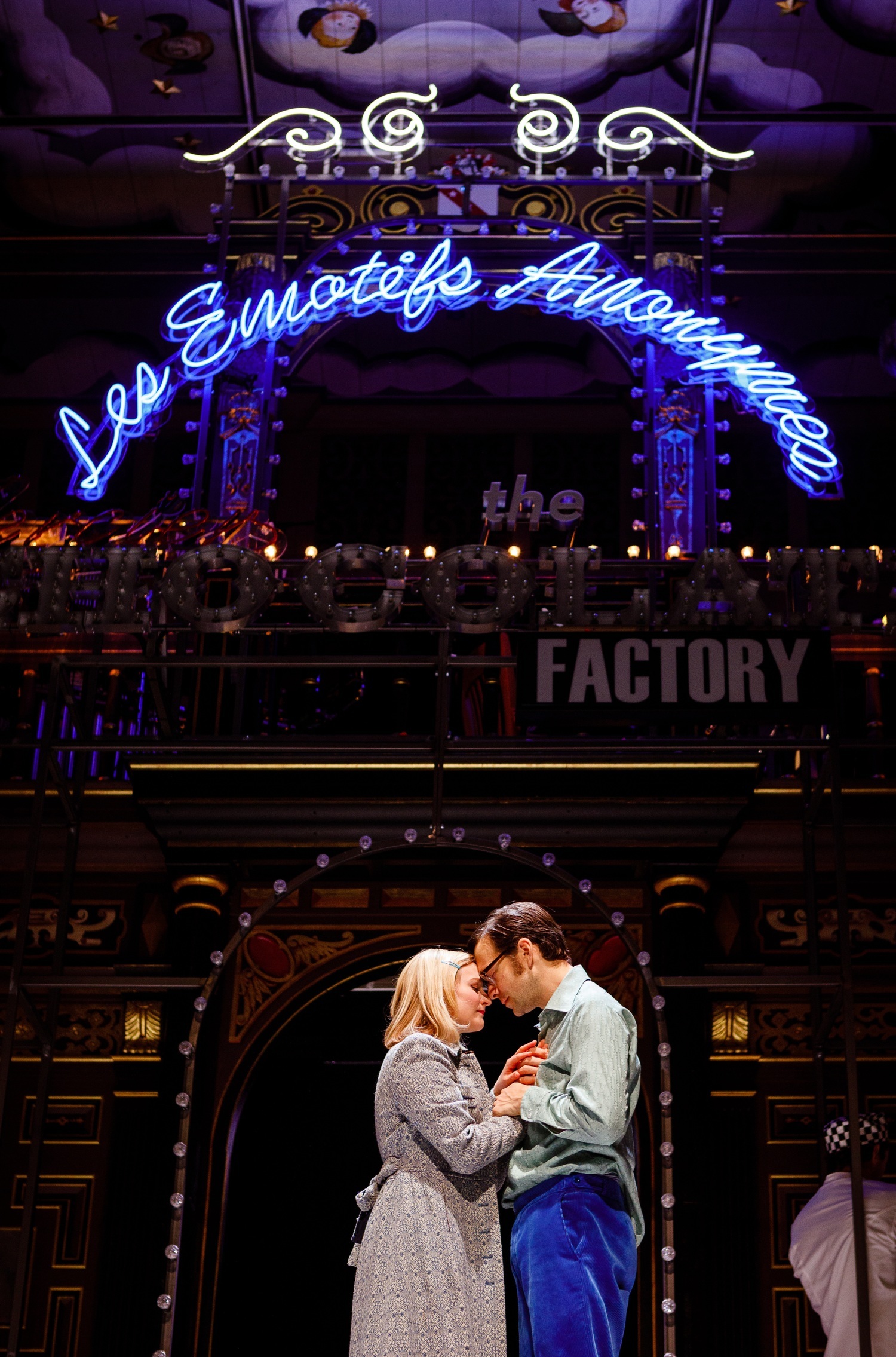 What do you get if you take a French film, a liberal portion of chocolate and a sprinkling of Emma Rice magic? The opening winter season production, Romantics Anonymous! This brand new musical, based on Les Émotifs Anonymes, plays for a limited time across the festive season and is Rice's final new work at Shakespeare's Globe.
Angélique is a gifted chocolate maker, but cannot cope when the spotlight is on her - so she chooses to work discreetly for Mercier, until he unexpectedly dies. Jean-René inherited The Chocolate Factory from his father, but is cripplingly shy and cannot find a way of turning his failing business around. The pair meet by chance, when Angélique blindly goes to interview for a job at the factory, but soon realise they could be the perfect fit for one another. Can they overcome their social anxieties and inherent awkwardness to find love and save the business?
This musical has been in the works for a few years, with Michael Kooman and Christopher Dimond providing beautiful music and lyrics, and this shows in the polished perfection of the end product. Slickly directed, it's an ideal fit for the intimate Sam Wanamaker Playhouse auditorium. The intimacy also lends itself to the subject matter, as we see two very personal struggles from a couple who have no idea how to express themselves. It's a theme that will undoubtedly chime with many in the audience, too.
The chandeliers have been dispensed with for this particular production, however the lit-up signs that form the main focus of Lez Brotherston's set and some more stellar lighting design from Malcolm Rippeth make this absence all worthwhile. Etta Murfitt once again has created a feast for the eyes with her choreography, contained effortlessly in the smaller space. Standout moments include a unique car chase, and the the nods to classic films - with references to Fred and Ginger in the lyrics, how could you not?
You couldn't ask for a more committed and enthusiastic company, complete with some familiar faces from the summer season. The ensemble are kept incredibly busy throughout; when they're not factory workers, they're members of Les Émotifs Anonymes, pre-show distributors of "magic chocolate"... You name it, they play it!
Gareth Snook deserves a mention for consistently making the audience howl with laughter - whether it's his over-the-top Madame Marini (complete with a fetching red hairpiece), an inaudible support group member, or irritable waiter, Snook knows exactly how to play the crowd. Lauren Samuels voices Jean-René's self-help tapes to hilarious perfection, and Marc Antolin displays a knack for making an entrance.
Carly Bawden and Dominic Marsh could not be better suited for the starring roles. They have an obvious chemistry from the very start, their voices melt together like chocolate - and they are both very, very funny. Their characters' displays of awkwardness are extremely endearing, and there's never a moment that you aren't willing them to get together.
Akin to Angélique's chocolate creations, this is a good old-fashioned musical with just enough of a contemporary twist. The feel-good factor is through the roof; you really will leave the theatre "dancing on air" and beaming from ear to ear. Emma Rice is leaving the Globe on a real high note.
Romantics Anonymous is at the Sam Wanamaker Playhouse until 6 January 2018
Picture credit: Steve Tanner