BWW Review: RED, Wyndham's Theatre

It's easy to imagine that a play that explores the meaning of art could become bogged down in artistic pretension. However, John Logan's Red escapes this as the physicality of the art itself gives it action to bolster its theoretical talk.
Alfred Molina reprises his role as the artist Mark Rothko and Alfred Enoch gives a wonderful performance as his assistant, Ken. Once again under Michael Grandage's direction, the show manages to build many humorous moments despite its serious subject matter.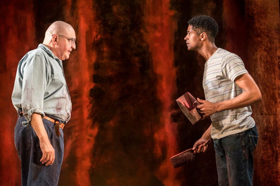 Red covers a two-year period in the late 1950s in which Rothko was painting murals meant to hang in the Four Seasons restaurant in New York City. However, the play is less a biography of a great artist and more a piece about two conflicting theories about art that use Rothko's life as a base.
The show mixes lighter and darker moments together seemingly effortlessly. Some are chilling, such as when Rothko makes a comment that seems to foreshadow his eventual suicide in 1970.
Logan's beautiful language paints pictures in your mind, just as you are faced with huge canvases inspired by Rothko's actual work on the stage. For example, the scene in which Ken recounts the death of his parents is somehow incredibly vivid despite its simplicity, certainly owing partly to Enoch's touching performance. The show is only 90 minutes long, with no interval, but it feels even shorter.
This is the first time the show has been performed in the West End since its premiere at the Donmar Warehouse in 2009, which was also directed by Grandage and starring Molina. Since then, it's had numerous productions in the United States and been seen in 30 countries. It won six Tony Awards, including one for Best Direction, and Molina got a nomination for Best Actor.
Molina's performance as Rothko is simply stunning. In one scene, he can transform from a gruff has-been, more content to drink and smoke as he looks at his own work than actually paint, to a terrifying, passionate artist defending his views. In some ways, it seems that by casting Rothko as an overly intellectual artist, who criticises Ken on his first day for his lack of knowledge about the philosophy he deems necessary for any artist, the play itself escapes feeling pretentious.
What's best about Molina's performance, however, are his moments of vulnerability in which he develops hidden layers of the character. It's in the way he reverently touches his canvases and worries about sending his art out into the world where others can harm it. He builds a Rothko who, for all his disdainful attitudes towards the people who see his art, fears people not understanding it.
Impressively, Enoch matches Molina's presence with a beautiful character arc of his own. Best known for his roles in the Harry Potter films and TV series How to Get Away With Murder, has a bit more of a trajectory with Ken, who enters as an idealistic and eager assistant and gradually builds up the courage to challenge Rothko over the course of the show.
In early scenes, Enoch's earnestness and passion for the art world provide a stark contrast to Molina's cynicism as the assistant hired to help stretch canvases, fetch coffee, and mix paints. However, that eagerness fades to a greater understanding of the art industry and Rothko himself, leading to a confrontation in which Ken says many of the things the audience is surely thinking. Enoch brilliantly shows this transition, without ever losing the audience's sympathy.
The physicality of the piece is beautiful and hides the fact that it has very little concrete action. Seeing Enoch and Molina stretch canvases, nail together frames and mix paints reminds the audience of the manual nature of the work of an artist. (In the beginning, Rothko tells Ken that he needs to be dressed to really work.) The canvases they are working with are huge; they need to be lifted by two men.
One of the scenes that will undoubtedly stay with me is when both men prime a canvas as quickly as possible. The energy in the scene felt electric as the music swelled and both Molina and Enoch were splattered in bloody paint. The way they move the canvases on and off the rack has a dance-like element to it.
The piece deals with questions about the purpose of art and how we discuss it. The section in which both men fire off explanations of what the titular colour means builds a tension that stays through the rest of the piece.
One of the topics seems very relevant to the theatre industry itself lately: whether art must be ground-breaking, painful, and universally relevant or if popular, enjoyable, pleasant art is equally valid. It also addresses the age-old question about the intersection of art and commercialism, and at what point an artist is selling out and losing his integrity.
The show's original design team has returned for this revival, with Christopher Oram designing beautiful sets. He has re-created Rothko's studio in New York that has a crumbling, stuffy feeling to it, as if to show how far removed the artist is from the real world.
It is dominated by - you guessed it - that colour again, as many canvases line the walls. Composer and sound designer Adam Cork has also weaved music throughout the piece, helping to build tension and creating conflict over Rothko's dislike of Ken's jazz.
Neil Austin's lighting design is equally wonderful, especially as the lighting changes the way in which the audience sees the paintings themselves. Lighting is a frequent topic of conversation in the play as Rothko is very particular about the level of light that his paints and made and shown in, forcing the audience to pay more attention to the lighting of the play itself.
On the surface, Red is about a power struggle between a young and old artist and their clash of ideologies. But at the heart of it, it questions the relationships between art and the people who make and consume it. Molina and Enoch's performances, under Grandage's brilliant direction, make it a must-see for anyone who cares about art in any form.
Read our interview with Alfred Molina and Alfred Enoch here
Red is at Wyndham's Theatre until 28 July
Photo Credit: Johan Persson