BWW Review: MARNIE, London Coliseum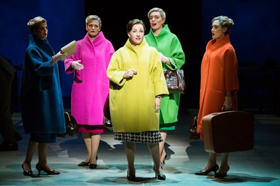 After a season that saw some triumphant returns of classic operas, such as the magnificent revival Jonathan Miller's The Barber of Seville, the ENO has taken another gamble on bringing a brand new production to the stage of the London Coliseum. Following Two Boys in 2011, Marnie is the young composer Nico Muhly's second world premiere for ENO.
Many people will be familiar with the story from Alfred Hitchcock's 1964 psychological thriller of the same name, based on Winston Graham's 1961 novel. Set in England in the 1950s, the plot follows Marnie, a young woman with a history of repeated embezzlement from her employers. When she is exposed by her current boss Mark Rutland, she is blackmailed into a fraught and loveless marriage. As life becomes more challenging, Marnie must confront traumatic events from her past to be able to see her future.
The production has every indication it could become a modern classic; a story of loveless marriage, blackmail, murder and dark secrets with music written by the youngest composer ever commissioned by the Met. Unfortunately, despite the hype, there are few moments where the singers or the orchestra can really shine and the whole production fails to draw you in.
There are some inconsistencies in the story itself that are hard to overlook. At the end of Act 1, Mark attempts to rape Marnie, who in turn attempts suicide. Oddly, the suicide attempt is not mentioned again, even though the rape is. The difficult relationship that Marnie has with her mother is not fully explored, nor is Marnie's own sexual repression and yet some scenes, such as the hunt scene, feel overly long and drawn out.
One of the other issues with this production is Nicholas Wright's libretto. There is little grace or elegance to the words, with mundane conversation and observations pushing the narrative forward. The scene where the hunt gathers is particularly difficult, with chorus repetitions of lines such as 'Cheerful voices.' and 'Nice and bright.'
Muhly's music itself has some inventive moments, with suspenseful and creative use of the flute section in particular. However, there are points where the music feels repetitive and the reliance on creating and maintaining suspense and intrigue is a little exhausting.
Grammy Award-winning mezzo Sasha Cooke sings the title role; she has crystal clarity to her voice, which is especially rich in the lower register. She can also act, which is not always a given. Cooke brings a tricky mixture of repression and emotional distress to the role of a damaged woman who is effectively a liar, a thief and a flawed heroine.
Daniel Okulitch's bass-baritone is less impressive as Mark, but there is an interesting dynamic between the couple as they play out their troubled marriage with their own troubled characters.
Countertenor James Laing is excellent as Mark's brother Terry, with very expressive technique, showcasing an unsettling character, who could do with more development.
Tony Award-winning director Michael Mayer makes his UK opera debut, with some interesting ideas, such as using four additional 'Marnies' to demonstrate her conflicting emotions. The excellent chorus is used extensively and moves fluidly around the stage.
ENO Music Director Martyn Brabbins conducts, often bringing out the best of the orchestra. That said, there needs to be more restraint at points, where the orchestra overwhelms the performers and drowns out the words of those on stage.
On the plus side, the production looks superb, with Julian Crouch's design using sparse furniture and a reliance on interesting animated projections on screens and columns that move smoothly around the stage as the scenes change. The hunt scene is a tricky one for any production to pull off and doesn't quite work here, with the slow motion movement of a horse's legs running shown as a huge projection behind Marnie distracted by the writhing movement of some of the dancers behind her.
Arianne Phillips' costume design is simply beautiful, with great attention to period detail. Marnie stands out consistently with kitten heels, cocoon coats with bracelet sleeves and elegant chignons. She and the other 'Marnies' are dressed in bright jewelled colours, in stark contrast to the dull and drab colours of the chorus. The result is elegant and very effective.
This is a production that is beautiful to look at, but disappointingly, it lacks the necessary engagement and thrill to make it a classic.
Marnie is at the London Coliseum until 3 December
Photo Credit: Richard Hubert-Smith