Review: JOHN, National Theatre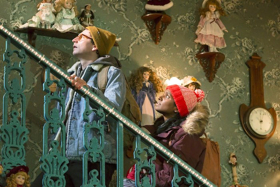 Pulitzer-winning American playwright Annie Baker returns to the National - where The Flick was a quiet triumph in 2016 - with another work that is epic in form (three hours and change), but similarly spellbinding in its ability to draw an audience close. Though Baker flirts with horror tropes here, it's not in service of big spooks or jump scares; instead, the smallest of interactions and realisations are writ large.
Jenny and Elias have come to a B&B in Gettysburg, Pennsylvania, for Civil War sightseeing and to repair their fractured relationship. Host Mertis introduces them to her blind friend Genevieve, and - via some eccentric intergenerational interventions - decisions are finally reached.
But of course, Baker's plays are not characterised by their action (or lack thereof), but by her unparalleled ability to summon mood and humanity, as well as toying with the dramatic form. Here, her super-naturalism morphs into more of a supernatural naturalism; a nice Gothic touch is Mertis marking the passage of time by moving the hands of a grandfather clock.
The running theme is that of being watched. Mertis begins each act by drawing open a set of red velvet curtains to reveal the stage; clearly, we are one set of watchers. The others stare back at us: every surface is covered with knick-knacks, among them dozens of dolls - on shelves, tables, stairs, doorways - in a tour-de-force set by Chloe Lamford.
These miniature witnesses (which will do for dolls what Doctor Who's "Blink" did for statues) gain increasing significance, as Jenny confesses a lifelong fear that her dolls were watching and judging her, assigning blame for their horrifying existence as trapped entities - including one particularly malevolent creature, Samantha.
It's serious nightmare fuel, and Baker frequently teases the start of a horror story: the couple arriving bundled up like lost hikers stumbling into a haunted hotel (a tale Elias later begins to tell), organ music striking up, flickering lights, a ghostly self-playing piano, a mysterious rustling sound, an off-limits room, a reading of Lovecraft, and Mertis's casual comment that the house "can take on a life of its own".
The setting, too, lends itself to spooky goings-on, as Elias attends a Civil War ghost tour and Mertis refers to the house's grisly past - wounded soldiers' amputated limbs stacked so high that the windows were blocked. The dark history of slavery is represented in a local diorama. (Key atmospheric work from Peter Mumford's lighting and Christopher Shutt's sound.)
Yet Baker is far more interested in what the evocation of the supernatural says about people. What gradually emerges is both a fear of and a yearning for something beyond - a deity or other power that might signal purpose and certainty, or conversely the debilitating sense of being judged. Plus how much external factors, however we characterise them, shape our self of sense.
It's also brilliantly funny. Baker has a supreme gift for presenting social awkwardness in all its excruciatingly unhurried glory - here, the particular oddness of strangers thrown together in a "home from home", the gulf between sexes and generations, and the tiny moments that signal a relationship headed for ruin.
Her pacing - superbly realised by James Macdonald's production - allows you to hone in on the slowness of Mertis's carpet-slippered progress, Jenny's passive-aggressive response to Elias's cereal slurping and his subsequent overreaction, or the ping of a text message on Jenny's phone that fuels his insecurity. It's a piece that demands total attention, particularly when the action moves upstairs and we strain to hear.
It's also teeming with surprises and oddball mysteries. In response to a rote enquiry about a looming painting (another watcher), Mertis spits, with unexplained force of feeling, "That's Eugenia." The couple's room is strangely cold - perhaps linked to Jenny's fear of her childhood dolls now inhabiting a cold basement, though practically a useful dramatic device to drive characters downstairs to us - and Mertis's journal is either strikingly articulate, or written in an otherworldly language.
But an outstanding quartet ensures that it's the people who demand attention. Anneika Rose and Tom Mothersdale are heart-wrenching as the drifting, mismatched lovers, even as their irritating foibles emerge (Jenny lies and avoids; Elias accuses and needles; both dither over the inevitable).
Marylouise Burke is riveting as Mertis, from the girlish trill of a voice and matter-of-fact non-sequiturs - "I'm a tiny bit of a mind-reader" - to the well of empathy. And June Watson turns in a glorious performance as the imperious Genevieve, whose blindness opened up vision of a different kind (top tip: don't rush off in the second interval).
Ultimately, the haunting promised is more emotional: the "possession" of a relationship, the lingering of a past one, the shadow of loneliness, and the liberation of pure autonomy. That makes the sheer volume of genre tropes effective but also slightly maddening, and leaves the challenging runtime more open to criticism.
But stick with it, and this is a hypnotic, thrillingly audacious portrait of humanity.
John at National Theatre until 3 March
Photo credit: Stephen Cummiskey