BWW Review: A LITTLE PRINCESS, Royal Festival Hall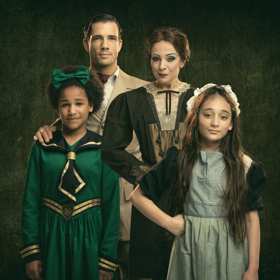 The concert of A Little Princess at Southbank Centre's Royal Festival Hall was a lovely production with lots of great talent of a musical that still feels a bit messy. Rebecca Trehearn, Danny Mac, and Alexia Khadime all lent their amazing voices to the show and the young girls playing Sara, Becky, Lottie, and their friends were simply incredible. However, the show itself, with book and lyrics by Brian Crawley and music by Andrew Lippa, felt rather lacking in cohesion and proper pacing.
This concert was the show's West End debut. Its first production in 2004 in California was followed by several other American productions and a cast recording. A Little Princess is based on the classic children's novel by Frances Hodgson Burnett, of the same name, and tells the story of a young girl named Sara Crewe. After being treated like a princess at her boarding school thanks to her wealth, her life is drastically changed when her father is pronounced dead on a mission to Timbuktu.
In this musical, the story is told through an older Sara's daughter re-enacting it with her mother's help. The story also traces her father, Captain Crewe, through the first act and weaves in a storyline about her strict headmistress Miss Minchin and her sister, another teacher at the school, Miss Amelia. While it's a heart-warming tale, at times it felt that it got bogged down in too many plot lines.
Fans of the novel will note several changes to the story, like (spoiler!) her father being found alive at the end of the show. Interestingly, the musical changes Sara's home from India to Africa (Burnett's other popular novel, The Secret Garden, starts in India as well). However, it was great to see a diverse cast on stage.
The music itself is not particularly memorable or catchy in the way you might expect a Lippa score to be. There are some lovely solos in the show, like Pasko's "Captain Crewe" and Miss Amelia's "Once Upon a Time" but many of the group numbers were very forgettable. Even "Timbuktu", while fun, felt that it went on too long.
Amanda Abbington, known for her roles on Sherlock and Mr Selfridge, failed to deliver the vocals required for the role of the horrible headmistress Miss Minchin. Her acting was decent, though she seemed exhausted rather than truly evil, but at times her singing brought to mind Rex Harrison talking his way through the My Fair Lady film.
The highlight of the adult cast was certainly the talented Rebecca Trehearn as Miss Amelia, Miss Minchin's delightful younger sister. Danny Mac was also great as Sara's father, Captain Crewe, in both his amazing vocals and charming acting. Adam J Bernard was similarly wonderful as Pasko and his riffing in "Captain Crewe" was a highlight of the whole show. Sara's mother, Aljana, was played beautifully by Alexia Khadime.
The true stars of the show were certainly the cast of nearly a dozen young girls. Jasmine Sakyiama was simply stunning as Sara Crewe and performed solos like "Live Out Loud" and "Soldier On" beautifully. Jasmine Nituan was wonderful as Becky; both girls voices and acting were incredibly strong. Olivia Cowley was adorable as the youngest girl at school, Lottie, and her diction was particularly impressive for one so young.
The production was a decent concert staging, despite a few sound issues. The costumes, designed by PJ McEvoy, were lovely especially the green school uniforms for all the young girls. The show was accompanied by projections of simple childlike scenery and animations. Personally, I felt they didn't add anything to the show at all and could have easily done without them.
Despite its talented cast, A Little Princess doesn't quite capture the magic of the novel that it's based on. Nevertheless, much of the fault seems to lie with the show itself and not this production which featured some incredible young girls.
A Little Princess was at Southbank Centre's Royal Festival Hall on 28 May.