Click Here for More Articles on DC - Theatre Life
BWW Interview: Theatre Life with Matthew Bourne
Today's subject Matthew Bourne has done what some might say is impossible, making his theatre life quite the big deal. Bourne has managed to meld the worlds of classical dance and theatre together with his internationally acclaimed company New Adventures with some pretty terrific results. His latest creation, Cinderella, hits the stage of the Opera House at Kennedy Center on January 15 playing through the 20th.
Matthew is the creator of the world's longest running ballet production, a seven-time Olivier Award winner, and the only British director to have won the Tony Award for both Best Choreographer and Best Director of a Musical for his all male take on Swan Lake.
Rightfully so, he has a staggering 40 international awards to his credit, including following Dame Margot Fonteyn as only the second dance recipient of the Hamburg Shakespeare Prize for the Arts and being the first recipient, in the arts category, of The British Inspiration Award. He is also the proud recipient of the Evening Standard Award, South Bank Show Award, Time Out Special Award, Drama Desk Award, six Los Angles Drama Critic Awards and the Astaire Award for Dance on Broadway.
Some of his most iconic pieces include Edward Scissorhands, The Car Man, Sleeping Beauty, The Red Shoes and, of course, Swan Lake.
As a choreographer for the theatre, his work includes revivals of My Fair Lady, Oliver and Mary Poppins. All three of those shows were for the same producer Sir Cameron Mackintosh and all three gave Bourne either Olivier Award nominations or wins. Mary Poppins also garnered Bourne two Tony Award nominations. This is also another similarity that you will read about later on. He also choreographed the National Theatre revival of South Pacific.
Other theatre and dance work includes As You Like It (Royal Shakespeare Company/John Caird), Children of Eden (West End/John Caird), A Midsummer Night's Dream (Aix en Provence/Robert Carsen), The Tempest (NYT), Show Boat(Malmo Stadsteater, Sweden), Peer Gynt (Barbican/Yukio Ninagawa), Watch With Mother (NYDC), Boutiqueand The Infernal Galop (Images of Dance and The Sarasota Ballet), Watch Your Step (Irving Berlin Gala), French and Saunders Live in 2000 (UK tour), Dearest Love (Ballet Boyz), and Highland Fling (Scottish Ballet).
Not limited by the stage, Bourne's film work includes television productions of his stage creations, including Matthew Bourne's Christmas (Channel 4, 2012), Swan Lake (1996 Emmy nomination and 2011 in 3D), The Car Man (2001 and 2015), Nutcracker! (2003), and Sleeping Beauty broadcast by the BBC for Christmas 2013 prior to worldwide cinema screenings.
He was knighted in the Queen's New Year Honors 2016 for services to dance and awarded the Queen Elizabeth II Coronation Award in recognition of his outstanding services to the art of ballet, which is one of the most coveted honors in the world of dance.
He most recently was presented with the inaugural Trailblazer in Dance and Theatre Award from The International Institute of Dance and Theatre in 2017, and the Critics' Circle Award for Outstanding Services to the Arts.
There are many words to describe Matthew Bourne and New Adventures' work - things like, eye popping, lavish, and spectacular come to mind. More than that though, he offers a reimagining the classics for a modern audience, pulling them in every time. You don't have to be a fan of classical dance or theatre to enjoy one of Matthew Bourne's creations. I will say though that you most likely will become a huge fan after seeing one of his productions.
Get out of that winter post holiday slump and get yourself some tickets to New Adventures' production of Cinderella at the Kennedy Center. I guarantee you'll find Matthew Bourne's work "Practically Perfect in Every Way".
Who did you get your love of the arts from?
I got the bug from my parents. They took me to see lots of theatre in London. We were always in the cheapest seats because we didn't have a lot of money. It didn't matter though. I was hooked.
Was there a particular show in your childhood that made you say, "Hey I can do that!"?
Yes, there was. That would be Angela Lansbury in Gypsy. It was the London premiere of that show. It really made me want to be part of that world. She was so wonderful and it showed me that musicals could be dramatic and not just fluff. Also, A Chorus Line had a big impression on me too. I saw it eleven times and could totally identify with the dancers' stories every viewing.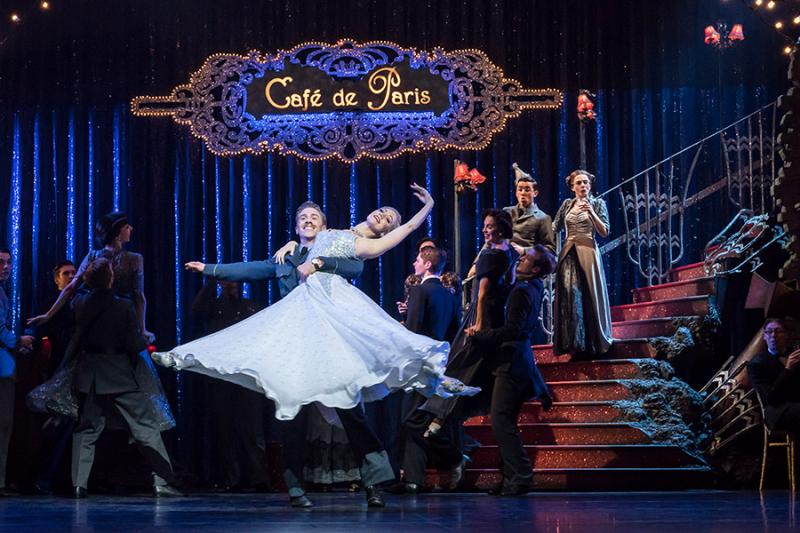 Can you please tell us a little something about your concept for Cinderella?
It is set during the London Blitz. Ideas of escapism were big back then and Cinderella going to the ball is a form of that. A chance meeting results in a magical night for Cinderella and her dashing young Royal Air Force pilot, together just long enough to fall in love before being parted by the horrors of the Blitz. It isn't your typical version of the story to be sure.
How did New Adventures' mission to merge the worlds of classical dance and theatre together come about?
It came about because I loved theatre and film before I knew about ballet. I feel that dance should be theatre and tell stories. We are all in the same world as long as it engages and entertains the audience.
From first idea to first performance, how long does it usually take to create one of your ballets?
It takes quite a long time actually. The idea might come years before, but with the designers involved it's maybe two years. There is a lot of prep work and I like the dancers to come in prepared as well so we can get right to work at their first rehearsal.
Design-wise, your productions tend to be pretty elaborate. Are there any challenges in touring one of your shows to multiple countries?
They are very expensive or as we like to say, they are not just lights and tights. They are as big as any theatrical show on Broadway or on the West End. There are 30 dancers in Cinderella. The cost actually rules us out in some places, but we always insist on giving our audiences the full show. That's why we get a crossover crowd.
When you started work on Mary Poppins were you under any kind of pressure from Disney to match what was in the movie?
We all went into it creating a new musical using the original stories. There were new songs added in addition to the ones from the film. For example, "Supercalifragilisticexpialidocious" has a completely different concept than it does on screen.
An orchestrator and choreographer work side by side in a musical's creation. You worked with our dearly departed William David Brohn three times on My Fair Lady, Oliver, and Mary Poppins. What are your fondest memories of collaborating with him?
He was a wonderful man and a generous collaborator. He was a genius. All three of those shows were set in London and he nailed that musical style perfectly. The theatre suffered a great loss with his passing.
Of all of the works you have created, which stand out as personal favorites?
You have to love them to want to do them. Swan Lake changed my life because it gave the company an international status. Cinderella is one because it has a family connection. My family was raised during the Blitz. The Red Shoes comes to mind because I love old films.
What does 2019 hold in store for you?
We have Swan Lake touring in the UK. Romeo and Juliet will premiere in May in Leicester. All young people are involved in that one, including my Assistant Director, design associates etc.
Special thanks to Kennedy Center's dance publicist Brittany Laeger for her assistance in coordinating this interview.
Theatre Life logo designed by Kevin Laughon.
Related Articles