BWW Interview: Luke Pasqualino Talks BERBERIAN SOUND STUDIO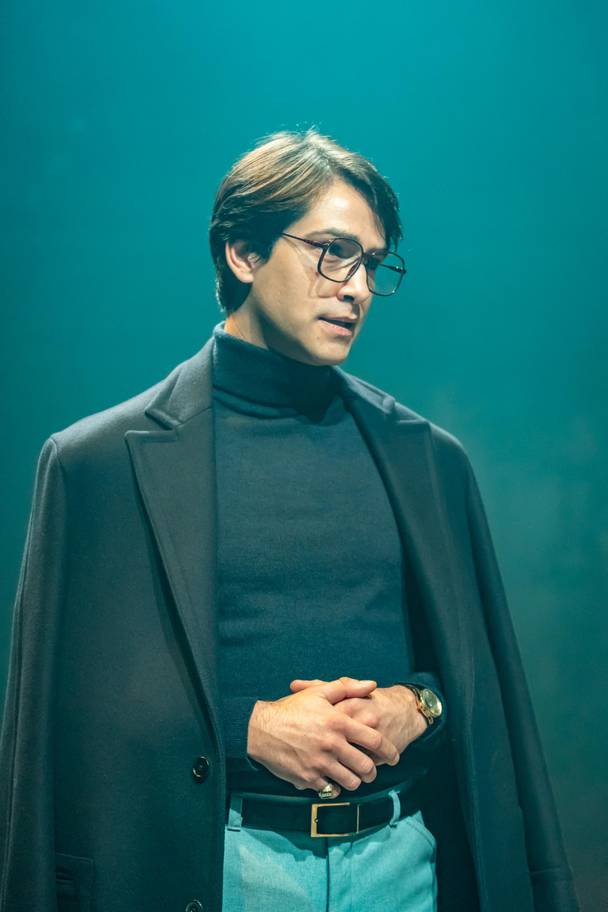 Luke Pasqualino is no stranger to the screen, having appeared in Skins, The Musketeers and Snatch. Berberian Sound Studio, however, marks the actor's professional stage debut.
Talking to us about tackling this new medium, the actor shares how the story resonates today and reveals why the Donmar Warehouse is "the perfect theatre to be telling that story in".
What is your earliest memory of theatre?
When I was about nine years old, I used to go to a drama workshop in Peterborough called the Lady Lodge Arts Centre. (I did it with a cousin of mine who's actually sat next to me right now!)
Back then, I did so many hobbies: football, ice hockey, rugby. And I got bored of them all quite quickly. But when I did those drama workshops, that was the only extra-curricular activity that I never really got bored of.
So that love of it led you down the path of wanting to become an actor then?
Well I remember at the time, I was approached by Martin Tempest who's still a very dear friend of mine today. He spoke about the idea of getting an agent, but I wasn't really interested when I was younger.
Then when it got to leaving school, I started thinking about it again and making a career in this industry. Then I got Skins at 18 and the rest is history. I didn't train at drama school so I was really learning on that job. It was an amazing project to start my career on and I'm still so grateful for that opportunity.
And since then, you've worked across the small screen and the big screen. But Berberian Sound Studio will be your first time on stage, right?
Yes. This will be my first time on a stage professionally ever!
It's an incredibly new experience for me, it's such a different process. I'm learning lots every day and continuing to test myself. And to be surrounded by a company and the Donmar who are so, so supportive of that, it's been amazing to be part of. And it's sort of going back to the roots of those workshop days and plays.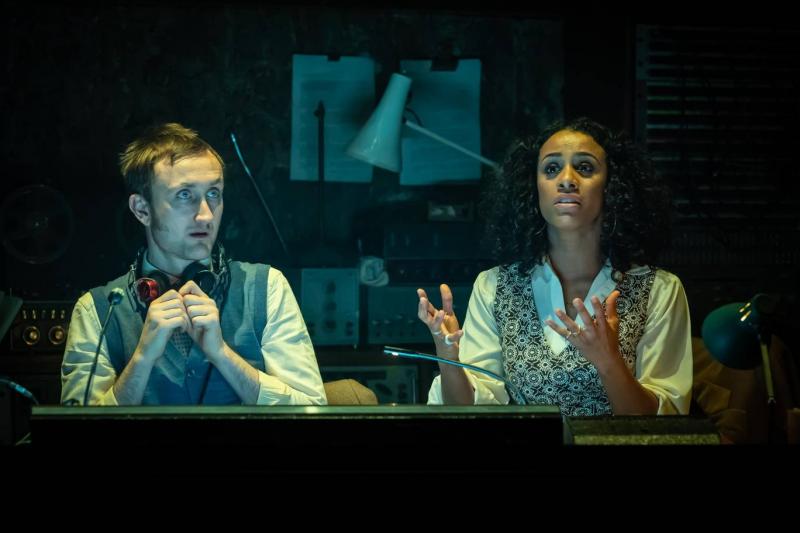 Had you been to the Donmar before as an audience member?
My first time seeing a play at the Donmar was actually Sweat, which was on just before we started. That was amazing, just being in that space for the first time.
So what were your thoughts on it?
It's such an intimate space. You can almost feel the breath of the audience member when you're walking up and down that stage.
And that really lends itself well to our play and the set. It takes place in this sound studio, so it's this kind of closed off, subterranean world. So the Donmar is the perfect theatre for us to be telling that story in.
Can you tell us a bit about that story behind the Berberian Sound Studio?
So Tom Brooke plays Gilderoy, who goes to Italy to work as a sound engineer on a film for my character Santini. Gilderoy worked on nature documentaries before, so he's slightly out of his depth but still sees it as an amazing opportunity.
Quickly though, he comes to realise that the themes of this movie are quite twisted, quite sordid. So he starts to question his integrity and whether he's making this for the right reasons or not. Choice and decisions are quite big themes which speak to today, even though it's set in the 70's.
How did you approach that that role of the director?
So being set back then, it was a very male-heavy industry. Santini has these very different views and believes in what he does.
When I prepared, a lot of it was actually about Santini's mannerisms: how he holds himself, how he walks, what he does with his hands, what sort of clothes he'd wear. Thinking of that power figure and embodying that, exploring how he would own the space he was in, how he would command respect with anyone in 'his' space.
Talking about preparation, the play is based on Peter Strickland's 2012 film. Were you familiar with that?
I watched it before I went in for the first meeting and really enjoyed it. I liked that it was set in Italy, so I immediately had like this connection to it (my family's Italian). It was one of those movies that I really thought a lot about afterwards. Peter was actually at our Press Night as well. I didn't really get a chance to speak to him, but he was all smiles which was nice and he seemed to like it.
And you know what? In my first meeting with Tom Scutt our director, he asked me if I'd seen the film and I said I had, and that I was really excited at the prospect of it being a play. Because there is just so much potential for stage.
Now we've made it, I think my original thoughts were correct. It still deals with those themes from the movie, but in a totally different way. Plus, it is slightly shorter.
Yes, it's just over an hour and a half straight through. So with that intimacy of the Donmar, plus the themes, plus no interval, it really is intense.
Exactly!
Originally when we started rehearsals, the play was running at around two hours. So we realised with a run time like that, we would have to have an interval. And our writer and director sort of came to the conclusion that we didn't need an interval.
We didn't want to take the audience out of the intensity of what was happening on stage. Because if you have an interval, they thought it might break it up a little bit too much. So we cut it down by about half an hour and it seems to work, it heightens that state.
Finally, would you like to do more projects on stage after this?
I would 110% love to return to the stage.
I'm not sure if I'd like to do it right away, I need a little time away to do something else. I feel like I've become a better actor through doing this, I've stepped out my comfort zone and I'd love to explore this medium a lot more.
Berberian Sound Studio at the Donmar Warehouse, until 30 March
Photo credit: Marc Brenner