BWW Interview: LET IT SHINE Winners Talk Take That Musical THE BAND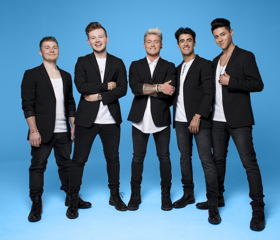 New Take That musical The Band, co-created with Tim Firth, begins its national tour at Manchester Opera House on 8 September. Cast members AJ Bentley, Nick Carsberg, Yazdan Qafouri Isfahani, Curtis T Johns and Sario Watanabe-Soloman, who won TV talent show Let It Shine, give us a preview...
Who were your musical heroes growing up?
Curtis T Johns: Brandon Flowers, Gary Barlow, Paul McCartney, Joan Armatrading, The Bee Gees.
Yazdan Qafouri: Ramin Karimloo - he's Iranian like me and I look up to him so much!
AJ Bentley: Robbie Williams, Take That, Michael Jackson, Blue and Celine Dion.
Nick Carsberg: McFly, Bruno Mars and Olly Murs.
Sario Solomon: Jason Robert Brown. He's a musical genius who I worked with in 13 The Musical at the Apollo Theatre in the West End. Also Reece Shearsmith - I love dark comedies and he was amazing in Betty Blue Eyes.
What made you decide to enter Let It Shine?
CTJ: Meeting my idol, Gazza, and the wonderful opportunity to perform Take That songs!
YQ: It was a total whim. I was actually auditioning to go to drama school and saw an advert on TV, entered and thought nothing of it!
AJB: I wanted to perform. The thought of performing in a stage show featuring Take That songs and being mentored by Gary Barlow and Take That was a dream which has now become a reality.
NC: I was scouted after they saw me perform.
SS: I grew up as a fan of musical theatre and MT casting programmes. I didn't think I would make it onto Let It Shine as I didn't go to a full-time theatre school, but my mum applied for me on the last day of applications.
What was your hardest moment on the show, and what was the best?
CTJ: The hardest was the dancing, and the best was the finished product of each of our live performances.
YQ: I had a really bad chest infection the first two weeks of the live shows - so getting through that was difficult! But, of course, the moment they announced our names as winners in the final was the best.
AJB: For me the hardest thing was blocking out the competition - not becoming absorbed in what they were doing, but focussing fully on what I had to do to win.
NC: The final was the hardest because of my leg problem, but it was also the best as it was an unforgettable experience.
SS: Losing my voice during the Olly Murs round. The boys in the group helped me a lot! The best moment was seeing my mum's reaction when it was announced we'd won.
How did your families and friends react?
CTJ: They were over the moon and really happy for me.
YQ: If you rewatch the winning video, it cuts to my family crying, screaming and jumping with joy in front of the camera.
AJB: They were elated. They wanted it as much as me! To see their brother, son, friend win a talent show was beyond their wildest dreams.
NC: They were so proud. They went mental when we won.
SS: They were all very happy for me, especially my mum. All my youth theatre friends were very supportive as well.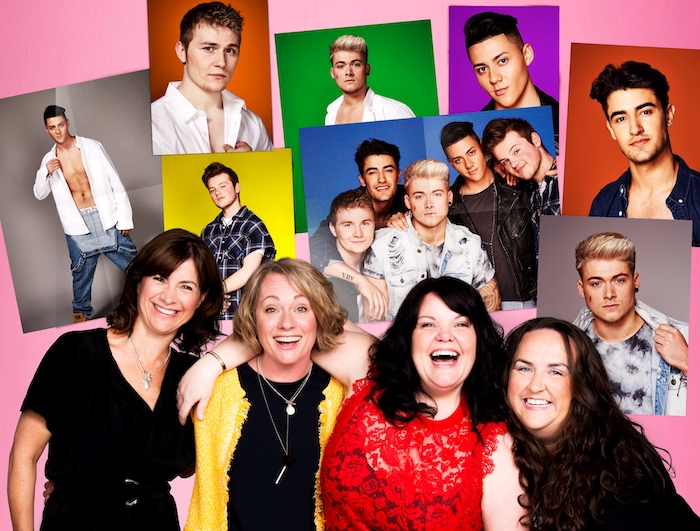 Tell us about your character in The Band - and are they like you?
CTJ: I think so, yes. Astute and caring but generally always in the way, putting a foot out of time every now and again.
YQ: I play myself - we're not trying to imitate Take That or any other boy band.
AJB: We are playing ourselves, but also a number of different roles in the show - it will make sense when you see it.
NC: Theoretically we play ourselves, so my character is just like me.
SS: You'll have to come and watch the show...
How does your fictional band inspire/affect the female characters in the story, and can you relate to that?
CJT: I really relate to the story. The band has a massive impact on the female characters in the show, as did my idols when I was growing up.
YQ: The band in the show represents the music that encompasses people's experiences through life, and it's made me look back at songs that have defined moments in my life.
AJB: We bring the soundtrack to life for them and help drive the story through music, which affects the female characters in many ways. I like to think we accompany them in finding where they need to be in each scene.
NC: It shows how music plays such an important part in people's lives. I really relate to it. I love music.
How have you found the rehearsal process? Have those of you with more theatre experience been able to help the others?
CTJ: It's been fantastic. The actresses and actors involved are the most humble, talented people I've ever had the pleasure of working with.
AJB: We've all enjoyed it. We all have our strengths and can help each other to achieve the best possible outcome as a band.
NC: It's great fun but very tough. We've all been working well together.
SS: Very intense. I've been in several West End productions since I was 11 years old, but I've never had to sing and dance to millions of Take That songs!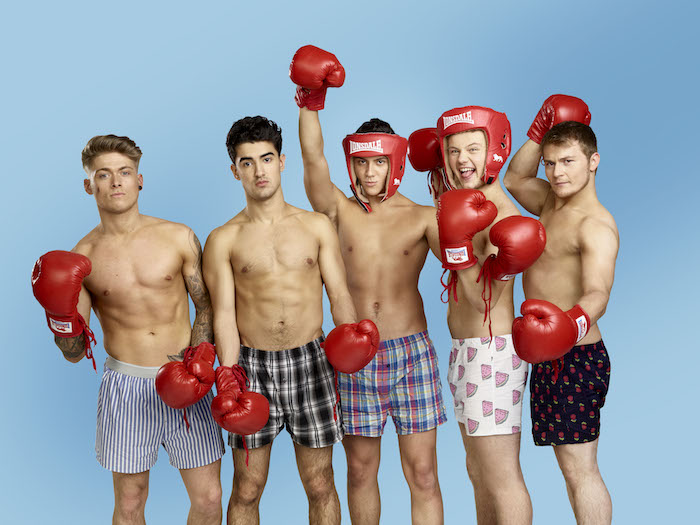 What's the most exciting thing about getting to do a big tour?
YQ: Seeing all of England - I've never been to half the places on the tour!
AJB: Gaining performance experience, seeing all parts of the UK and performing in some of the country's best and biggest theatres.
NC: Being able to see so many different places.
SS: It is great to visit all these cities I've never been to before. I'm excited to see the audiences' reactions to the musical.
You've been together for a while now. Who's the funniest, who has the most annoying habit, and who's the dad of the group?
CTJ: Sario is the funniest and Yaz the most annoying. His happiness is both infectious and bordering on irritating, but I love him so all is forgiven. I'm the dad.
AJB: Sario is the funniest, Yazdan is annoying and Curtis is the dad.
NC: Sario is the funniest. We all have very annoying habits. Curtis is the dad.
SS: The funniest is in my opinion is Sarah in the cast. Out of us it's Nick's soothing Essex tones. Yazdan has the annoying habit of being perfect. Curtis is the dad.
What's your favourite Take That song to perform and why?
CTJ: Too many to choose from!
YQ: "Said It All" - I sing it in the show and it accompanies one of the most poignant scenes.
AJB: I enjoy performing the 90s medley and also "Said It All" into "The Flood", as I love that part of the story.
NC: "Shine", because it's such a great song.
SS: "Wooden Boat". I love Jason Orange, although it's not in the musical.
Finally, why do you think audiences should come see the show?
CTJ: They should come if they've ever experienced the feeling of music directly taking them back to their childhood memories. It's a wonderful show. You'll laugh, cry, sing along and leave appreciating the effect music has on your life.
YQ: To anyone who has ever felt that their lives follow the soundtrack of their favourite artist's albums, come see this show. You will find a piece of yourself in it.
AJB: The story is sensational, the music is sublime, the cast are smashing and it's bringing a new 'edge' to the theatre world which people will love.
NC: Because this story is like no other and it is a brilliant show.
SS: It's the first time a boy band has been found/created for a musical in this way. The Band is not like any other show. It's got a beautiful, moving, funny story with all of Take That's hits. What's not to like?
The Band's tour begins 8 September. Find full dates and venues here
Watch a trailer below!
Photo credit: Matt Crockett, Jay Brooks