BWW Interview: Dermot Crowley Talks TRANSLATIONS
Translations is currently in rehearsals at the National Theatre, ahead of its first major revival on the London stage. This not only marks actor Dermot Crowley's fourth time appearing in the play, but also over four decades of working at the National.
Catching up over a lunch break, Dermot tells us just what it is that makes him want to return both to the play and the National again, and shares his advice on playing the Olivier.
What was your first experience with theatre?
It was probably when I was about four, and I was cast in a play at nursery school. But I got measles, so I couldn't be in it. And my mum took me to see it and my feelings were of complete rage (or as angry as only a four-year-old could be) I was just thinking, "I should be up there!".
And I had no inkling before that that this would be appealing. But I think if it's possible at that young an age to light a spark in a child's mind, that's where it came from.
And once that spark was lit, how did that passion grow?
I was very lucky I had an English teacher called John O'Shea. He founded the Everyman Theatre in Cork and he also directed school plays. And he cast me in a school play and then I went on to work at that theatre.
But it wasn't just performing; seeing shows performed was important too. One production which really cemented that passion was The Importance of Being Oscar. It was a one man show with Micheál MacLiammóir, and he had a green carnation and a wonderful dinner suit and he was quoting from Wilde. And I just thought, "That's for me!" That was extraordinary and from there, I started doing more and more.
We also had very exciting movies coming out at the same time. Growing up, we got television quite late in Cork. And I remember having a summer job in London and there was a cinema in Regent Street that kept showing Laurence Olivier's Shakespearean films.
I got to see his Hamlet, Henry V and Richard III several times! And I guess when you're young, if you have an enthusiasm for something, it consumes you and you see it more than once...at least I did!
That passion is true of both screen and stage. I'm lucky enough to be seeing Hamilton again this weekend!
I booked over a year ago! I plucked a date out of the blue to go: 8 March 2018. And I got my schedule for the BBC's Luther in January and on the 8 March, I saw I had six scenes to shoot and they couldn't move it, because we were locked into locations. So I got onto my agent and she somehow worked her magic, and I swapped my tickets for another night. It's fantastic!
Is there anything else in the West End at the moment which you think is a must see?
I saw Girl from the North Country and I immediately downloaded the soundtrack! And I worked with Conor McPherson years ago and, of course, Ciarán Hinds is in Translations with me.
And the reaction to that has been phenomenal. When something is that good, you can hear and feel it from the audience.
It reminds me of a show I did here at the National. I did Everyman which was Rufus Norris' first production as the Artistic Director. That was like being at a rock concert every night, because the audience was so into it.
So this isn't your first time at the National. What the first production you were in here?
I knew you were going to ask that! And the answer is my first production was...41 years ago!
No!
Yes! I did The Plough and the Stars in the Olivier, back in 1977. And then I ended up staying in the company for about three years, and I did something like 12 productions in the Olivier. And that included the original production of Amadeus, which was amazingly exciting.
It was a very heady time for me as a young actor: to be able to stand at the side of the Olivier and watch people like Paul Scofield, Ralph Richardson, Robert Stephens, Michael Bryant all at the top of their game.
So I do go back quite a long way here! Whenever I'm at the National, I feel I've come home.
And you're returning once again for Translations. Were you familiar with the play?
Yes, you could say that. This will actually be the fourth production of Translations which I'll have been in! I did it at the Bristol Old Vic when I played Owen, and I also was in a production on Broadway and a radio play.
What is the play about?
It's about family and a tribe of people and a race. And it's all done through the personal journey of these characters. It's set in a very interesting time, the 1830's, just before the Great Irish Famine.
And it's about the old and the new: old traditions being overtaken by the new world, and how that affects characters from each group.
Can you tell us about the character you play and which world they're from?
I play Jimmy Jack Cassie, one of the classicists and old people who seem to be stuck in this wonderfully Celtic world of old.
He's known as the "infant prodigy", because he's sort of a perpetual student. It's set in a time when there wasn't any formal education in Ireland, so people were desperately hungry for learning. So they set up what was known as "hedge schools", where a master would hold informal classes. In our case, it's in the remains of an old barn. And people would come from miles around.
So he's fluent in Latin and Greek and in Irish. And I mean, Jimmy speaks as if the events of the Greek gods only happened last Tuesday in Donegal! He kind of sees himself as a Greek hero in his head.
What makes you keep wanting to return to this work?
Brian's written some amazing plays, but I think Translations is his masterpiece. The play is so rich and you unearth more each time. That's what brings me back to it, time and again.
Do you feel like your previous experience informs you each time?
I actually try and put it out of my mind. I said to our director Ian Rickson, "If you want to have me in it, I will do everything I can to try and wipe out previous incarnations".
But it's a different world each time you tackle it. You form a new family and this particular company is so embracing.
It's a great privilege to be back at the National for me. Everybody who works here is here to help the actors to do the best they can when they get on stage, and so that the audience has a good time too.
And how have rehearsals been going?
Last week was week one and that was spent basically sitting around a table and trying to mine what Brian has given us and learning about the period. We have had a slew of experts in, which again is part of the luxury of working here.
And that was also time to get to know each other, as well as the play. Ian plays very constructive games, just to bond us together. And we're now in our second week, getting on our feet tentatively. But we have the great advantage of having six weeks, so we have time to get it right.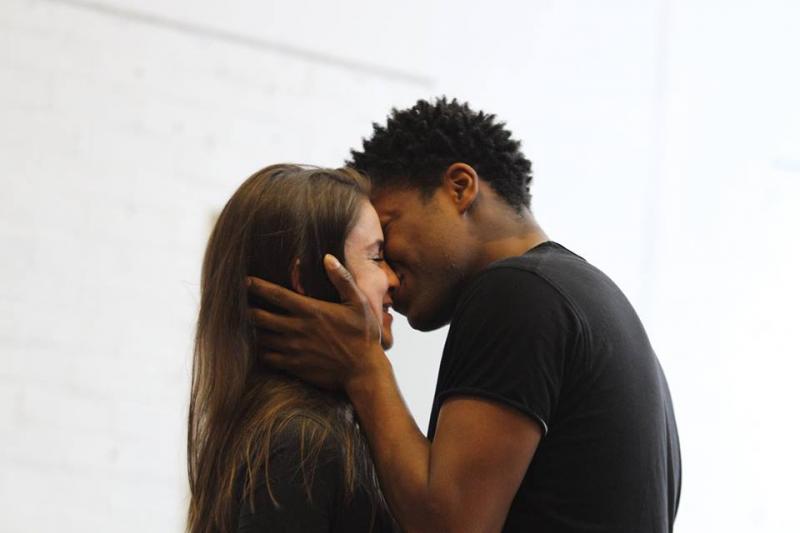 Has the company been able to get onto the stage yet?
We were able to get on there this morning. And Ian was really keen to get the company used to it, that big space.
Some of our company have never played it before, and they walked out onto the Olivier stage like, "Woah!" And Ian just said, "We're a team: this is Wembley". And he's right: you kind of have to conquer the fear of the Olivier because if you do, it's your friend.
And even though it is so vast, it can feel oddly intimate...
Exactly! And that's a trap for the actor.
If you stand on the stage and look out, it feels very intimate. And you think, "Oh, they're just there!" You can almost reach out. If you're in the audience and you're up at the back and you're looking down, the actors look like ants way down on the stage. So that's something we've always got to be aware of.
Finally, what can audiences expect from Translations at the National?
If I weren't in this, I would be beating my way to the box office to get a ticket! It's a great play being given it's first major revival at the National Theatre.
And they will also be privileged enough (and I know I'm biased) to see and experience the most magnificent love scene since Romeo and Juliet. Brian Friel has written a love scene that the audience will have never experienced before. It's tender, it's moving, it's funny, it's heart-breaking. It's extraordinary.
Translations at the National Theatre, 22 May-11 August
Photo credit: Catherine Ashmore