BWW Interview: Chris Walley Talks THE LIEUTENANT OF INISHMORE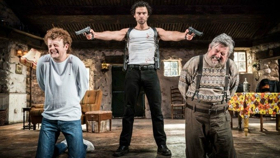 The Lieutenant of Inishmore recently opened at the Noel Coward Theatre to rave reviews.
We caught up with actor Chris Walley to talk about the show and how it feels to graduate early from RADA to make his professional stage debut.
When did you fall in love with acting?
I've wanted to be an actor, I would say, probably from as early on as eight years old. I remember my parents taking my brother to a drama class when he was younger, which he did it for a few years but didn't really like it.
Because of this, they decided not to take me when I got to the same age. I actually ended up having to ask to go myself.
My passion for acting originally came from a desire of wanting to make people laugh and over time, I got more and more serious about it. It's the only thing I really wanted to do.
How was your time at RADA?
I had the time of my life at RADA - I made some amazing friends.. It was also a very intense time; you learn a lot about yourself while at drama school. You really need to love the craft - you'll realise very early on at drama school if you don't love it enough and if it's not the only thing you can think of doing with your life.
I already find that every day, throughout the rehearsal process, and in every performance, the training that I learned at RADA comes into play. I wouldn't be able to have the stamina and voice that I have now if it wasn't for that.
Was it a hard decision to leave early to do this play?
I loved RADA, but it felt like the right time to leave - and what better way to leave than to go into a play like this.
How was the rehearsal process for The Lieutenant of Inishmore?
It's been one of the nicest I've ever had. We all came into the five-week rehearsal process off-book, and when you're off-book it free's you up so much as an actor. You can discover so much more from the get-go, and be present, as you don't need to worry about lines.
The director, Michael Grandage, asked us all to be off-book for rehearsals, and it's something I am going to try and do for all future ones. The freedom it gave me allowed me to delve much deeper into my character.
In your own words, what is the show about?
The show is a dark comedy - it's absolutely hilarious. The play opens with my character, Davey - a young, awkward man who loves rock music - finding a dead cat in the road, and it turns out to be the cat of a terrorist in the IRA. It gets a bit mental from there... There's a lot thrown into the mix, but it's based around a man and the love for his cat and trying to find out who killed him.
How is it working with a cat in the show?
I won't give too much away, but it's definitely interesting working with a cat and getting the cat to do what you want it to do. Cats are very intelligent, let's just say that. It was a struggle at first, but I think we've got it sussed now.
This play is your professional stage debut - how did you feel when you got the offer?
I had a couple of rounds of auditions and I got a call two days after the last audition, when I was with my parents.
Martin McDonagh has been one of my favourite playwrights since I can remember, and I'd always wanted to be in one of his plays - so to get to be in this one and play such an amazing role is seriously the best possible thing that could have happened to me straight from drama school.
I am incredibly excited, I was cast in November last year, but I couldn't tell anyone until it was revealed in February.
It wasn't easy to keep it a secret. You want to tell people, and they're always asking "Do you have anything lined up?", so I would have to say "I think I have something coming up, but I don't know what it is yet".
Did you have to do a lot of research for your character?
My character is a big rock fan, so I listened to a lot of Iron Maiden and Motörhead. I found that very helpful, approaching Davey through music.
Your first professional job was the film The Younger Offenders, for which you won an IFTA Gala Award - how was that experience?
It was very similar to this show, in regards to how much fun I had on the project.
While I have similarities to both characters, they are both so different to play. It's been great to work on my range so early on into my career. For me, that's what acting is about - being able to play as many characters as possible and being able to step away from yourself.
Do you have any advice for budding creatives and actors?
If you want to be an actor and that's all you can see yourself doing, then you really have to go for it and throw yourself into it.
Set yourself small targets; don't always think of the big picture. If you want to go to drama school then focus on that step first, then when at drama school focus your attention for three years just on drama school. Then think of the outside world in the third year - it helped me to approach it mentally like that.
That way, the pressure won't get overbearing. It's so easy to put pressure on yourself in this industry - take it one step at a time.
What can audiences expect from The Lieutenant of Inishmore?
It's sheer entertainment. The pace of the play is so fast, you don't get a chance to try and figure everything out; it just moves and moves and moves.
You won't believe what happens - the whole thing is absolutely bonkers, but it's rooted in a reality that makes it hilarious but also shocking and sad. You'll laugh at things you shouldn't laugh at.
The Lieutenant of Inishmore at the Noel Coward Theatre to 8 September
Photo credit: Johan Persson
Related Articles