BWW Review: CHICAGO at Apollo Civic Theatre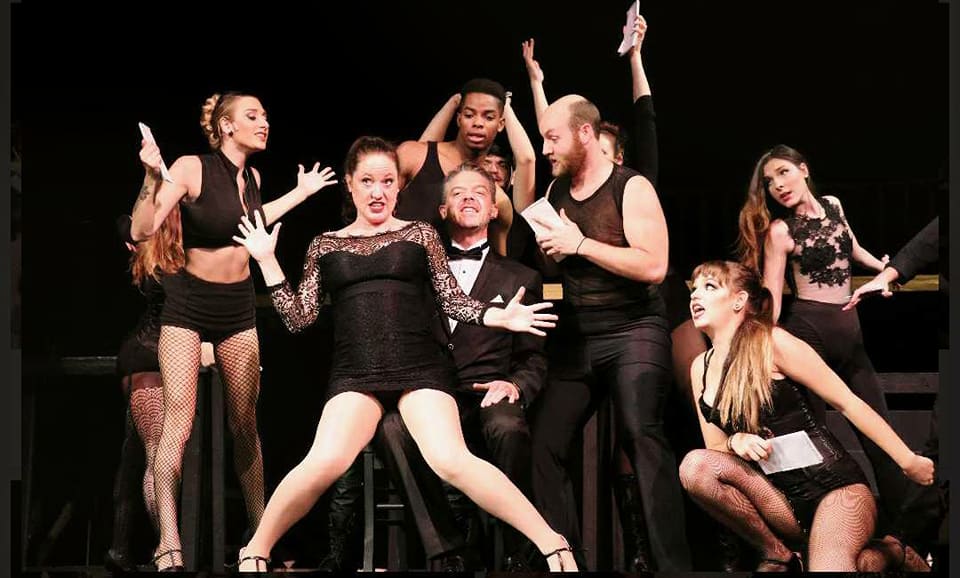 Stuffed with razzle dazzle and old fashioned sex appeal, Chicago is an excellent musical evening at the Apollo Civic Theatre.
Sharply directed by James Wright with crisp musical direction from J.D. Wine, Chicago tells the story of two murderesses, Roxie Hart and Velma Kelly, fighting for the publicity of the crime-ridden city and attention from the best criminal lawyer in Illinois, smooth-talking Billy Flynn, to save them from the gallows in the 1920's.
Amanda Hartman shines as the low class, wanna be vaudevillian Roxie Hart who coldly kills her lover and starts the story. Hartman chose a very unique take on the role, especially with some talk-singing and bold new choices in her solos "Funny Honey" and "Roxie". Her spot on comedic timing and hardened delivery were an excellent addition to the show.
Whitney Bowie is wonderfully sassy and sexy as seasoned performer Velma Kelly. Bowie makes the character comically sarcastic and her powerful, sultry alto voice could "blow the roof off the joint".
David McCauley is very deadpan and dry as the showman lawyer Billy Flynn. Though the character is a sarcastic showman, it would be nice to see a little more variety or passion in McCauley's performance, rather than the same tone throughout the entire show.
As Matron Mama Morton, Lauren R. Hugg is delightfully blasé and deadpan and made some sharp comedic choices, especially in the duet "Class" with Bowie.
In typical fashion for the character, S. Law steals all of the scenes as flamboyantly benevolent reporter, Mary Sunshine, a character with a secret which, surprisingly, caught the majority of the audience by surprise.
However, the true scene stealer of the show is Keith Shifflett as Roxie's brow beaten husband, Amos. Shifflett's solo "Mr. Cellophane" was one of the best moments in the show and Shifflett made the timid character both endearing and heartbreaking with his vulnerability and underrated comedic sensibility.
The choreography by Kathy Windle is dazzlingly sharp and electrifying with crackling sexuality and deceptively dangerous acrobatics. Ensemble members Alex Mulligan, Carlos Anderson Lee, Caitlin Cutright, Delaney Herold, Taylor Staubs-Miller, Natasha Fields, Kenneth May, Larry Marcille and Anthony Marchese showcase excellent dancing moves and many distinct characters.
Several ensemble members deserve special shout outs, including Chaste Martin for her portrayal against type in making "Go-to-Hell" Kitty deviously sweet. Colt Smith steals the entire court room trial scene as the Juror while displaying his excellent versatility and sense of comedic timing. And Eliza Barr is astounding as the Hunyak, while displaying some dazzling high wire aerial rope dancing tricks in Act II.
Sets and costumes are simple and similar to the revival production with all the cast members in forms of black clothing and lace detailing unique to each character, while all the action and dancing play out on two raised platforms with a large open area at center stage.
For a electrifying evening of entertainment, make sure not to miss Chicago at the Apollo Civic Theatre.
Chicago runs September 29 and 30 at 8:00 PM and October 1 at 2:30 PM at the Apollo Civic Theatre, 128 East Martin Street, Martinsburg, WV. Tickets are $17.00 for adults, $14.00 for students, senior and military and $12.00 for youth. For more info, please visit http://www.apollocivictheatre.org/
Photo Credit: Apollo Civic Theatre