Studio Theatre Extends Dark Political Comedy KINGS By Virginia Native Sarah Burgess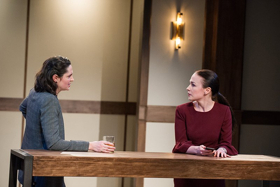 With the dust settled from midterm elections and freshman members of Congress learning to navigate the maze of Capitol Hill 2.5 miles away, Studio Theatre presents Kings, part of its Studio X series, written by Alexandria, VA native Sarah Burgess and directed by Marti Lyons. With a deft hand at the fast talk and power dynamics of lawmaking and fundraising, Burgesss play is a swamp tour of the Beltway power-broking that fuels her hometown. A Susan Smith Blackburn Prize finalist, Burgess quickly rose to notoriety exploring the cutthroat world of finance in her breakout play, Dry Powder, at The Public Theater in New York, which starred Claire Danes, John Krasinski, and Hank Azaria.
Representative Sydney Millsap is a first-time congresswoman, arriving in DC armed with her ideals and sense of duty, and refusing to play by the rules of special interestsor her own party. Kates a lobbyist who backs winners. So, when she crosses paths with Representative Millsap, she dismisses her as a one-term neophytebut ends up hearing a call to conscience she thought shed left outside the Beltway. A lacerating comedy about money, power, and what democracy actually looks like by Alexandria native Sarah Burgess.
MartiLyonsmost recently directedNative Gardensby Karen Zacaras for Victory Gardens Theatre,Twelfth Nightfor Montana Shakespeare,The Mystery of Love and Sexby Bathsheba Doran for Writers Theatre,Short Shakes! Romeo and Julietfor Chicago Shakespeare Theatre,Witfor The Hypocrites,Give It All Backby Calamity West for Sideshow Theatre, andThe City of Conversationby Anthony Giardina for Northlight Theatre Company. She directedWondrous Strangeby Meg Miroshnik, Martyna Majok, Jen Silverman, and Jiehae Park for the Humana Festival at Actors Theatre of Louisville, as well as Will EnosTitle and Deedfor Lookingglass Theatre Company, and a reading of Martn ZimmermansOn the Exhalefor the New Stages Festival at Goodman Theatre, where she received the 2015 Maggio directing fellowship. Other projects include Laura MarksBethany, MarksMine, and Will NedvedsBody and Bloodfor The Gift Theatre; Catherine TrieschmannsHot Georgia Sundayand Theresa RebecksSeminarfor Haven Theatre;Prowessby Ike Holter,The Peacockby Calamity West, andThe Last Duckby Lucas Neff for Jackalope Theatre;The Play About My Dadby Boo Killebrew for Raven Theatre;Mai Dang Laoby David Jacobi,9 Circlesby Bill Cain,Maria/Stuartby Jason Grote, and co-directingThe Golden Dragonfor Sideshow Theatre. Lyons recently directed Guess Whos Coming to Dinnerfor Court Theatre andBotticelli in the Fireby Jordan Tannahill for Woolly Mammoth Theatre Compant. She is an ensemble member with the Gift Theatre Company, an Artistic Associate with Sideshow Theatre Company, and a proud member of SDC.
Sarah Burgessis from Alexandria, VA.Kingsreceivedits world premiere at The Public Theater in New York in early 2018. Other plays includeDry Powder, which was a nominee for the Laurence Olivier Award for Best New Comedy, a recipient of the Laurents/Hatcher Foundation Award, and a finalist for the Susan Smith Blackburn Prize. Sarah has been a writer-in-residence at SPACE on Ryder Farm in Brewster, NY and the Cape Cod Theatre Project. She is a WP Lab and Ars Nova Play Group alum.