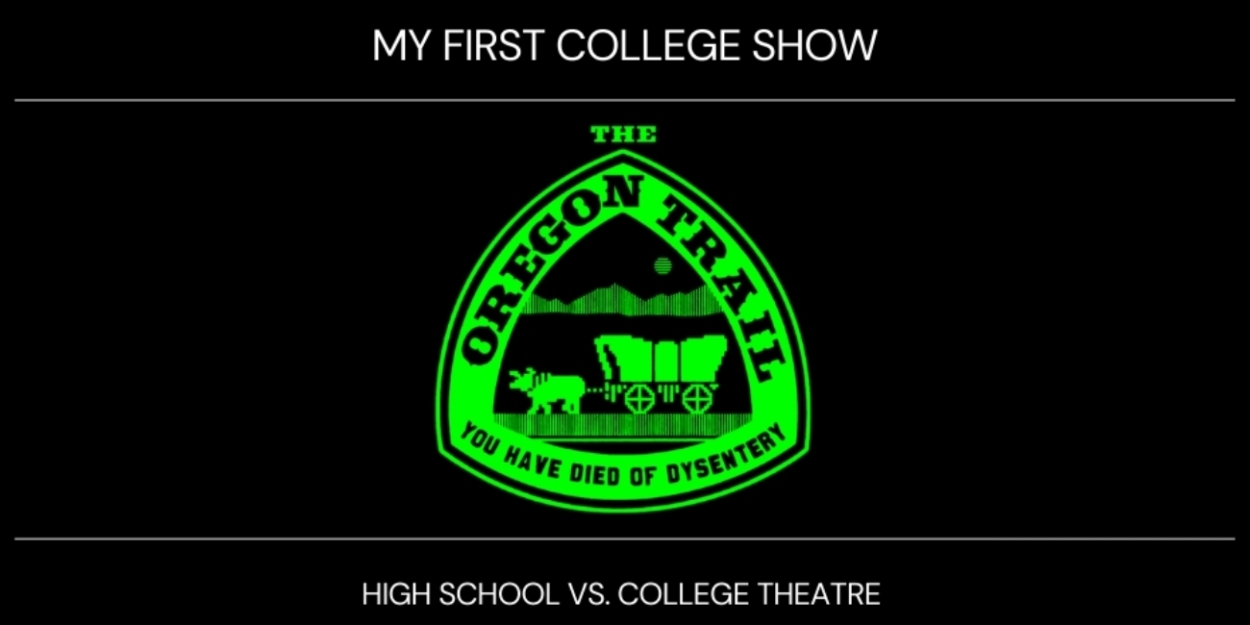 Student Blog: High School vs. College Theatre
I never could have imagined that my first college theatre production would be about a video game!
This fall I was cast in my first college production, a play titled The Oregon Trail by Bekah Brunstetter. The Oregon Trail is a comedy centered around a girl named Jane that takes place from Jane's early teenage years into her adulthood. Jane is obsessed with the video game The Oregon Trail until the game becomes reality and we are taken back to 1848, when Jane's great-great-grandmother experienced the trail. The play takes many time jumps from 1848 to present day. I was cast as Jane's great-great-grandmother, Then Jane, who traversed the country in a wagon with her father and sister.
This was a highly educational and beneficial show process for me and a great start to my college theatre career. As this was the first play I had been a part of since my senior year of high school, I noticed many differences between the rehearsal processes in high school vs. college.
Performing in high school felt incredibly surface level to me. By that I mean I was never challenged to dig deeper and make discoveries in my work. All I felt pressured to do was have my lines memorized and show up to every rehearsal. In college, or at least in The Oregon Trail rehearsals, I was encouraged to give input and make bold choices. This made me excited for each rehearsal as I never knew what was in store.
Another difference I discovered was the timing and pace of the rehearsal process. In high school it was typical for us to have 2 months of rehearsal before tech while in college it is typical to have 4-5 weeks. At first, this time frame felt overwhelming but as the process continued it was exciting to watch a show develop before my eyes in such a short amount of time.
The level of professionalism is another difference I noticed. During The Oregon Trail rehearsals we followed Equity rehearsal rules. This means that we received a 5 minute break every 55 minutes of rehearsal and a 10 minute break every 80 minutes. I can remember from high school that we would sometimes go up to 2 hours or nearly all of rehearsal without receiving a break.
A similarity between high school and college theatre that I am grateful for is the relationships I get the opportunity to make with my cast members. I met my best friends in high school because of the shows we did together. During The Oregon Trail my castmates and I quickly bonded and created a positive rehearsal atmosphere from the start. We were consistently supportive of each other which made me look forward to every rehearsal.
I asked some of my cast members if they would like to share any thoughts and feelings about their time in The Oregon Trail. Charlotte Kim, who played Mary Anne, sent me a quote about her experience in the play.
"In the show, I played Mary Anne: the driven, perfectionistic, idealistic older sister. I felt a deep connection to Mary Anne, as I was able to identify with her in a lot of ways. I played both the past and present versions of her. The two characters were very similar in personality and attitude, but had their differences because of the context in which they were living, so it was a fun challenge to explore both of them. Overall, I really enjoyed working on this show. I learned a lot during the process and had so much fun, even with all the late nights and long holds. It was a privilege to work with Jenna, our director, as well as the rest of the cast and crew. We really bonded as a cast, and I am so grateful to have been a part of it." - Charlotte Kim