SHEAR MADNESS Celebrates 30 Years at the Kennedy Center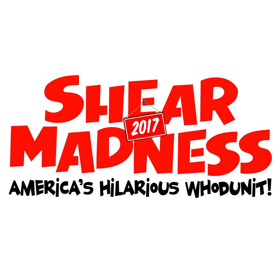 The John F. Kennedy Center for the Performing Arts's production of Shear Madness, the uproarious whodunit that holds the Guiness world record as the longest-running play in America, celebrates 30 years of hair-raising hilarity as it resumes performances tonight, August 29, in the Kennedy Center Theater Lab.
The zany production, which opened at the Kennedy Center in August of 1987 for what was intended to be a 12-week run, has entertained more than 3.4 million people at the Kennedy Center and has been enjoyed by more than 12 million people worldwide.
In the past three decades at the Kennedy Center, Shear Madness has gone through 15 barber chairs, 145 hair dryers, 178 bottles of stage blood, 428 hairbrushes, 971 bottles of hairspray, 1,597 bottles of nail polish, and 13,157 cans of shaving cream! In that time, the production has played host to numerous marriage proposals, an actual on-stage wedding, and even a birthday celebration for Betty Crocker.
This popular comedy mystery in which the audience solves the crime is filled with up-to-the-minute references and new clues that deliver a different show every night and keep audiences coming back for more. Directed and designed by Bruce Jordan, the cast includes Cornelia Hart (Mrs. Shubert), Kay Kerimian (Barbara DeMarco), Brad Letson (Tony Whitcomb), Zack Powell (Mikey Thomas), Aaron Shields (Eddie Lawrence), Jonathan Lee Taylor (Nick O'Brien), and Francie Glick (Understudy).
An international phenomenon, Shear Madness has had 111 productions worldwide with more than 68,000 performances and has been performed in a host of cities including Barcelona, Buenos Aires, Madrid, Paris, Reykjavik, Rome, Tel Aviv, Melbourne, Johannesburg, and Seoul. In addition to the Kennedy Center, the play continues to delight audiences in Boston (now in its 37th year) and across the country.
Performances for Shear Madness are Tuesday through Friday evenings at 8 p.m., Saturdays at 6 p.m. and 9 p.m., and Sundays at 3 p.m. and 7:00 p.m. Tickets from $54 are on sale through the Kennedy Center website, in-person at the Kennedy Center box office, or by calling (202) 467-4600 or (800) 444-1324.
ABOUT THE ARTISTS:
Cornelia Hart (Mrs. Shubert) trained as an actress at the Royal Academy of Dramatic Art in London (Honours, Forbes Robertson, Hardwicke Memorial, and Dame Flora Robson Prizes) under the legendary Hugh Cruttwell, and has worked in regional theater for more than 25 years. In the Washington D.C. area, she has appeared on the stages of Olney Theater Center, The Shakespeare Theatre Company, Studio Theatre, and the Kennedy Center where she was seen in 2015's If All the Sky Were Paper. The same year, Ms. Hart led the cast of Can't Complain, a world premiere play by Christine Evans, in the role of Rita for which she was listed Best Actress in a Play in Professional Theater by DCTheaterArts. In her spare time, she teaches workshops in verse performance and text analysis for undergraduate pre-professionals, and for 12 years directed a Shakespeare performance program she developed for secondary school students. She is delighted to return to the Kennedy Center as Mrs. Shubert in Shear Madness.
Kay Kerimian (Barbara DeMarco) is thrilled to return to Shear Madness! Local credits include: Shakespeare Theatre Company: Othello (u/s), The Critic & The Real Inspector Hound (u/s), World Premiere of The Metromaniacs (u/s performed), The Tempest (u/s performed). Select regional credits include Shakespeare in Delaware Park: The Comedy of Errors (Adriana), Richard III (Lady Anne), The Merchant of Venice (Nerissa); Irish Classical Theatre Company: The School for Husbands (Isabelle); MusicalFare Theatre: Rent (Mimi), Adrift in Macao (Corinna), for which she was nominated for an Artvoice Theatre Award. Originally from Long Island, Kerimian is a proud graduate of both SUNY Suffolk & SUNY New Paltz. Kerimian also lends her voice to audiobooks for the Library of Congress and acts as a Standardized Patient for Howard University. She will next be seen getting married to the love of her life this September. Many thanks to her family, friends, the Shear Madness team, and, of course, her soon-to-be husband for their love and support! To act on this stage is a privilege and every performance is a reminder of that gift. Dedicated to her "Earth Mother," Patti, her biggest cheerleader. www.kaykerimian.com
Brad Letson (Tony Whitcomb) is excited to be performing at the Kennedy Center once again and is thrilled to be back with his Shear Madness family for his 12th year! Letson made his way to Washington, D.C. by way of New York City where he lived for 12 years and attended The American Musical and Dramatic Academy. His Off-Broadway and NYC credits include: My Big Gay Italian Wedding, Bob in Beyond Therapy, Peachy in The Last Night of Ballyhoo, and numerous other readings and workshops. Brad has kicked up his heels in such shows as: Seven Brides for Seven Brothers, And the World Goes Round, Fame!, and 42nd Street. Other credits include: Look Homeward Angel, No Time for Sergeants, Uncle Vanya, The American Clock, and The Miracle Worker. Letson has worked regionally and toured with Periwinkle National Theatre and Florida Studio Theatre. TV and film credits include the role of Will Scarlet in Robin Hood: Prince of Sherwood, voice-overs for The Science Channel, Discovery Channel, Discovery Life, and Animal Planet. His favorite role yet: Playing DAD to his beautiful sons. Visit: www.BradLetson.com
Zack Powell (Mikey Thomas) Is thrilled to be returning to the Shear Madness team. Upcoming: The Last Night of Ballyhoo at Theatre J (November 2017) and The Legend of Georgia McBride at Round House Theatre (June 2018). Recent credits include Shear Madness at the Kennedy Center; King Lear, Twelfth Night, Bloody Bloody Andrew Jackson, and The Rise of Margaret at the American Shakespeare Center; Midsummer at the Folger Theatre; The Cherry Orchard, Cabaret, and Godspell at Off-Square Theatre Co.; Dunsinane at the Shakespeare Theatre Co.; Twelfth Night, Measure for Measure, Sherlock Holmes: The Final Adventure, South Pacific, The Taming of the Shrew, Henry IV Pt 2, The Tempest, and King John at the Utah Shakespeare Festival; Altar Boyz at 1st Stage; Othello, As You Like It, Romeo and Juliet, and The Winter's Tale at the Illinois Shakespeare Festival. MFA: Illinois State University. Special thanks to Joe Smelser.
Aaron Shields (Eddie Lawrence) hails from the small town of El Dorado, Kansas, where he grew up. He went on to study theater at American University, New York University, and the University of Southern California. He returns to the Kennedy Center after several years of playing Shear Madness in Chicago, Detroit, San Francisco, and Laguna Beach. Some of his favorite stage roles include Arnolphe in School for Wives, Cootie in Moonchildren, a skinny Sancho in Man of La Mancha, Don John in Much Ado About Nothing, and Victor in Frankenstein. He starred in the Emmy Award-winning show PickUp the Beat on CBS. He has been featured in such films as Hoffa, St. Elmo's Fire, and Perfect Strangers. He starred in the psychothriller film Crude Oasis from Miramax Pictures, in which he was the psycho, and can be seen in the soon-to-be-released film Riders. He was nominated for a Helen Hayes Award and received an Irene Ryan Award for acting in 1987. Love to family and friends.
Jonathan Lee Taylor (Nick O'Brien) is proud to be returning to Shear Madness at the Kennedy Center. Most recently, Taylor was seen as Elwood P. Dowd in Harvey at 1st Stage and will be seen at NextStop Theatre as Benedick in Much Ado. ReceNT Productions include: The Wedding Party (winner of Capital Fringe's 2015 Best Comedy Award), Constellation Theatre's The Fire and the Rain, The Katrina Project (the 10-year charity performance), and Half-Life at the Mead Theatre Lab. Theaters: Kennedy Center, Folger Theatre, Olney Theatre Center, Hartford Stage, Baltimore Shakespeare Festival, Monomoy Theatre, Constellation Theatre Company, Compass Rose, No Rules Theatre Company, Brave Spirits Theatre Company, Maryland Shakespeare Festival, Naples Dinner Theatre. Television: America's Most Wanted, VEEP, House of Cards. Film: Sally Pacholok, The Whyte Album, Heads or Tails, To Break a Story. He is currently seen in GEICO's "Man on the Street" commercials. He lives in Maryland with his wife, daughter, and pups. www.jonathanleetaylor.com
Francie Glick (Understudy) returns to Shear Madness having performed the roles of Barbara DeMarco, Mrs. Shubert, and Mikey Thomas. D.C. stage appearances include productions at: MetroStage, the Washington Stage Guild, the National Archives, Woolly Mammoth Theatre Company, the Smithsonian Institution, Washington Jewish Theatre, Harlequin Dinner Theatre, Gross National Product comedy troupe, Off the Circle Theater Company, CT Rex Family Theatre, and NCTE. Regionally, Ms. Glick has performed with Cortland Repertory Theatre, Light Opera Company of Cape Cod, and Fredericksburg Theater Company. Her singing talents have led to principal roles in musicals, operettas, and operas, including The Pirates of Penzance and Carmen. She can be seen and heard on numerous television and radio commercials and in industrial and feature films, both locally and nationally.
Bob Lohrmann (Associate Artistic Director) is the Associate Artistic Director of the Kennedy Center production of Shear Madness in Washington, D.C., where the show has broken box office records in its ongoing 30 year run. Additionally he has directed more than a dozen productions throughout the US and Canada and consulted for productions as far ranging as Croatia, South Africa, Brazil, Turkey, Puerto Rico, Iceland, and Russia. He has performed all the male roles in the show in Boston, Philadelphia, Washington, D.C., and Cleveland. Other recent directing credits include Lend Me a Tenor and Murder at the Howard Johnson's for Drayton Festival Theatre, The Night Larry Kramer Kissed Me at The Charles Street Theatre in D.C., and Don't Dress for Dinner at The Lake George Dinner Theatre. Mr. Lohrmann was a charter company member of the People's Light and Theatre Company in Pennsylvania where, over 15 years, he starred in 35 plays including Who's Afraid of Virginia Woolf, Holy Ghosts, Hamlet, Waiting for Godot, The Taming of the Shrew, Twelfth Night, Much Ado About Nothing, Romeo and Juliet, 1000 Clowns, Lenny, La Ronde, Learned Ladies, A Streetcar Named Desire, The Glass Menagerie, and Charley's Aunt. He has appeared at Ford's Theatre in Washington, and in Philadelphia in Beyond Therapy at the Wilma, As You Like It at the Arden, and Holy Ghosts at the Walnut Street Theatre and the Wilmington Grand Opera House. He has been the Marketing Director for People's Light and Theatre Company and Executive Director of Travel Light Theater in Chicago. He has consulted with the Philadelphia Drama Guild, the Pennsylvania Ballet, The Philadelphia Opera Theatre Company, The Philadelphia Orchestra, Uptown Entertainment Alliance and Legends in Concert/Waikiki. His comedy sketches have been performed at the Manhattan Punchline in New York. Bob was the announcer for Nickelodeon's game show for kids, Finders Keepers ("Tell 'em what they've won, Bob") and he has written and produced dozens of radio commercials. He is on the board of the International Institute for Theatrical Research, the advisory board of the Resident Theatre Company in West Chester, PA, and is President of Endless Mountain Zendo. He lives in Pennsylvania with his husband of 3 years (and partner of 38 years) , singer/songwriter and rock musician John Lilley.