Rorschach Theatre Announces World Premiere of SING TO ME NOW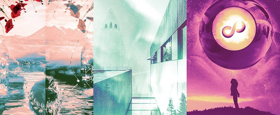 In SING TO ME NOW, playwright Iris Dauterman weaves sardonic humor, poetry, and a deeply contemporary voice to create a comedy about fighting for beauty while the world is falling apart.
Calliope is the last surviving Muse. Drowning in the demands of a world desperate for inspiration, she resorts to what any self-respecting Greek Goddess would do: She hires an intern. Soon it becomes clear that Calliope is burying a deeper pain, and the fate of the universe may lie in this human intern's unlikely ability to save her.
Iris Dauterman is a playwright from San Luis Obispo, California. She holds an MFA in Playwriting from Indiana University and a BA in Drama from Bennington College. She is a two-time finalist for the Heideman Award, and her plays have been workshopped or produced at the Berkshire Fringe Festival, the Massachusetts Museum of Contemporary Arts, Indiana University, Animus Theatre Company, the Philadelphia Fringe Festival, Campfire Theatre Festival, Little Lifeboats Theatre, the New American Theatre, Boise Contemporary Theatre, Spicy Witch Productions, and Storefront Theatre of Indianapolis.
Sing To Me Now was developed through Rorschach's inaugural MAGIC IN ROUGH SPACES NEW PLAY LAB in April 2018.
Led by director and Rorschach co-Artistic Director Jenny McConnell Frederick, SING TO ME NOW features a cast and creative team of both emerging and established local artists. The cast includes Ian Armstrong, Tori Boutin*, Desiree Chappelle, Erik Harrison, Cam Magee*, Chloe Mikala and Jonathan Del Palmer. The design and production team features Helen Hayes Award-winner Debra Kim Sivigny* (Costumes), Swedian Lie (Set), Rachael Knoblauch (Props), Gordon Nimmo-Smith* (Sound) and Sarah Tundermann (Lighting).
Drawing on decades of work in new play development, McConnell Frederick is approaching the production both with Rorschach's signature rough magic style and as someone who has worked intimately on the development of this fresh new play.
Jenny McConnell Frederick is a Washington, DC-based Director, Producer and strong believer in impossible theatre. She's the co-Artistic Director of Rorschach Theatre which she founded in the summer of 1999 with Randy Baker.
For Rorschach, she has directed the Helen Hayes Nominated Voices Underwater and God of Vengeance as well as Dead City, This Storm is What We Call Progress, Rough Magic, The Arabian Night, The Scarlet Letter, Master and Margarita, A Clearing in the Woods, The Illusion and both of the recent sold-out runs of Neil Gaiman's Neverwhere. In 2015, she conceived and directed Truth & Beauty Bombs, an original work based on the Canadian webcomic A Softer World.
She has also directed for Theater J (G-d's Honest Truth) and Catholic University (Sissy and Fifi & Hunter Forever!). She co-created Chambers of the Heart, an immersive Dance/Theatre project at Word Dance Theatre. She's served as a mentor director for the Theatre Lab's Honors Acting Conservatory and for the Kennedy Center's American College Theatre Festival and was a featured speaker at the CityWrights Conference in Miami. During her tenure as Director of Artistic Programs at CulturalDC, she served as Artistic Director of Source Festival. In that capacity she oversaw the selection, development and production of more than 200 works for the stage over nearly a decade. Work developed and produced by Jenny at the Source Festival boasts multiple National New Play Network Rolling World Premieres, several American Theatre Critics Association Steinberg Award Nominations and an Osborn Award Winner. Through CulturalDC's Mead Theatre Lab Program, she directed artist selection and recruitment processes and oversaw advisory panels. She has worked closely with many artists to create, develop and produce their own work.
She graduated cum laude from Virginia Commonwealth University with a BFA in Theatre and joined Mensa for the free pencils. She lives in Takoma, DC with her husband and their long-term collaboration, a son named Thane.
Two of the company's upcoming OTHER PEOPLE'S INK: AN ENTERTAINMENT CURATION SOCIETY (OPI) events will connect with the themes and ideas of SING TO ME NOW. OTHER PEOPLE'S INK consists of monthly events in which Rorschach artists and audience come together to explore art galleries, cinema, author events, and other adventures that feature work with a Rorschach flavor: Other People's Ink.
On September 30, Rorschach will host a field trip to the National Museum of Women in the Arts for a curated tour of their library exhibition, "Full Bleed: A Decade of Photobooks and Photo Zines by Women."
On October 9, Rorschach and Solid State Books will launch a brand new partnership: a book club dedicated to relevant works for each of the 2018-2019 productions. The partnership launch will feature staged readings from both SING TO ME NOW and the chosen book as well as an announcement of the other books we will be reading later in the season.
There will be an OPI event in November as well related to SING TO ME NOW. The details of this event will be announced soon.
Through uncommon uses of environment and intimate, passionate performances, Rorschach Theatre seeks to lure its audiences beyond the limits of ordinary theatrical experience so that they may discover new elements of their own humanity.
Rorschach Theatre tells stories that allow for innovative design and visceral performances. The company treats productions as "installations" that surround the audience with the world of a play. Our work centers on the intersection of magic or impossible moments and every day human experience. Without proselytizing, it provides a complex, intellectual catalyst for self-exploration of challenging subjects.
Rorschach is a vital launching pad for emerging artists. By trusting early-career actors, directors, playwrights and designers with substantive artistic responsibilities, and surrounding them with established professionals and ample resources, the company has become an essential showcase for new talent. In addition to its regular season, Rorschach produces "Magic in Rough Spaces," an annual new play development series; "Klecksography," an annual new artist development event (for actors, local playwrights, and directors); and "Fight Camp," a stage combat training program held every summer. The company also organizes "Other People's Ink," a monthly offering of non-theatre social events that speak to the company's aesthetic.
The Helen Hayes award winning Rorschach Theatre has produced more than fifty plays seen by tens of thousands of people in the Washington area. The company has been recognized more than a dozen times by the Helen Hayes Awards; won a Mary Goldwater Award; been a finalist for the Mayor's Arts Award; and has been the recipient of multiple grants and awards from the D.C. Commission on the Arts and Humanities. The company's work has garnered the attention of The New York Times, The Washington Post, American Theatre magazine and National Public Radio, as well as countless local publications.