Rainbow Theatre Project to Present Tennessee Williams' KINGDOM OF EARTH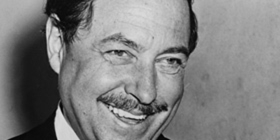 Rainbow Theatre Project will produce a staged reading of Tennessee Williams' Kingdom of Earth. One of William's lesser known plays, Kingdom of Earth will be performed on Monday, October 16 at 7:30pm at the District of Columbia Arts Center.
Directed by Greg Stevens, Kingdom of Earth, is a serio-comic play that, like Williams' other works, explores the complicated nature of familial relationships. Lot, a tubercular, neurotic, impotent transvestite brings his bride Myrtle, a former prostitute and showgirl, to his ancestral home to steal the deed from his bi-racial brother, Chicken. In a style similar to that of A Street Car Named Desire, Williams' play is both laugh-out-loud funny and darkly serious as he unravels the lives of his characters while calling into question the stereotypes of family.
"What a treat to read William's beautiful language; even more of a treat to direct a marvelous cast: Gillian Shelly Lawler, Brian J. Shaw, and Michael Kevin Darnall," shares Stevens. "Passion, poetry, tubercular transvestite, prostitute/showgirl, multiracial half-brother, a battle over a Mississippi Delta farmhouse, and an eminent flood of biblical proportions! What's not to love?!"
GREG STEVENS (Director and Set Designer) returns to Rainbow Theatre Project having last directed Suddenly Last Summer. Credits include: Factory 449 (where he is founding company member) Lela & Co. (set), Closet Land (set), The Amish Project (set, Helen Hayes Award nomination), The Saint Plays (set/costumes), 4.48 Psychosis (set). For State of Play Productions (NYC) he designed the set for The City that Cried Wolf. For Rainbow Theatre Project he has directed Kingdom of Earth and Suddenly Last Summer and designed set and costumes for Get Used to It! and The Oldest Profession. For The In Series his credits include The Cole Porter Project (co-author/co-direct/set), LaClemenza di Tito (set), and Viva Zarzuela (set/costumes); for the Actors' Theatre of Washington, The Owl and the Pussycat (set), Vampire Lesbians of Sodom (set/costumes), Boston Marriage (set), and Les Liaisons Dangereuses (set/costumes). BA, Theatre, San Diego State University; MAT, Museum Education, GWU.
The performance will be helmed by Stevens and the cast includes Michael Kevin Darnall (Chicken), Gillian Shelly Lawler (Myrtle), and Brian J. Shaw (Lot).
Kingdom of Earth is a serio-comic play that focuses on Lot, a tubercular neurotic youth who is an impotent transvestite overly attached to the memory of his late mother. He has returned to his ancestral home, a decaying house on the edge of a river on the verge of overflowing, with his new bride Myrtle, a sometime prostitute and former showgirl. She dwells in a fantasy world of romantic illusions, one of which is to nurse Lot back to health so they can consummate their marriage, but soon discovers Lot only wants to use her to steal the deed to the property from his multiracial half-brother Chicken, who has lived on and farmed the property for years.
Kingdom of Earth will be performed on Monday, October 16 at 7:30pm at the District of Columbia Arts Center. Tickets are general admission and can be purchased for $15. For tickets, visit www.brownpapertickets.com/event/3045957.
ABOUT THE ARTISTS:
MICHAEL KEVIN DARNALL (Chicken) has performed regionally and in D.C. area theatres, including Cincinnati Playhouse: Jitney; Ford's Theatre: Jefferson's Garden; Studio Theatre: Wig Out!, Animal; Roundhouse Theatre: Father Comes Home From the Wars; Mosaic Theatre: Ulysses on Bottles; Theater J: Yentl; The Hub (company member): Failure: A Love Story (Helen Hayes nomination), Big Love; Spooky Action Theatre (Entangled Artist): Last of the Whyos (Helen Hayes nomination), The Wedding Dress, Optimism! (Helen Hayes nomination); Constellation Theatre: Journey to the West, The Fire and The Rain, Metamorphoses; MetroStage: Savage in Limbo, The Sandstorm; and Imagination Stage: The Jungle Book. For television, he has appeared on The Wire. Michael received his training at SUNY Purchase.
Gillian Shelly LAWLER (Myrtle) is excited to return to Rainbow Theatre Project for her second Tennessee Williams reading (previously, Suddenly Last Summer). Currently, Gillian can be seen in The Bridges of Madison County (Marge - Red Branch Theatre). Recent premieres include: Maytag Virgin (Lizzy - Quotidian Theatre), Nero/Pseudo (Chrysis - WSC Avant Bard), and The Bronte?s (Gypsy - Dizzy Miss Lizzie's Roadside Review). Other credits include Private Lives (Sybil - Olney Theatre), A Man of No Importance (Lily - Bay Theatre), Shear Madness (Barbara - Kennedy Center), Grease (Rizzo - Toby's), Diamond Dead (Pussy - Landless Theatre), Rapunzel (Witch - Imagination Stage), and Night of the Living Dead (The Musical) (Original Concept Cast). Gillian is a Factory 449 company member and a member of AEA.
BRIAN J. SHAW (Lot) is thrilled to make his debut with Rainbow Theatre Project. He freelances as a performer and costumer throughout the DC Metro Area and serves as artistic associate for DC's The In Series. He is a member of Pallas Theatre Collective and appeared in the ongoing run of Swing Time: The Musical at the Navy Memorial's Burke Theatre. From 2010-2012 he sang numerous roles in 22 different productions with Cape Cod's acclaimed College Light Opera Co. He holds a BA in Theatre from Baldwin- Wallace College.
The Rainbow Theatre Project is committed to being the premier theatre for the Lesbian, Gay, Bisexual, Transgender and Queer (LGBTQ) community in the Nation's Capital by presenting plays and musicals that reflect the unique experiences, interests and history of the LGBTQ community. Located in Washington DC, the Rainbow Theatre Project offers eclectic performances that honor and uplift the gay community and affirm the worth of all people. Our Stories. Our Voices. Our Time. for more, visit rainbowtheatreproject.org or follow on Twitter: @rainbowtheatrep and Facebook: facebook.com/RainbowTheatreProject.
More Hot Stories For You