Photo Flash: Sondheim and Signature Theatre Honors Bernadette Peters
On April 11, 2011, Virginia's Tony Award®-winning Signature Theatre honored esteemed stage and screen actress Bernadette Peters with the company's second Stephen Sondheim Award. The award, established in 2009 in honor of America's most influential contemporary musical theater writer and composer, was presented at a black-tie Gala Benefit at the Embassy of Italy. The 2011 Sondheim Award Gala was chaired by Ted and Mary Jo Shen; Honorary Hosts include Stephen Sondheim, Helen Henderson, His Excellency Gary Doer and Ms. Ginny Devine, The Honorable James Moran, His Excellency Giulio Terzi and Ms. Antonella Cinque, and The Honorable Jim Webb and Mrs. Webb. The Sondheim Award Gala helped to benefit Signature Theatre's numerous artistic, education, and community programs. Last year's recipient was stage, screen, and television icon Angela Lansbury. Below, BroadwayWorld brings you official photo coverage of the event. Click here for BroadwayWorld's own recap of the event.
To commemorate the evening and to help celebrate Ms. Peters' impressive body of work, special musical performances were given by Broadway stars Stephen Buntrock (A Little Night Music, Beauty and the Beast) and Rebecca Luker (Mary Poppins, Show Boat, and The Phantom of the Opera), as well as Signature favorites Eleasha Gamble (Chess, Les Miserables, Into the Woods) and Euan Morton (Broadway's Sondheim on Sondheim and Taboo and Signature's Chess).
Most recently starring on Broadway in the acclaimed revival of Sondheim's A Little Night Music, Bernadette Peters has dazzled audiences and critics with her performances on stage, screen, recordings, and in concert for decades.
She has often been recognized for her work with Sondheim, receiving Tony® nominations for her performances in Sondheim's Sunday in the Park With George and Gypsy. Peters also earned a Drama Desk nomination for her portrayal of the Witch in the original Broadway production of Sondheim's Into the Woods. She will play the role of Sally in a Kennedy Center production of Sondheim's Follies, directed by Signature Artistic Director Eric Schaeffer, in May 2011.
In 1985, Peters received her first Tony Award® for her performance in Andrew Lloyd Webber's Song and Dance. She earned her second Tony® in 1999 for her performance in Annie Get Your Gun. Peters also received Tony® nominations for The Goodbye Girl, Mack and Mabel, and On the Town.
Peters made her Broadway debut in 1967 in Johnny No-Trump, and in 1968 starred with Joel Grey in the musical George M!, earning a Theatre World Award. That same year, she received a Drama Desk Award for her performance in the Off-Broadway hit Dames at Sea.
While best known for her work in the theater, Peters boasts an impressive list of television and film credits including Pennies From Heaven (Golden Globe Award), The Jerk, The Longest Yard, Silent Movie, Annie, Pink Cadillac, Slaves of New York, and Woody Allen's Alice. She has been nominated for Emmys for her appearances on The Muppet Show and Ally McBeal.
In addition to her Grammy Award-winning Broadway cast albums, Peters has recorded six solo albums including Sondheim, Etc.; Etc.: Bernadette Peters Live at Carnegie Hall; Bernadette Peters Loves Rodgers & Hammerstein; and Now Playing.
She is the author of Broadway Barks, a children's book named after the animal adoption organization she co-founded. Peters also devotes her time and talents to Broadway Cares/Equity Fights AIDS and The Gay Men's Health Crisis.
In 2009, Signature Theatre inaugurated The Stephen Sondheim Award in recognition of the importance of Sondheim's work to Signature and to theater in general. In April 2010, the first Award was given to stage, screen and television actress Angela Lansbury. The Award is given on a yearly basis to an individual for his or her career contributions to interpreting, supporting, and collaborating on Stephen Sondheim's music works. Signature has produced 18 productions of the works of Stephen Sondheim, more than any other theater in the United States. In 2002, Signature's Eric Schaeffer was the Artistic Director of "The Sondheim Celebration" at the Kennedy Center.
Photo Credit: Russell Hirshon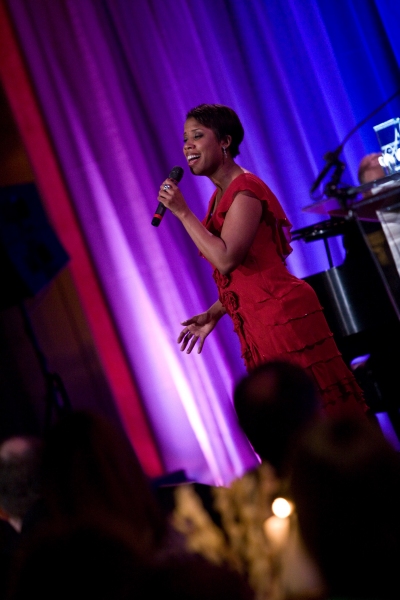 Eleasha Gamble

Rebecca Luker

Euan Morton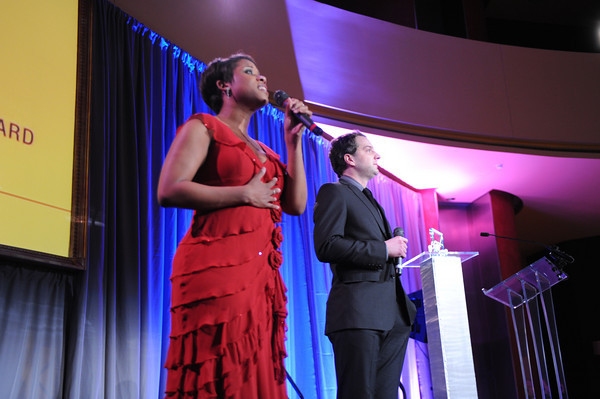 Eleasha Gamble and Euan Morton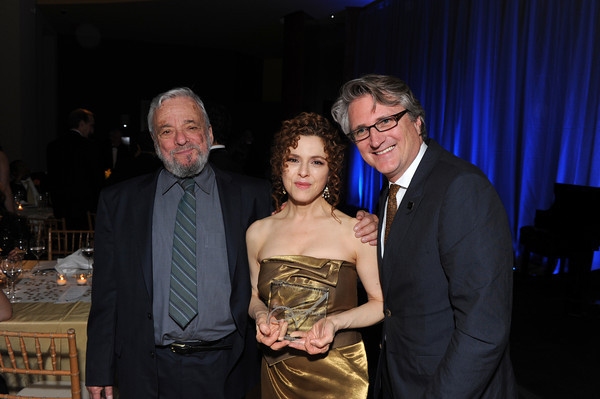 Stephen Sondheim, Bernadette Peters and Eric Schaeffer

Bernadette Peters and Stephen Sondheim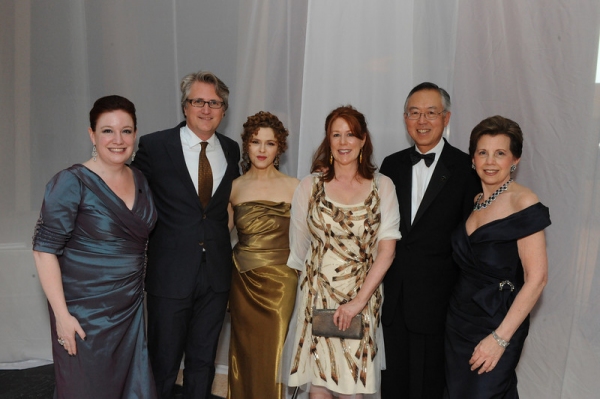 Maggie Boland, Eric Schaeffer, Bernadette Peters, Mary Jo Shen, Ted Shen and Adrienne Arsht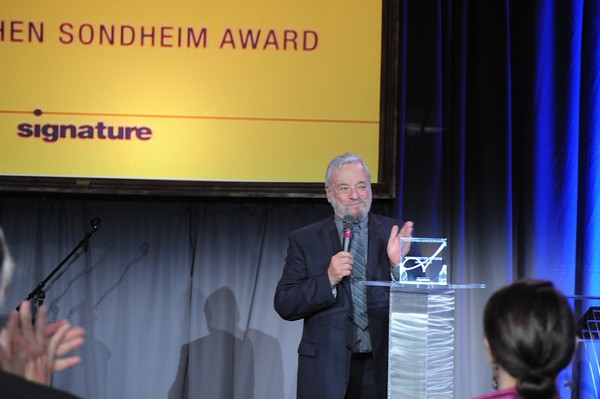 Stephen Sondheim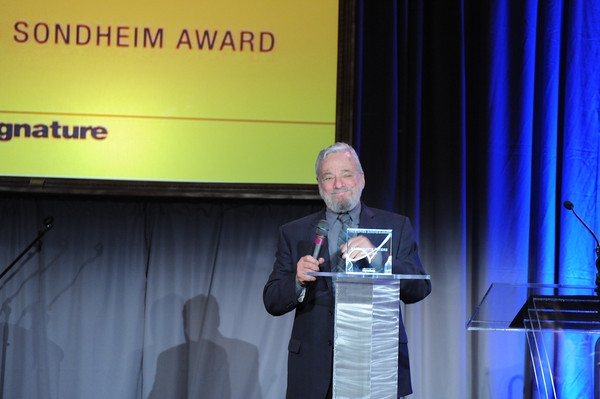 Stephen Sondheim

Peter Lerman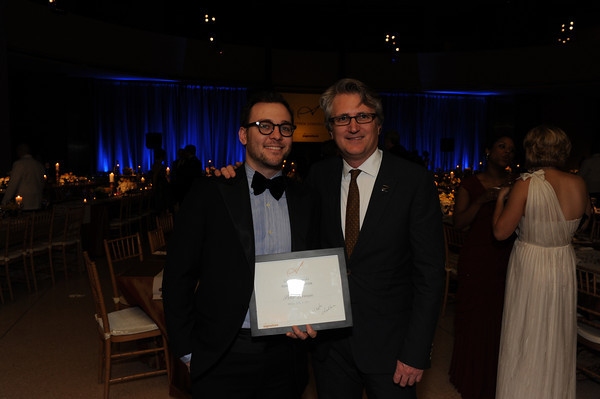 Peter Lerman and Eric Schaeffer

Eleasha Gamble and Florence Lacey

More Hot Stories For You