Photo Flash: First Look - Conor McPherson's THE VEIL at Quotidian Theatre Company, Now Through 8/17
Internationally-acclaimed playwright Conor McPherson's period drama The Veil is given its US premiere at Quotidian Theatre Company. The New York Times called McPherson "the finest playwright of his generation". The Veil made its world premiere at National Theatre in a production Evening Standard called "atmospheric and haunting". Quotidian has staged six prior productions of McPherson's work. The US premiere production runs through August 17 at The Writer's Center in downtown Bethesda.
McPherson has had plays produced at London's National Theatre, on Broadway, at Chicago's iconic Goodman and Steppenwolf theatres, and at DC's Studio Theatre in addition to Quotidian. His work has received Tony Award nominations for Best Play and the Laurence Olivier Award for Best New Play. His plays include The Birds, Shining City, The Seafarer, Port Authority, Dublin Carol, and The Weir.
In The Veil, Lady Madeleine Lambroke has invited a defrocked reverend to her decaying estate in Ireland so he might chaperone her daughter to London, where the girl is to be wed. But when the reverend arrives with a strange companion, another reason for their visit gradually becomes apparent. Quotidian Theatre Company artistic director and co-founder Jack Sbarbori directs his seventh McPherson production after helming the DC area premieres of Dublin Carol, Port Authority, and The Birds. McPherson is Sbarbori's favorite living playwright, and the McPherson plays Sbarbori has directed count among QTC's most highly-praised productions. Sbarbori's cast includes many Quotidian favorites, several of whom have previously tackled McPherson's work.

Chelsea Mayo, Jane Squier Bruns, Steve LaRocque, John Decker

John Decker, Steve LaRocque, Chelsea Mayo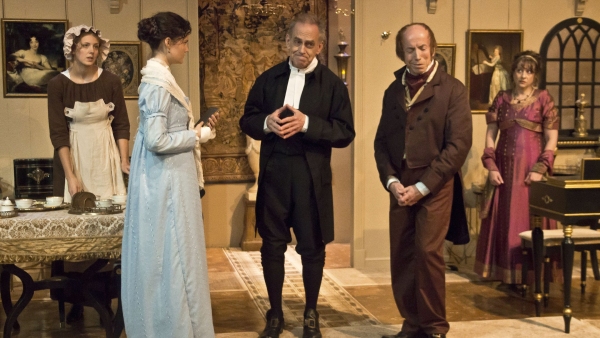 Christine Alexander, Chelsea Mayo, Steve LaRocque, John Decker, Michele Osherow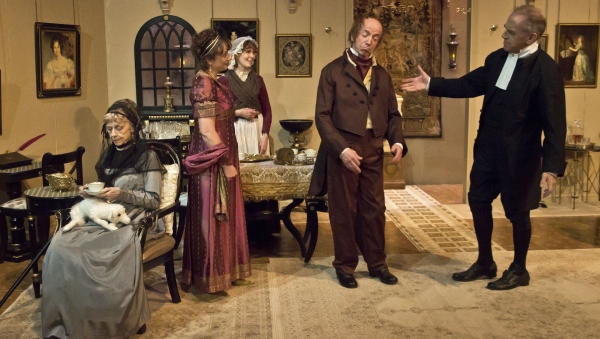 Jane Squier Bruns, Michele Osherow, Stephanie Mumford, John Decker, Steve LaRocque