Mosaic Theater Company Extends THE DEVIL'S MUSIC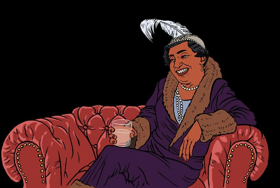 The first show of Mosaic Theater's third season, The Devil's Music: The Life and Blues of Bessie Smith, has been officially extended through October 1.
"Based on the success of Satchmo at the Waldorf, we were optimistic that The Devil's Music: The Life and Blues of Bessie Smith would provide us with a strong opening to Season Three," notes Ari Roth, Mosaic's Founding Artistic Director. "Our box office sales are already exceeding original projections and audiences are loving this musical exploration of an electrifying, tough, sexy, strong, and irreverent icon performed by one of the best blues singers around, Miche Braden. Because of the high demand for tickets, we have added seven additional performances, extending the show to October 1."
The seven performances added to the run of The Devil's Music: The Life and Blues of Bessie Smith are: September 27 at 11 AM and 8 PM; September 28 at 8 PM; September 30 at 3 PM and 8 PM; and October 1 at 3 PM and 7:30 PM. There will be no performance on Fridaynight, September 29 in observation of the start of Yom Kippur.
Mosaic Theater has also officially signed on John de Lancie to star in the second play of the season, Vicuña & The American Epilogue written by Jon Robin Baitz (Other Desert Cities; TV's Brothers & Sisters, and Feud Season 2). De Lancie is most well known for his role as Q in Star Trek: The Next Generation; Star Trek: Deep Space Nine; Star Trek: Voyager; and for his recurring role as Donald Margolis in Breaking Bad. In addition to his film credits, De Lancie has been a company member of the American Shakespeare Company, the Seattle Repertory Company, the South Coast Repertory, the Mark Taper Forum, and The Old Globe-and has worked extensively with the LA Philharmonic as the writer/director/host of "First Nights." De Lancie will be portraying a Donald Trump-inspired real-estate tycoon prepping for his final debate in this "lethal, ruthless, and comprehensive satire" (Stage Raw) and will be joined by original Vicuña cast member Brian George (also an alum of the Star Trek franchise) in the role of the Iranian bespoke tailor Anselm, and by local favorites Laura C. Harris in the role of the candidate's daughter, Srilanka, and Kimberly Schraf as Senator Kitty Finch-Gibbon, head of the Republican National Committee.
Vicuña had its world premiere in October 2016 at Center Theatre Group in Los Angeles. Following a harrowing experience at the hands of a Trump supporter on the night of the election, Baitz penned The American Epilogue as a second part of the Vicuña story. Mosaic's production will include both parts, giving The American Epilogue its world premiere. The production will be directed by Robert Egan, the Artistic Director/Producer of the Ojai Playwrights Conference.
"This incredible new play required a very talented actor to play the Trump (but really much smarter than Trump) role, and we are so thrilled to have John de Lancie bringing his experience, comedic chops, and star-power to Washington, DC," said Roth. "We are additionally honored that Jon Robin Baitz has chosen to work with us to bring the second installment of Vicuña to life. This play is gripping, funny, thought-provoking, and could not be more timely."
Additional Information about The Devil's Music: The Life and Blues of Bessie Smith
Tickets: Tickets for The Devil's Music are $20-$65, plus applicable fees. For information on savings programs such as discounts and packages, visit mosaictheater.org/tickets. Tickets may be purchased online at mosaictheater.org, by phone at 202-399-7993 ext. 2, or at the Atlas Performing Arts Center Box Office at 1333 H Street NE, Washington DC 20002.
Special Performances and Post Show Discussions: Student matinee at 11 AM on Thursday September 14 and Wednesday September 27; Open Captions at 3 PM and 8 PM on September 16 and at 3 PM and 7:30 PM on September 17. We are proud to be offering a signed post-show discussion after the 3 PM performance on September 17. A full line-up of discussions throughout the run of The Devil's Music will be posted shortly on Mosaic's website.
For all other information, visit: http://www.mosaictheater.org/the-devils-music.
Special Performances and Post Show Discussions: PWYC preview on November 1 at 8 PM; Student Matinee at 11 AM on November 9; Open Captions provided at 3:00 PM and 8:00 PM on November 11, at 3:00 PM on November 12, and at 8 PM on November 15; Peace Café on November 18 at 3 PM. For a full line-up of post-show discussions and any other information, visit: http://www.mosaictheater.org/vicuna
Related Articles View More Washington, DC

Stories

Shows
More Hot Stories For You