LAST DITCH PLAYLIST Premieres at Capital Fringe Festival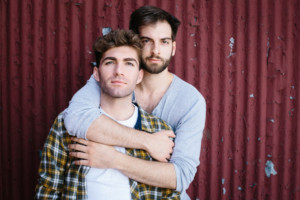 How do you put back together a broken heart? Aaron searches for an answer to that question in Last Ditch Playlist, a new play by Brad Baron making its World Premiere as a part of the 2017 Capital Fringe Festival. The play will perform in Lab II at the Atlas Performing Arts Center located at 1333 H Street NE in Washington, DC. There will be five performances on Thursday July 6th at 5:00 pm, Friday July 7th at 9:30 pm, Sunday July 9th at 11:30 am, Tuesday July 11th at 5:15 pm, and Wednesday July 12th at 9:15 pm. Tickets, Fringe Buttons, and Festival Passes may be purchased online at http://www.capitalfringe.org or by calling 866-811-4111.
Climb inside Aaron's head where all his memories are shuffled like songs in a playlist. Dance through these memories as he reflects on his rocky romance with Wes and searches for the right words to say. Told in a series of non-chronological vignettes that scan memories both real and invented, Last Ditch Playlist is a modern mixtape eulogizing love lost and found.
"Although Last Ditch Playlist examines a romance between two men, it's important that it draws a nuanced picture of a relationship that is relatable to anybody who has ever been in one," says writer Brad Baron, who also plays Aaron in the play. "Of course every relationship has qualities that make it unique, but if 'love is love' then that experience should be universally recognizable."
Cast includes Brad Baron (Regional: Brigadoon, Kiss Me Kate, The Pirates of Penzance), Dontonio Demarco (NY: A Crime to Remember, Salome), Ross McCorkell (Off-Bway: Astronaut Love Show, NY: Loch Lomond, Gods & Kings), and Amy Stringer (NY: Sense and Sensibility, Web: Millennials of New York). Creative Team includes Casey Bagnall (Choreographer), Sarah Cuneo (Graphic Designer), James Alfred Rose Johnson (Lighting Designer), Jason Pomerantz (Composer, Sound Designer), and Joseph Prestamo (Video Designer).
About Brad Baron:
Brad Baron is a singer, actor, writer, director, and frequent Pirate King. The bulk of his career has been spent performing leading and supporting roles in opera and musical theater productions around the United States. In addition, he has had many plays produced at regional theaters and festivals. The 2017 Capital Fringe production of his play Last Ditch Playlist marks its world premiere. Its NYC and Philly premieres follow soon thereafter. For more information about Brad, please visit www.brad-baron.com or follow him on social media directly @BaronAsInRed
About the Fringe Festival:
Founded in 2006, the annual Fringe Festival held each July, starting in 2006 serves as celebration of cultural democracy and art for everyone. By embracing diversity and a spirit of independence, we create or rent a series of theatre spaces made available to participants on a first-come, first-served basis. Our aim is to challenge perceptions and shake up the hierarchy, to be brave and unafraid and to serve as a launching pad for unseasoned to existing theatre artists.
About Capital Fringe:
The focus of Capital Fringe is on expanding audiences' appetites for independent, Fringe theatre, music, art, dance and unclassifiable forms of live performance and visual art. Capital Fringe is a catalyst for cultural and community development, and a destination that brings artists and audiences together. Capital Fringe thrives on amplifying the vibrancy of the DC's independent arts community and enriches the lives of those who reside, work and visit here.
Visit http://www.lastditchplaylist.com or https://www.capitalfringe.org/events/1111-last-ditch-playlist for more information about Last Ditch Playlist.
Related Articles View More Washington, DC

Stories

Shows
More Hot Stories For You