Review: Tituss Burgess in Concert at The Kennedy Center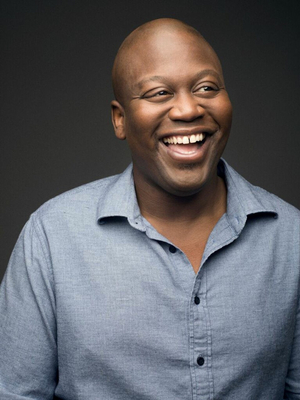 It's rare to see a show that feels like it could only happen in one place, at one time. Especially at The Kennedy Center, known for the utmost professionalism, temporal tightness and delivery of all its professional shows - you go to The Kennedy Center because you know you're going to see a show where everyone knows exactly what's going to happen and that it's going to be delivered to you as you expected. Which is one of the reasons that Tituss Burgess in Concert on July 27th felt like such a rarity - every second felt like a gift for this audience. In particular, one audience member - Burgess' mother.
Early in the show, he revealed that the entire concert, taking place on her birthday, was curated specifically for her. Joined by many Burgess family members, we were treated to a number of songs - many hits, others more obscure - with specific meaningfulness to Burgess, his childhood, his career and his mother. In fact, the major highlight of the evening was not even a performance by Burgess, but when he came into the audience to sit with his mother to watch a few of her favorite songs performed, including Smokey Robinson's "Cruisin'" performed by Charl Brown of Broadway's Motown the Musical.
In fact, I've rarely seen concerts in which the headliner provides so much support to other performers. That isn't to say there wasn't enough Tituss Burgess - this show is all him - but his backup singers - Angela Birchett, Helen White, Darell J. Hunt and Allison Mickelson - all had multiple solos cheered on by Burgess. His love and support of other artists shined through. Jane Krakowski, Burgess' costar on 30 Rock and Unbreakable Kimmy Schmidt, joined for a few numbers, including a very funny deconstruction of Melissa Manchester's "Don't Cry Out Loud" and, later, a duet of "Nothing's Gonna Stop Us Now" with Burgess that frequently had the two erupting in laughter.
That golden looseness defined the evening. Another of the most memorable moments had Burgess singing a song written by a friend - "I didn't even tell her I was gonna sing it" - and ending with "we didn't do that in sound check. We've never actually run the whole show." The giddiness throughout was palpable; a wild rendition of "Love Shack" by Burgess and his backup singers hasn't stopped replaying in my mind.
It was only after the show that I realized Burgess just had a new album come out last week. This didn't feel like a show meant to sell anything, and many of these weren't numbers he's known for singing live (a popular favorite, "Poor Unfortunate Souls" from The Little Mermaid, was absent). This was a celebration: of Burgess' family, of his collaborators, of the audience - one of the earliest numbers was "Signed, Sealed, Delivered, I'm Yours," and that's how it felt.