BWW Review: THUNDER KNOCKING ON THE DOOR at Creative Cauldron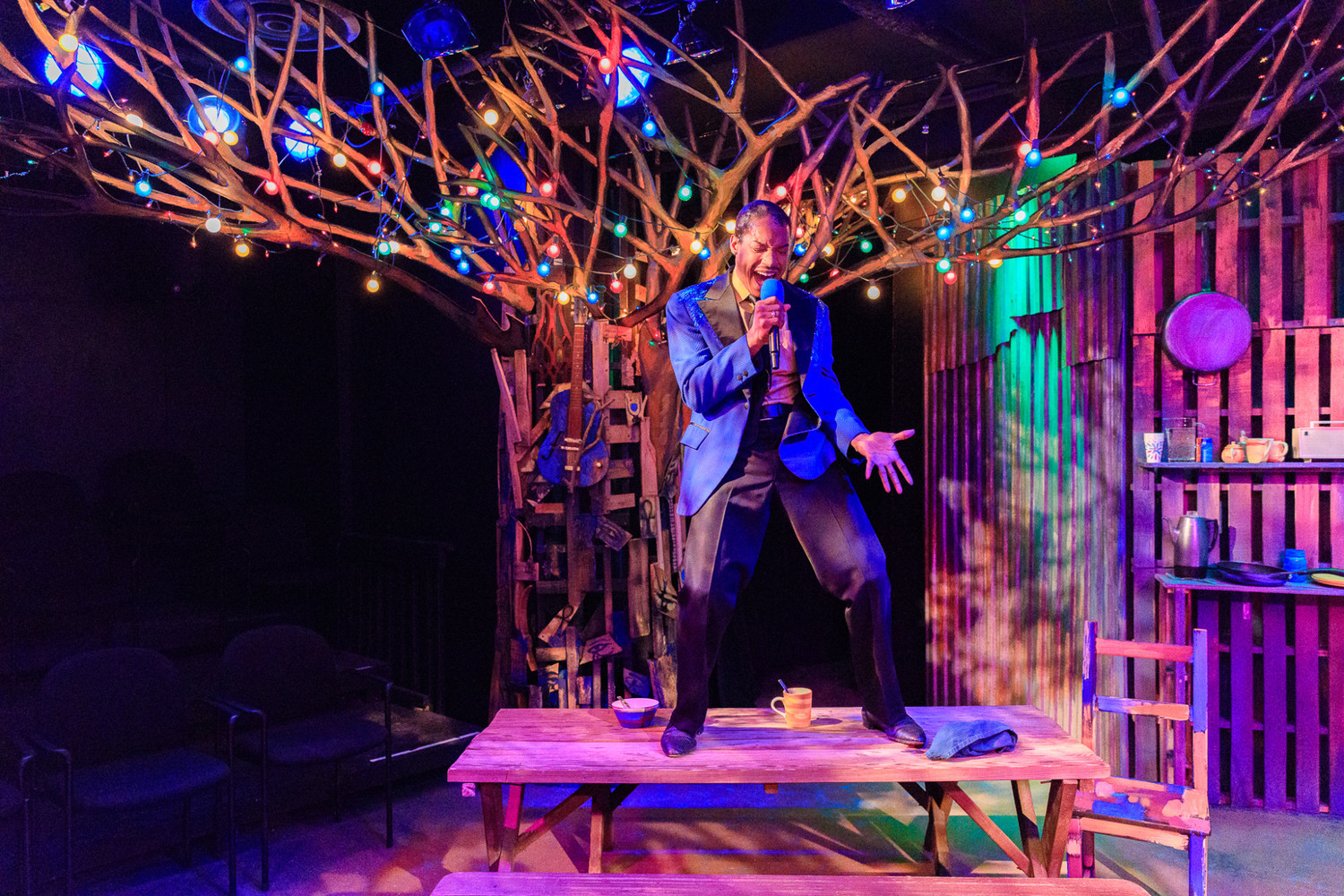 There is nothing outright wrong with Thunder Knocking on the Door, the blues-filled musical which opened at Creative Cauldron this past Saturday. But there isn't much that is right with it either. Overall, the production is a firmly middle-of-the-road endeavor where the mismatched cast are unable to elevate the subpar source material. At the end of the day, this is a show that thinks it has more to say that it actually does.
Good Sister (Kelli Blackwell) is the widow of renowned blues guitarist Jaguar Dupree, who was known for his ability to cut a tune expertly. Her home in a small Alabama town is filled with her lover, Dregster (Greg Watkins), her troublesome son, Jaguar Jr (Bryan Jeffrey), and her blind daughter, Glory (Shayla Simmons). Just as Good Sister begins to wonder whether it is time to be sending Glory off to a local home for additional assistance, the mysterious Marvell Thunder (Clifton Walker III) comes knocking on their door. The mystical Thunder recently bested Jaguar Jr in a musical duel (known as a cutting contest) and collected one of two handmade guitars left to the Dupree children. He is now hoping to collect the other instrument, owned by Glory, and challenges her to a cutting contest of her own. If he wins, he will keep the guitar made by her father, but should he lose then Thunder will permanently restore Glory's sight.
The book by Keith Glover has a lot of ground to cover and it certainly takes its time doing so. Most of the pieces aren't in place until the very end of the first act, meaning there is a lot of down time in that first act devoted to musical numbers that do little to advance the overarching plot. Just when you're starting to understand the motivations of one character, they leave the stage and another subplot is introduced. Glory, for example, is rarely in the first act but somehow becomes the central character of the second act. Such a lopsided book limits the ability to connect with any one person on the stage.
Ms. Blackwell comes close to creating that connection thanks to her gorgeous vocals and impressive watchability. Whenever she is onstage, I had a hard time looking away from her even though Good Sister wasn't often the script's focus. That's disappointing, because Ms. Blackwell is the strongest of all the evening's performers. Her voice rises above the others around her and her comedic timing is spot-on.
The rest of the company fails to rise to Ms. Blackwell's incredible heights. Mr. Jeffrey is entertaining but often leans into a campy persona that seems to contradict the hyper-masculine Jaguar Jr. that is suggested by Mr. Glover's script. As Good Sister's lover, Mr. Watkins does a serviceable job but doesn't generate much romantic tension with his scene partner. At least there's some minor spark between him and Ms. Blackwell, a sentiment which can't be said for Mr. Walker and Ms. Simmons.
As Thunder and Glory, these performers fail to create any sense of personal connection. Their love affair comes so far out of left field that I spent almost the entire second act wondering what hints I could have missed that led to this strange romance. Beyond lacking chemistry, the two have very different singing voices which never really blend with one another. Ms. Simmons, specifically, is outmatched vocally by nearly all of the other performers onstage. Her voice is so much quieter than those around her that the full-bodied music is often toned down when she joins. It isn't until the final number that she demonstrates some solid musicality. By that point, however, it's too little too late.
Matt Conner and Stephen Gregory Smith have lent stiff direction to this production. The pair rely too heavily on the small steps set up in the playing space, forcing their actors to return there at the beginning of any number. Their decision is understandable considering the three microphones on the steps are necessary to hearing the singers above the five-piece band. But the microphones are wireless, an element which is only utilized a handful of times during the evening.
Most egregious, however, is the decision to not have anyone on stage actually playing a guitar. In a show all about music, it's odd that no guitar playing can be seen. With the band backstage, it falls to the actors to show the drama of jamming on their instruments. Their pantomime is so laughably off, however, that the cutting contests lack any tension. Instead, these scenes generate a lot of questions around how they could have celebrated these instruments in the proper way.
Thunder Knocking on the Door isn't replete of enjoyable elements. Almost all of the production design is well-executed. Margie Jervis's set makes good use of Creative Cauldron's intimate space with a stunning metallic tree serving as a particularly eye-catching element to her design. James Morrison skillfully lights the production and generates a mood that is somehow equidistant from reality and fantasy. Finally, Elisa Rosman serves as a competent Music Director in her first Creative Cauldron production. The entire band is a tight ensemble which helps propel the action along even when the script and direction has slowed the pace considerably.
Creative Cauldron's blues production is a big undertaking. Most of the pieces, however, fail to live up to their potential. With so many mismatched elements, it is hard to appreciate the decent score by Keb' Mo' and Anderson Edwards. If you're a fan of blues music, you'll still mostly enjoy this production. But if you're looking for a substantive musical, you're best waiting for this cauldron to brew something else.
Creative Cauldron's Thunder Knocking on the Door runs approximately two and a half hours with one intermission and plays through March 10. For tickets and information, click here.
---
---
Sam Abney is a Washington, D.C. based arts professional. A native of Arizona, he has happily made D.C. his new home. Sam is a graduate from George Mason University with a degree in Communication and currently works for Arena Stage as a member of their Development team. He is a life-long lover of theater and is excited about sharing his passion with as many people as possible.
To stay up-to-date on reviews from Sam, click here and subscribe to alerts.