BWW Review: THE FALL at Studio Theatre Must Be Seen
Every now and then, a show comes along that is an undeniable "must-watch." The reasons for such a status may vary but the final verdict is unmistakable: the performance cannot be missed. With The Fall, Studio Theatre has such a scenario on their hands. This 80-minute performance, brought to D.C. by The Baxter Theatre Centre at the University of Cape Town, flies by so quickly that I didn't want it to end.
The Fall is a play built from the 2015 #RhodesMustFall movement, which led to the dismantling of a statue of Cecil Rhodes, the former South African Prime Minister, which stood at the University of Cape Town. The production follows the movement's challenges and successes while exploring the long-term impacts of the movement both in South Africa and globally. Filled with rousing music throughout, the performance explores how political struggles reverberate in a deeply personal way-something that can often be overlooked with so much saturation of news stories.
This show starts with a bang: with the seven-person cast emerging in Studio's Mead Theatre to the tune of beautiful South African music. All of the cast members have gorgeous voices and there are fewer moments that are as electric during the performance as when all seven are singing together in harmony. From there, the bare stage becomes the perfect playground for an evening filled with fluid movement, smart usage of three tables (the only set pieces), and brilliantly utilized projections featuring live footage of the #RhodesMustFall protests.
Clare Stopford has facilitated this production expertly-understanding how to balance the evening's lively movements with poignant moments grounded in reality. Each action is thrillingly precise and there is never a moment during this show that feels unmotivated or unpolished. The shapes and structures that the cast is able to form in their bare space is visually entertaining as well-helping to create a vivid scene without relying on set design. Many times during the evening, I was wondering how much longer the cast could continue to dance around the stage while still having energy to pour their hearts out about this incident. They responded with limitless energy that never ceased to thrill.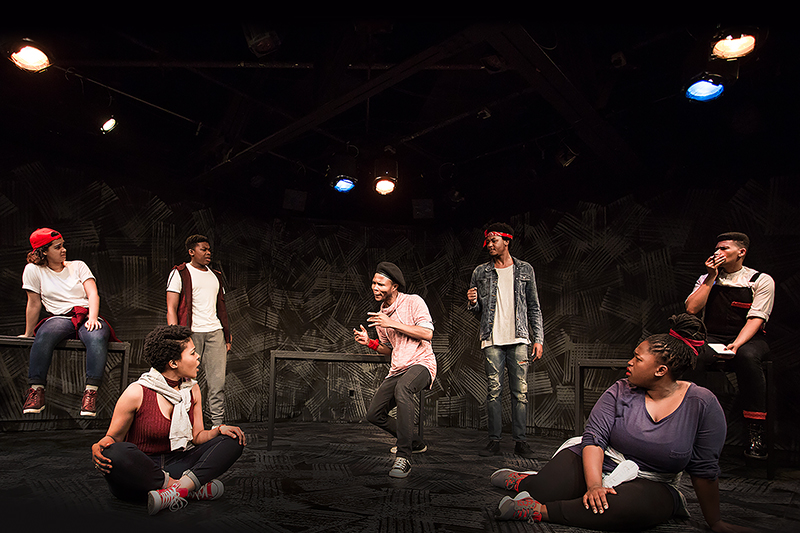 Even though this show deals exclusively with issues which ravaged across South Africa, many of the themes feel all too familiar for an American audience. One of the first issues discussed is how institutionalized racism in South Africa has continued long after the end of apartheid law. With the emergence of movements like Black Lives Matter, these same issues prevail in the US and, while the arguments presented in The Fall have been heard before, the placement in South Africa may be enough to help these lessons no longer fall on deaf ears.
Above all else, this is a presentation determined to educate audiences. To leave Studio Theatre without a comprehensive understanding of what true de-colonization of an African nation means is to not have listened to any of the performers. If anything, you'll depart from the show having learned my new favorite word: Caucasity, or the constant audacity of Caucasian people to believe they know everything. Such a soundbite is but one example of the beautiful, timely quotes delivered by the adroit cast.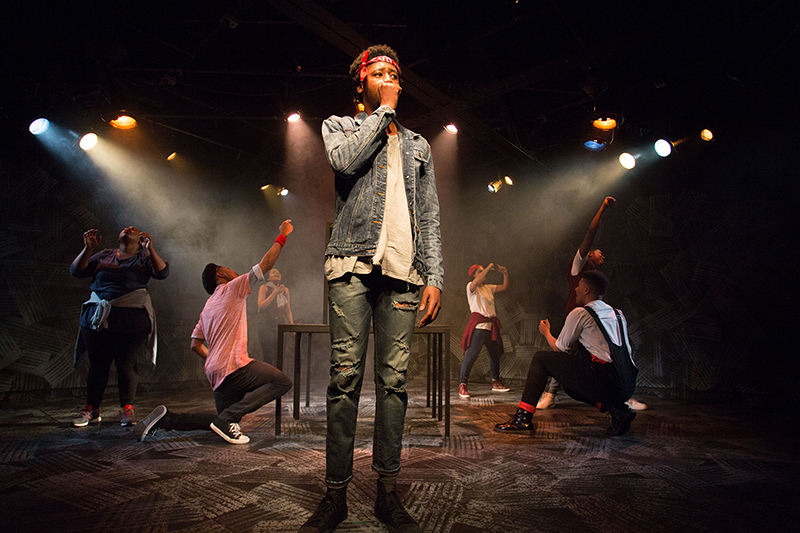 All of the cast members were thoroughly impressive, enough so that they all deserve to be mentioned here by name: Ameera Conrad, Oarabile Ditsele, Zandile Madliwa, Tankiso Mamabolo, Sizwesandile Mnisi, Sihle Mnqwazana, and Cleo Raatus. It is obvious that they have spent extensive time together and the camaraderie they share with one another shows. Each line of dialogue feels as natural as if they were saying it for the very first time. At the end of the day, the show reads more like an in-depth lesson from friends rather than a formal theater production.
Such a spectacular production isn't without fault. There is one scene shortly after the fall of Rhodes where the group discusses the future of their movement. During the exchange, the students branch off into areas that feel superfluous. The final result is an overly-long scene which risks grinding the pace of the show to a halt. Thankfully this doesn't happen and the show is able to retain its preexisting momentum.
To put it bluntly: you need to see The Fall. This is a performance that knows exactly what it is trying to say and does so with great precision. You'll thank yourself for listening to the story this show tells.
The Fall runs approximately 80 minutes with no intermission and plays through November 18 in Studio Theatre's Mead Theatre. For information and tickets, click here.
---
Sam Abney is a Washington, D.C. based arts professional. A native of Arizona, he has happily made D.C. his new home. Sam is a graduate from George Mason University with a degree in Communication and currently works for Arena Stage as a member of their Development team. He is a life-long lover of theater and is excited about sharing his passion with as many people as possible.
To stay up-to-date on reviews from Sam, click here and subscribe to alerts.