BWW Review: MISS SAIGON Offers Up Dose of High Drama at Kennedy Center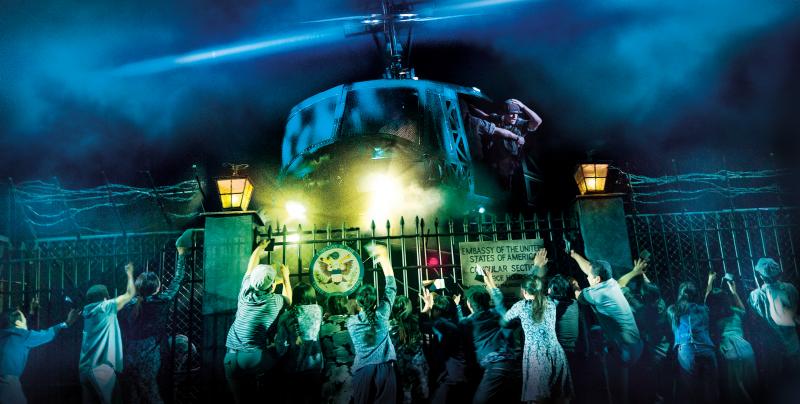 The last time theatergoers saw Claude-Michel Schönberg (Music) and Alain Boublil's (Lyrics, along with Richard Maltby Jr. with additional contributions from Michael Mahler) Miss Saigon in the local area was more than five years ago. Signature Theatre presented a stripped-down production in 2013 to mixed reviews. The current national tour, now playing the Kennedy Center, provides another opportunity to take a look at this mega-musical by the creators of Les Misérables. Based on the 2017 Broadway revival (a West End transfer) this new tour offers a solid mix of splash and raw, complex human emotion.
A mostly strong cast, directed by Laurence Connor, regals us with a familiar tale - romance in the time of war. Yet, as the name suggests, this story develops in a particular place at a particularly charged time in world history. Chris (Anthony Festa) and John (J. Daughtry) are among the American military personnel serving in Vietnam in the Spring of 1975.
Their entry into a sleazy club in Saigon, operated by the even more sleazy Engineer (Red Concepción), sets off a new path for Chris just as he was ready to leave his Vietnam experience behind. When he meets Kim (Emily Bautista) - the newest girl at the club - it isn't exactly love at first sight, but Chris quickly realizes he has feelings for her. Kim, likewise, falls in love with Chris. The ever-changing political and security situation threatens them pursuing a life together in the United States as planned.
Even after Chris abruptly returns to the States and eventually assumes a new life with the all-American Ellen (Stacie Bono), he's reminded of Kim in his nightmares. Over the next three years, Kim endures great hardships in Vietnam and Thailand - not least of which is dealing with a menacing man she was promised to as a teenager (Thuy, played convincingly by Jinwoo Jung) who now holds a position of authority. Yet, she has never given up dreams of a happy ending in America for herself and especially their son Tam - who is her sole reason for surviving. When the chance for a reunion comes about (made possible by, of all people, the enterprising Engineer), it becomes immediately clear to everyone involved how complicated the situation is.
The question becomes whether a happy ending is really possible, what would it entail, and whose happy ending would it be? As in war, there is no true winner, really.
Miss Saigon has been criticized among some experts to be one of those British mega-musicals that's low on substance and high on production values. Sure, a massive helicopter appears on stage in the impressively immersive Act II flashback scene in this tour (and here, I must give kudos to set designers Totie Driver and Matt Kinley, projection designer Luke Hall, sound designer Mick Potter, and lighting designer Bruno Poet for creating such a cohesive, audiovisual experience). However, I'd argue that there is a real story at its core and one that has heart, at that. The production elements just enhance it. The music is expertly orchestrated by the dearly departed William David Brohn and played with vigor by a talented orchestra under the direction of Will Curry. It brings the drama to even greater heights.
The emotionally taxing story is best experienced when the cast throws themselves into the roles and, for the most part, the touring cast does just that.
Chief among them is Red Concepción as the Engineer. Delivering a dynamite performance that fully embraces the Engineer's sleazy, determined nature, he grabs your attention from start to finish. As strong of a singer as he is actor, he performs the most memorable rendition of "If You Want to Die in Bed" that I've experienced. I truly felt like I got to know who the Engineer is and why - both as an individual and as a representation of a broader set of circumstances.
The Engineer is integral to shaping Chris and Kim's story, but let's face it. You need a strong actress in the role of Kim and a strong actor in the role of Chris to make it believable. Emily Bautista embodies Kim in every way. She achieves a near perfect mix of naivety, strength and determination, and hope. Kim experiences a roller coaster of a journey in two and a half hours and Emily clearly feels every moment of it. She delivers the myriad of power ballads with ease and draws you in with every word sung. Her pure, gritty belt reaches the rafters and gives you chills. Whether it was the notoriously bad sound situation in the Opera House, a less than successful attempt at sound mixing, or a combination of factors, I did have a bit of trouble understanding and/or hearing her lyrics in the quieter moments on the night I attended. These moments often occurred at the end of phrases where her voice would more or less drop out.
Anthony Festa isn't particularly believable as a tortured draftee, veteran, or man in love for that matter, but his crystal clear, beautiful voice ensures that numbers like "Why God Why?" are standouts. His duets with Emily Bautista ("Sun and Moon" and "The Last Night of the World") are not only a pleasure to listen to, but provide him an opportunity to connect with her in a more natural way. While I found his chemistry with both Ms. Bautista and Ms. Bono lacking on the night I attended, he ended the show on an acting high note in the final scene and displayed a real connection and true emotion.
J. Daughtry has the kind of steady presence that's perfect for the role of John and he delivers a smooth and passionate rendition of "Bui Doi" that makes a lasting impression. This song also features some great choral work with delicious harmonic blend by the talented ensemble. Speaking of the talented ensemble members, it's hard to overlook what they did with "The Morning of the Dragon," which also features some great choreography by Bob Avian (also credited with musical staging). Intense and deliberate, it's a perfect introduction to the chaotic world of Ho Chi Minh City in 1978.
Stacie Bono also makes a strong impression as Ellen. Her rendition of "I Still Believe" is not only well sung, but heartfelt. Musically, "Maybe" (a new song introduced in Signature's 2013 production) is a step down from the now eliminated song, "Now That I've Seen Her." However, Bono's delivery is first-rate and made me dislike the song less than when I first heard it.
Admittedly, I am a long-time fan of the material. In fact, let's just say I was supremely guilty of often belting out the songs along with my cassette tape in my bedroom as a teenager in the mid-1990s. This tour offers nearly everything you'd expect from Miss Saigon if you are a fan. And that's a good thing.
Running Time: Two hours and thirty minutes, including one intermission.
MISS SAIGON plays the John F Kennedy Center for the Performing Arts Opera House - located at 2700 F St, NW in Washington, DC - through January 13, 2019. For tickets, call the box office at 202-467-4600 or purchase them online.