Click Here for More Articles on REGIONAL - WASHINGTON, DC
BWW Review: HOW TO SUCCEED IN BUSINESS WITHOUT REALLY TRYING Goes Center Stage at Kennedy Center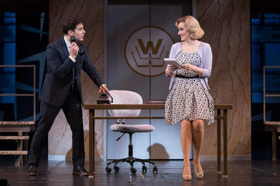 How to Succeed in Business Without Really Trying is the last entry in Kennedy Center's inaugural Broadway Center Stage series. It may not be the trendiest - especially when compared to In the Heights and Chess - but it's the most polished. Everything, including Brian Ronan's crystal clear and well-balanced sound design (standing in contrast to the other musicals in the series), is first rate. A cast of Broadway and television actors with vocal, dance, and comedy chops to spare join with a much-loved featured local theater star to deliver a must-see, entertaining semi-staged performance of the Pulitzer Prize-winning (1962) musical comedy. They are backed by a stellar orchestra under Music Director Todd Ellison's baton, perched on a platform above the stage.
The argument could be made that Abe Burrows, Jack Weinstock, and Willie Gibert's book about J. Pierrepont Finch's (Skylar Astin) fast climb to the top at the World-Wide Wicket (WWW) Company (represented by Scott Pask's scenic design and Caite Hevner's projection design) is a little dated. The same could be said about Frank Loesser's catchy lyrics. (He also wrote the music). After all, they reflect the time period in which the show was written. Traditional gender roles at home and in the office are firmly established and reflected in the comedic moments. No matter though. Just go in to the show looking at it as a period piece - that features incredibly fun and timeless music - with some enduring relevance. Some of its more prevalent themes are resonant in today's workplace. Nepotism hasn't disappeared, sexual harassment still occurs, and there are still ways to play the game to rise to the top of the workplace ladder, which don't involve working really hard.
The Kennedy Center production, directed with Marc Bruni, features at least one obvious "update" from the last Broadway revival - at least in terms of how one character is portrayed. Finch's love interest, Rosemary (Betsy Wolfe), fiercely and relentlessly pursues his attention. While she (gloriously, I might add) sings about being "Happy to Keep His Dinner Warm" she's not a shrinking violent. She's a go-getter in an almost predatory way.
Speaking of go-getter, let's talk about the cast. The rehearsal period for these shows is shorter than your average fully-staged production, but the cast is off book and delves into their roles with reckless abandon. From the ensemble to the principals, they perform everything - including Denis' Jones fun choreography - full out.
A few standouts emerge, but there are really no weak links.
The character of Rosemary has a tendency to fade into the background in this male-dominated show, but that's not the case here. Betsy Wolfe, well-known on Broadway for her exceptional voice, shows off her considerable comedic chops here. She's the perfect match for an incredibly funny Skylar Astin, who sings the role better than many I've seen take it on before (this is certainly true of the last Broadway revival...). He exudes a copious amount of charm and energy from the moment he enters the stage.
Michael Urie (best known for his television work on Ugly Betty and Younger) leverages his knack for over-the-top physical comedy as Finch's whiny and lazy, but well-connected nemesis Bud Frump. He was an audience favorite on the night I attended and for good reason. He can pretty much do it all - as anyone who saw him portray Hamlet at Shakespeare Theatre Company can attest to - and this performance is but one more example of how he puts his own unique stamp on any role. His former Ugly Betty co-star Becki Newton also hams it up as a new sexy secretary Hedy LaRue and, like Urie, delivers some pretty great vocals. Her duet with the equally entertaining John Michael Higgins (company president J.B. Biggley), "Love from a Heart of Gold" is the best example.
Other vocal standouts include Joaquina Kalukango (Smitty, a WWW secretary and Rosemary's good and wise friend) and local theater star Nova Y. Payton. Payton, portraying Biggley's secretary Miss Jones, is best known for her powerful voice. That voice is put to good use on what's probably one of the two best production numbers in the show, "The Brotherhood of Man" (the other is "Coffee Break"). The song initially showcases the men that work at the WWW, but when Ms. Payton enters, all eyes turn to her. She scats and riffs like a pro, reaching the rafters (I am sure) with ease. It's a truly let loose kind of moment, which is perfect for her usually reserved character.
This production is perfect for audiences wanting to let loose and have a little fun. Great music, great performers, a bunch of retro comedy - what more could you ask for?
Running Time: 2 hours and 35 minutes, including one intermission
HOW TO SUCCEED IN BUSINESS WITHOUT REALLY TRYING plays at The John F. Kennedy Center for the Performing Arts' Eisenhower Theater - 2700 F Street, NW in Washington, DC - through June 10, 2018. For tickets, call the box office at 202-467-4600 or purchase them online.
Photo: Skylar Astin and Betsy Wolfe pictured; by Teresa Wood