Click Here for More Articles on REGIONAL - DC Metro Area Maryland
BWW Review: Diana Ross at Strathmore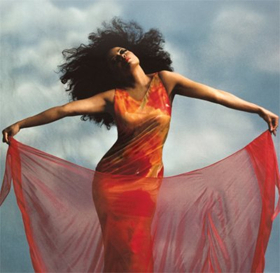 The word legend is tossed around a lot when talking about pop singers. Many times the term is not warranted, but in the case of pop diva superstar Diana Ross the word legend is an understatement.
The now 74-year-old musical goddess roared onto the stage of Strathmore's Music Center this week and promptly received a standing ovation before she even opened her mouth to sing the first lyrics of "I'm Coming Out." The rest of the evening just went up into the stratosphere from there.
I must say out of the box that Ross is still in stunning voice. Many singers have song keys lowered as they age so as not to have to deal with high notes etc. Ross can still sing all of her material in the original keys so when you hear "Stop in the Name of Love" or "You Can't Hurry Love" or "Baby Love" (notice a trend here?), they are just as you remember them from her recordings.
As you might recall Ross has starred in a few big movies over the years. There were a few songs in her concert that illustrated this fact. We had "Don't Explain" from Lady Sings the Blues, in which Ross portrayed Billie Holiday. Her performance in that film garnered her with Golden Globe and Oscar nominations. Ross also performed "Theme from Mahogany" aka "Do You Know Where You're Going To," which was one of her many, many chart-topping hits.
For all the heat Ross took for being simply too old to play Dorothy in The Wiz (she was 33 at the time) I was a bit surprised to hear "Ease on Down the Road" in her show. I was even more surprised when an audience member asked her what was her favorite film that she worked on, she answered with The Wiz.
Let us not forget that Ross is known for her flashy wardrobe and with four costume changes she did not disappoint on that front. Her outfits were as frilly and feathery as you remember. Why mess with success?
The one thing that has changed in Ross' act is her band size. Back in the day she performed with a full horn section. Now she is traveling with only a talented trio that features George Svetich on Keys, Michael Sechrest on Guitar, and Gerry "Downtown" Brown on Drums. Her equally talented backup singers (featured between costume changes) are Keisha Grumbs, Sheniqua Trotman, and Terrell Tipton.
Whether you know Diana Ross from her days with The Supremes or as a solo artist, you can't help but marvel at her longevity in the music business. With 25 albums, and six number one songs to her credit, it's easy to see why the audience (myself included) at Strathmore walked out with a "Love Hangover" for the true legend that is, and will always be, Ms. Diana Ross.
Running Time: 85 minutes with no intermission.
Diana Ross was a two-night-only engagement at the Music Center at Strathmore on September 25 and 26, 2018. For upcoming Strathmore events, click here.
Related Articles