Review: BROOKLYN comes to Virginia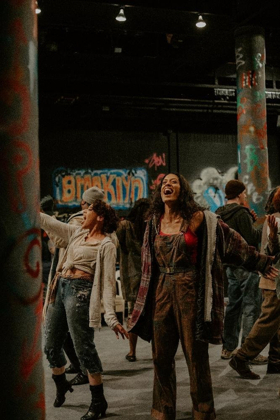 Brooklyn the Musical is one of those rare gems of a show that the back story of its creation can influence what you experience on stage. The duo behind the show, Mark Schoenfeld and Barri McPherson were songwriting partners in the early 1980's and lost touch and about 20 years later, Mr. Schoenfeld was singing on the streets of Brooklyn when his old writing partner, Ms. McPherson ran into him and a new partnership was born, this time creating art out of life in Brooklyn.
The relatively young Monumental Theatre Company may only be three years old, but that does not mean they lack experience. This show, under expert direction by Co-Producing Artistic Director, Michael Windsor, is a hit on all accounts. The tightness of the ensemble, the creative staging in the intimate theater, and the ambiance of the audience sitting on "discarded" furniture, truly created an immersive theatre experience for the audience.
Leading the diverse cast as the central character, Briana Taylor is simply remarkable. She plays Brooklyn with a young naivety, but also with a grounded maturity that she subtly creates to make a truly wonderful performance. The hit song from the show, "Once Upon A Time" is one of the many highlights in the production that is jam packed full of them. Another one of those is the diva Paradice played with commanding bravura by Taylor J. Washington. Vocally, her voice is dominating (in a great way) and she plays the antagonist with full force that makes the room shake from both her voice and demeanor.
In addition to the two leading females, the remainder of the ensemble is strong and cohesive, anchored by the Steetsinger, played by Decarlo Raspberry, who acts as a narrator and participant, and in a brilliant piece of writing, more integral to the plot than you first realize. The remaining ensemble are all just as strong and help portray this piece with heart and soul.
In addition to Mr. Windsor's brilliant concept and guidance, the show is also anchored by Patricia "Pep" Targete's spirited and vibrant choreography. Ms. Targete is truly gifted in her ability to work with a variety of dancing abilities to make them seem polished and professional. Likewise, Music Director Marika Countouris is just as strong with her expert vocal direction (and performance), but additionally with keeping the non-stop music rocking.
From a technical aspect, everything just worked so well together. Tommy Malek's perfectly dingy costumes were a standout, particularly in the "dresses" worn by the divas during their final battle. Set and lighting designer Rob Siler transformed the intimate black box with great attention to detail, particularly the use of non-traditional theatrical lighting that added to the warm ambiance.
This was my first time experiencing a Monumental Theatre Company production and I was beyond impressed by the amount of talent this tiny company has. Two of the founders (Beth Amann and Jimmy Mavrikes) are alumni from my alma mater, Catholic University, and while our time there was a decade apart, I am proud that I can say I came from the same institution as these fine young artists.
Running Time: 1 hour and 30 minutes, with no intermission
Brooklyn the Musical plays through March 31, 2018, at The Ainslie Arts Center on the campus of Episcopal High School, 3801 Braddock Road, Alexandria, Virginia, 22304. To purchase tickets, go online.
Box Office: online.
Photo Credits: RJ Pavel