Click Here for More Articles on REGIONAL - DC Metro Area Maryland
BWW Review: ANATOLE: MOUSE MAGNIFIQUE at Imagination Stage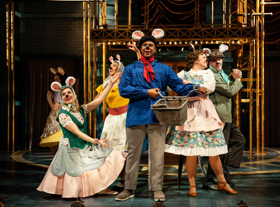 Oooh la la, the good folks at Imagination Stage have a Parisian musical spectacular in store for you with the non- cheesy story about a couple of mice out to save the cheeses of Paris. Anatole: Mouse Magnifique features a dynamic and fun score by James Valcq (Music), book and lyrics by John MacLay and Lee Becker, and a terrific no-holes-like-a-piece of-Swiss-cheese-staging from Tom Story.
Fellow mice Anatole (Jaysen Wright) and Gaston (David Schlumpf) have been stealing food from humans for awhile now. Anatole has a wife (Doucette, played by Jessica Lauren Ball) and kids to feed after all. One night on their rounds, they hear a group of socialites talking about how they hate mice. From then on Anatole resolves to stop stealing food and earn it instead.
Mme. Duval (Emily Kester) runs a cheese factory with a bad reputation - some say it makes the worst cheese in Paris. It is on the verge of closing. Anatole decides to sneak into the factory after hours and help with some quality control. He taste tests all of the cheese and leaves notes on what needs to be improved. Duval wants to meet the mystery taster, but Anatole stays anonymous. His notes help the company so much he is made Vice President in Charge of Cheese Tasting sight unseen. Then Duval's cat Charlemagne (Jessica Lauren Ball) shows up and things get complicated. Cat nip and a SWAT team are involved.
Director Tom Story staged the show with tons of energy, which leaves the audience mesmerized from beginning to end.
As our cheese saving hero Jaysen Wright is delightful performing such songs as "Extra Specially Good" and "Mon Ami" along with his excellent partner in crime David Schlumpf as Gaston.
Emily Kester yet proves again how talented she is as Mme Duval and head of the SWAT team. Her vocals on "Super Alpha Strike Force" and strong acting throughout definitely contribute to the show's success.
Jessica Lauren Ball also shines big time in the dual roles of the loving wife of Anatole and the meddlesome cat. "A Game of Cat and Mouse" is her big vocal moment and boy does she sell it.
Sophie Schulman, Alexandra Palting, and Chris Rudy ably round out the cast as dancing cheese and more. Oh, what we do for our art.
Production elements are really Gouda (sorry, couldn't resist).
Andrew Cohen's multi-functioning unit set takes us through multiple locations in Paris with ease.
Kendra Rai's costumes and Max Doolittle's lighting add to our visual feast.
Justin Schmitz's sound design and mixing of musical director Deborah Jacobson's newly orchestrated show track provides the production with plenty of audible energy.
A big shout out goes to dialect coach Tonya Beckman for her very natural sounding French accents. No exaggerated Chevalier here my friends.
As this show is in rep with Dickens's Davy Copperfield attention must be paid to veteran Production Stage Manager Che Wernsman, Assistant Stage Manager Paulina Campbell, and crew for holding both shows all together. It's no easy job, trust me on this one.
All in all, Anatole: Mouse Magnifique at Imagination Stage hits a note that is as high as the Eiffel Tower itself.
Running Time: 75 minutes with no intermission for school performances. 90 minutes with one intermission for public performances.
Anatole: Mouse Magnifique plays in rep with Dickens's Davy Copperfield through March 24, 2019 at Imagination Stage, which is located at 4908 Auburn Ave, Bethesda, MD. For tickets, click here.
Related Articles