BWW Review: ALVIN AILEY AMERICAN DANCE THEATER at The Kennedy Center
A tradition continues with the excitement of live performance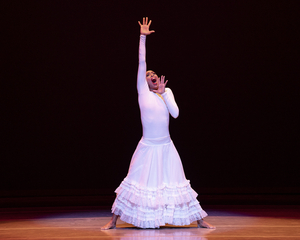 The pandemic changed the world and it changed art - most immediately in closing places where people would gather for it, for months on end.
Its direct effect on art is just starting to be clear, as in the new works from Alvin Ailey American Dance Theater. As its annual appearance to the Kennedy Center for the Performing Arts was paused by COVID, some new dances were created and presented on online.
Monday saw the live premiere of a couple of those pieces in Washington, in the first of a week's worth of performances, and the immediate effect of a full house was how appreciative the dancers were in receiving rapturous in-person human applause, with big smiles among the bows.
But the new pieces that began the performance (that was balanced by some classics to close) also specifically reflected our recent weird times. Not that we're out of it yet by any means; the audience was masked and had to have shown proof of vaccination; more than 3,500 would die of the virus in the U.S. that day alone (though just one in D.C.).
But Jamar Roberts' opening piece "Holding Space," performed to Canadian electronic musician Tim Hecker's jarring soundtrack, showed how on edge most of us have been during that period - keeping our space from one another, spinning haphazardly and somewhat erratically, far from any unison. But staying in our lane.
A dozen dancers moving in front of 15 lights shining out into the audience brought a harshness to the proceeding, intensified by a cloud of smoke that seemed to build above them.
By contrast, the very brief "For Four" by artistic director Robert Battle, had all the color and exuberance missing from the first piece. And yet as it continued, to the music of Wynton Marsalis' jumping "Delfeayo's Dilemma," there was a bit of manic energy to the whole thing that also reflected those pandemic times when one returns to the things that have been taken away, perhaps a little too exuberantly.
Still, the piece reflected a bit of Battle's own sense of humor, which he explored somewhat in an introductory address to the audience (as he asked people to keep in him mind for the same Kennedy Center Honors given his predecessors, Ailey and Judith Jamison).
Following this one-two punch reflecting the present, the program turned to the solid foundation of the company's past. Ailey's "Cry," "dedicated to Black women everywhere - especially our mothers," was in many ways the high point of the night - a tour de force solo performance from Constance Stamatiou, with her dramatic extensions, getting the most out of a bolt of cloth that represented a regal presence at one point, and backbreaking chores elsewhere, to the music of Alice Coltrane, Laura Nyro and Chuck Griffin. Like the Kennedy Center, it was a work marking its 50th anniversary.
The gospel tones of the piece were more fully amplified in the finale, the 1960 classic "Revelations," an Ailey work so well known that even the opening tableau of the ensemble reaching out gets its own applause. As church ladies march out, parasols high, to a bright sun background, the piece turns to the watery baptism of "Wade in the Water" and spiritual renewal.
There's something very dated about it as well, especially in contrast to the urgent, angular modernism of the opening pieces. But it's worth celebrating as a historical piece as well, an especially fitting kickoff to Black History Month.
"Revelations" will be close every Ailey performance this week, but other pieces include Ailey's "Blues Suite" and works set to the music of D.C. native son Duke Ellington. There is also a program of Battle's works as he marks his own decade leading the groundbreaking and ever-inspirational company.
The opening night performance will be repeated the evening of Feb. 5.
Running time: Approximately two hours with two intermissions.
Photo credit: Constance Stamitiou in Alvin Ailey's "Cry." Photo by Paul Kolnik.
The Alvin Ailey American Dance Theater performs four different programs in repertory through Feb. 6. Tickets and information online.