BWW Review: ALVIN AILEY AMERICAN DANCE THEATER Once Again Wows in DC
About ten minutes into the Alvin Ailey American Dance Theater's (AAADT) performance on Tuesday evening at the Kennedy Center I put away my notebook on which I jot down my ideas for reviews. There are only so many times that you can write variations of "wow, that was incredible" before the phrase becomes redundant. As the Ailey dancers do on every visit to the Center, they delivered an enrapturing evening of dance with new creations and classic items from their repertoire. Yet again, this Company proves why it is one of the leading dance companies worldwide.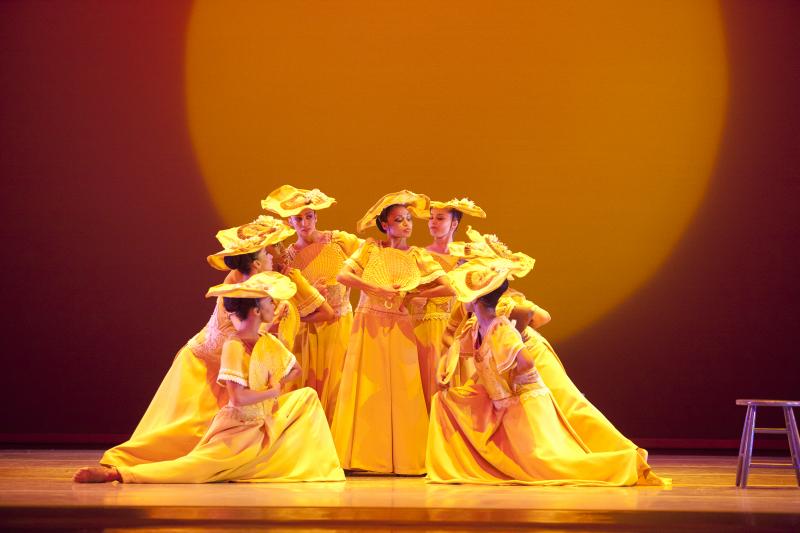 Celebrating their 60th anniversary season, Ailey is traveling with three programs (labeled A, B, and C) on their current visit to Washington. Tuesday's performance was from Program A which included Lazarus, the Company's first two-act ballet, and Revelations, a mainstay of Ailey programming. The two works compliment each other well without feeling too similar. If you haven't seen an Ailey performance and are not sure which program to see-the decision doesn't ultimately matter. Each of the programs ends with Revelations and, no matter how stunning another number is, this 1960 work remains the Company's signature number. And the dancers repeatedly demonstrate why.
Lazarus, which was co-commissioned by the Kennedy Center, draws inspiration from the life and legacy of Mr. Ailey as well as broader African-American history and struggles. The number begins slowly with flowing movements and solemn tableaus to highlight the hardships that face this community across history. As the ballet progresses, however, this sorrow is overtaken with a celebration of identity as the dance evolves into a high-paced and technically impressive array of quick steps and stellar synchronization. The stylistic shift feels almost too abrupt at the top of act two but the act is just so much fun that I didn't dwell on this abruptness.
A two-act ballet is a wonderful exploration of Ailey's ability to tell stories across a longer format. For the most part, the experiment is successful. Waiting 60 years was the right move as it allowed all of the necessary pieces to fall into place and for the Company to have enough of their own history from which to draw inspiration. Rennie Harris honors Mr. Ailey consistently throughout the number with Ailey the man being the first and last thought of the number. Even with so much to celebrate now, this is a Company that clearly remembers and honors their rich roots.
From a design perspective, the number is also very impressive. Mark Eric's costumes are very period non-specific which allows the struggle and the joy of the piece to be translated to any time. These emotions can be felt any time at any place. James Clotfelter, similarly, has outfitted the stage with some smart lighting design that makes the shadows cast upon the bare stage just as compelling as the dancers creating them. While Darrin Ross does solid work with the music and sound for Lazarus, I did have some difficulty deciphering words from Mr. Ailey that are layered over the music. I don't know if the issue stemmed from the sound system at the Kennedy Center or the mix itself. Either way, it relieved itself by the end of the number.
After an emotionally draining performance like Lazarus, it is great to take in an unanimously uplifting performance of Revelations. Telling the story of African-American faith and tenacity from slavery to freedom, the number is a constant pleasure and demonstrates the best of Ailey. In a number such as this with an impressive history all its own its hard to find a single fault. So I didn't. It's the kind of performance that you watch to enjoy and have your own connection with a piece of dance history.
Sixty historic seasons is a major achievement and being able to experience a milestone work like Lazarus is a great way to celebrate such an accomplishment or introduce yourself to Ailey if you have never seen a production. No matter which program you see, the Company will no doubt impress. And at the end of Revelations, you'll thank yourself for going along for the ride.
Alvin Ailey American Dance Theater is at the Kennedy Center through Sunday, February 10. For tickets and information, click here. For more information about the Center's dance programming, click here.
Note: The Friday evening (February 8) performance will be followed by a post-performance discussion with Lazarus choreographer Rennie Harris open to all ticketed patrons for Friday evening.
---
Sam Abney is a Washington, D.C. based arts professional. A native of Arizona, he has happily made D.C. his new home. Sam is a graduate from George Mason University with a degree in Communication and currently works for Arena Stage as a member of their Development team. He is a life-long lover of theater and is excited about sharing his passion with as many people as possible.
To stay up-to-date on reviews from Sam, click here and subscribe to alerts.