Click Here for More Articles on DC - Theatre Life
BWW Interview: Theatre Life with Rachel Zampelli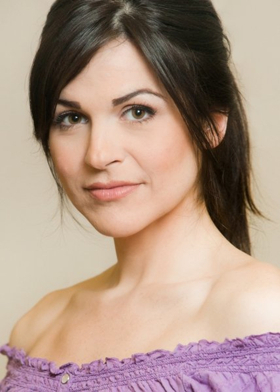 Today's subject Rachel Zampelli has been living quite the theater life over the years. You most likely have seen her around town in productions that range from classics and modern plays to musicals. She can currently be seen at Signature Theatre in the two-character play Heisenberg playing opposite Michael Russotto. The production runs through November 11th in Signature's Ark space.
Previous Signature credits include Midwestern Gothic, The Gulf, The Fix, Dying City, Brother Russia, Chess, See What I Wanna See, and The Happy Time.
Other area credits include Lost in the Stars (with Washington National Opera) and The Gift of Nothing at Kennedy Center; Rosencrantz and Guildenstern Are Dead, The Comedy of Errors, Orestes: A Tragic Romp, and A Midsummer Night's Dream at Folger Theatre; On the Town, The Crucible, Annie, Sweeney Todd, Evita, Godspell, and Avenue Q at Olney Theatre Center; The 25th Annual Putnam County Spelling Bee, and Shenandoah at Ford's Theatre; Bloody, Bloody Andrew Jackson, POP! (Helen Hayes nomination, Outstanding Supporting Actress), Jerry Springer: The Opera and Reefer Madness at Studio Theatre; Stage Kiss at Round House Theatre; Stop Kiss at No Rules Theatre Company; Beauty and the Beast at Imagination Stage; and 'Twas the Night Before Christmas at Adventure Theatre.
Rachel's performing credits are not limited to this area. Regionally, she has been seen in Orestes: A Tragic Romp at New Jersey's Two River Theatre Company; Romeo and Juliet and Into the Woods at New Repertory Theatre in Massachusetts; Nevermore at Greenbrier Valley Theatre in West Virginia; and Breast Entanglements at Oregon Shakespeare Festival.
That is one impressive list of credits, but would you expect anything less from such a versatile performer as Rachel?
A production featuring Rachel Zampelli is sure to be a fine theatrical experience. In the case of Heisenberg, she has a really good counterpart in the person of Michael Russotto under the watchful eye of Signature's Resident Director Joe Calarco.
Rachel Zampelli is another example of one of our area artists living her theatre life to the fullest. Get your tickets to Heisenberg and see for yourself.
At what age did you first step onstage?
In the first grade I wrote a song for the school talent show, so I suppose I was 6 or 7? The lyrics were something like "I may not have a big huge house or a lot of money, I may not have the best of things but I got me." Ha! It was called "I Got Me" and I dressed up like a 'hobo'...
Who would you say was your biggest influence on becoming a performer?
My family! The arts have been a part of my life ever since I can remember and my family has always supported my decision to be an actor, even from a fairly young age. They never said things like "well you need a back-up plan". They were always and continue to be my biggest fans. I'm extremely blessed and I know it.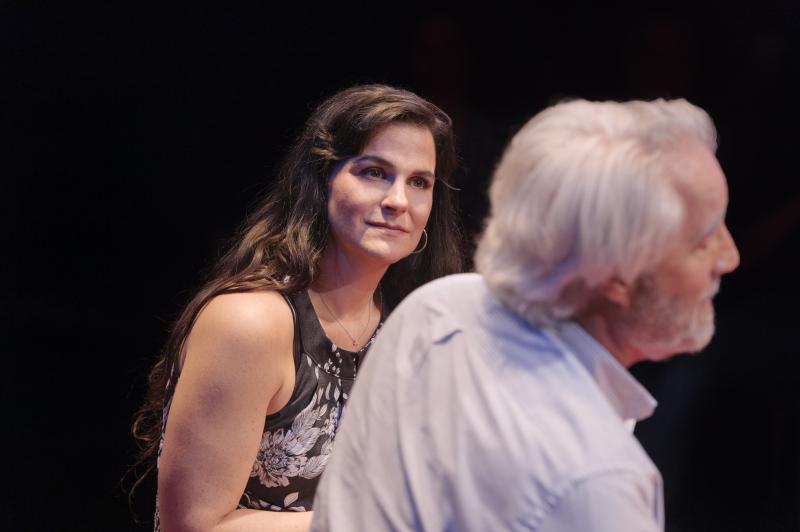 Can you please tell us a little something about Heisenberg and your character in the play?
Heisenberg tells the story of Georgie and Alex - a 42-year-old woman and a 75-year-old man, both of whom are very much alone in the world- who meet in a sort of odd way and begin to affect each other's life. My character is named Georgie. She basically has zero ability to keep her thoughts to herself so they just come spewing out of her mouth, even if they probably shouldn't. I just adore her and find her extremely charming - even when she is self-sabotaging, which is most of the time. I love how honest she is...except when she's lying through her teeth...it all makes for a pretty interesting evening of theater!
Heisenberg is not the first time you have been directed by Joe Calarco. As a performer, what you do like the most about collaborating with him?
Man, I love pretty much everything about working with Joe. We jive together really well - as if we've been working together for a decade - it truly is collaboration. His point of view is clear and specific and his productions (this one included) all have a gigantic heart, which is really important to me. He's simply fantastic and I look forward to working with him over and over and over again.
What should audiences take away as the the underlying message of Heisenberg?
Life is uncertain and it's really fricking hard to be a human being, but we all have the opportunity, on a daily basis, to affect each other's lives for the better. We all need each other to survive. It's never too late to be happy. All of those things...
You've worked on many world premieres at Signature Theatre. What do you find most exciting about working on a piece that hasn't been seen anywhere before?
It's very freeing to create something of your own, essentially. It's very exciting. It's juicy.
After Heisenberg, what does the rest of the 18/19 season hold in store for you?
I'll be spending the holidays at home and with my family and then I'll be playing the Witch in Into the Woods at Ford's Theatre! We begin rehearsals at the end of January and the show runs through May!
Special thanks to Signature Theatre's Deputy Director, Creative Content and Publicity James Gardiner for his assistance in coordinating this interview.
Theatre Life logo designed by Kevin Laughon.