Click Here for More Articles on DC - Theatre Life
BWW Interview: Theatre Life with Paige Hernandez
Today's subject Paige Hernandez is currently living her theatre life in a variety of ways. Her production company B-Fly Entertainment is going strong with several projects. She just wrote an opera that premiered at Glimmerglass Opera Festival and is now preparing to direct Queens Girl in Africa for Mosaic Theater Company. The production will run January 4 to February 4, 2018 at Atlas Performing Arts Center, but this Monday at 1:30 PM you can see a free reading of the play as part of Kennedy Center's annual Page-to-Stage Festival.
Over the years Paige's dynamic personality and million-dollar smile has graced many of the area's stages. Some recent credits include P.Nokio and Cinderella: the Remix (also choreographer) at Imagination Stage, The Wonderful Wizard of Oz at Adventure Theatre, Dot and The School for Scandal at Everyman Theatre, and The Crucible at Keegan Theatre. Her area directorial/choreographer credits include What Every Girl Should Know at Forum Theatre, brownsville song (b-side for tray) at Theatre Alliance, and Knuffle Bunny: A Cautionary Musical at Kennedy Center.
Paige is also an accomplished and passionate teaching artist. She has shared her love of the arts to many young people at Round House Theatre, Arena Stage, and the Wolf Trap Foundation.
Her production company B-Fly Entertainment has created a variety of work, offering something for everyone. For the music aficionados, there is her very successful Liner Notes series. For the kids, there is Havana Hop. We can't forget about her acclaimed solo turn Paige in Full. B-Fly also recently created a co-commission for the Kennedy Center called All the Way Live.
Paige is married to bassist extraordinaire Kris Funn. Her brother Nick is an accomplished composer and her dad Angelo is a killer guitarist. Her mom Missy is the greatest cheerleader of Paige's work and can frequently be seen beaming in the audience at her performances.
Paige Hernandez is one of those artists with a ferocious drive and passion. Be sure to check out Queens Girl from Africa this Monday so you can see the beginnings of what will be one of the top events of the theatre season. Paige Hernandez...so talented and so fly.
As a child how did you get interested in the arts? Was it due to a family member or a teacher?
I was raised in an artistic household. My father is a musician and my mother is a visual artist. Although they had professions outside of the arts, they kept the arts all around me. I remember I would throw Friday night dance parties in my brother and I's bedroom. I would make a dance playlist, turn off the lights, make fake tickets, and then turn on my cherished lava lamp. My parents and brothers would dance to a few songs, sing into a hairbrush, and have a great time. I took pride in producing that little event especially working on the intentional details. I desired for everyone to have a great time. In retrospect, I had the seed for running my own company planted in me a long time ago.
I also had the great pleasure of being a theatre student at the Baltimore School for the Arts (BSA). BSA provided an environment that encouraged me to be as unique as possible in a field that I love.
Was directing/writing something you always wanted to do while working as an actress?
Not at all. I've spent fifteen plus years working in theatre education with several organizations including Round House Theatre (MD), Wolf Trap (VA) and Arena Stage (DC). Through different education programming, I was trained to write and direct for youth. I was quite surprised to find out that I was really good at it! Eventually I took the plunge to write and direct professionally and haven't looked back since.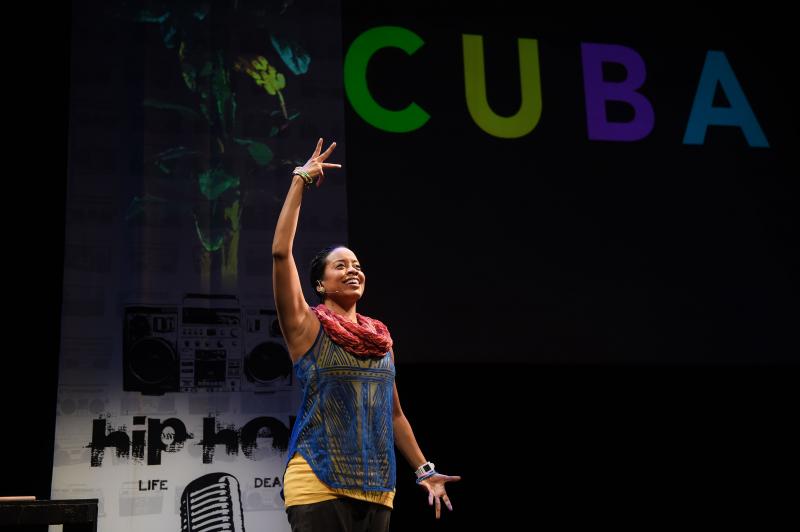 Can you please tell us about your production company B-Fly Entertainment?
B-Fly Entertainment specializes in productions of all art mediums that speak to a multi-faceted hip hop generation. I wanted to write, produce, and perform in shows that were multidisciplinary, multicultural, and multigenerational. It all started with my solo show Paige In Full and grew into ten original shows including Liner Notes, Havana Hop, a hip hopera Stomping Grounds (Glimmerglass Festival) and Clove (University of Maryland, UMD). It's been quite amazing to sustain myself with work that I've created. Currently I tour the majority of B-FLY shows throughout the year.
One of your current projects is Queens Girl in Africa by Caleen Sinnette Jennings for Mosaic Theater Company. The production will play in January 2018, but there will be a free reading this Monday as part of Page-to-Stage at Kennedy Center. The play is the sequel to her Queens Girl in the World, for which you were the assistant director on at Theater J. For those not familiar with the first show, can you please tell us a little something about the character and how she got to where she is in Queens Girl in Africa?
The Queens Girl duo of plays follows African-American Jacqueline Marie Butler as she comes of age within remarkable circumstances. The first show, Queens Girl in the World, explored her journey out of adolescence during the civil rights era in Queens, NY. We learn that Jackie's family had close ties to important people of the movement including Malcolm X. Throughout both plays, Jackie is on a constant search for identity and belonging as she code switches between an immigrant father, headstrong mother, affluent schools, working class neighbors, and varied cultures around her. At the end of the first play, Jackie's father announces that the family is moving to Nigeria. This move represents a counter to the civil unrest in the States, but is also rooted in uplifting the less fortunate in the land of their ancestors.
Queens Girl in Africa starts with this epic journey between continents and lands Jackie in Nigeria, a place that is both inviting and unfamiliar at the same time. Just when Jackie is starting to master a layered identity in the States, she's thrust into a new culture that has its own internal struggle.
When you were presented with this project was there any hesitation in accepting it, or was your answer a resounding yes?
Like most new work, the hesitation in acceptance was around the logistical nuts and bolts of all the parts falling into place. Once that was all squared away, then it was resounding yes.
Mosaic is a growing company with an incredible potential for impact. I'm interested to see how I can contribute to that impact in ways that are fresh, honest, and authentic. I got to take a crack at it in directing the workshop reading of ISM by Anu Yadav last season. We tried some fresh approaches to the artistic process with great success.
Artistic Director Ari Roth and his staff were very supportive of the ISM process. Ari and I continue to have conversations about what it means to have varied voices represent Mosaic. This project seems like an excellent way to cultivate a new relationship in a full capacity.
I also happen to love these women: Caleen and Erika Rose (actress portraying Jacqueline Marie Butler). Erika Rose and I were theatre students together at UMD and we last worked together at the Kennedy Center when I choreographed her in Knuffle Bunny. The three of us working together is an exciting collaboration.
As a solo performer yourself, how does it feel to be on the other side of things as you guide Queens Girl in Africa to full fruition?
I love solo work. I've made a great career in it with six solo shows under my belt, so I'm thrilled that I can to add my two cents into developing another one. I have a great advantage in solo expectations, endurance, craft, and relatability. As a dancer, I also love to lend movement vocabulary to this work as much possible. I'm so excited to dig into this.
What is it about Caleen Sinnette Jennings' writing that speaks to you the most as an artist?
Caleen is just tremendous. She's an educator, artist, and a mentor with life experiences that I love soaking in. Caleen's recount of this era is nothing short of remarkable. She's able to bring to life such a unique story with uncanny details, vivid imagery, and complex perspectives on societal concerns at the time. She's a modern day griot and I'm so grateful that I can assist in sharing one of her stories.
You have a long association with Psalmayne 24 (Gregory Morrison). How did the two of you first meet?
Psalm and I met when we worked together in Arena Stage's Community Engagement Department. We've been friends and colleagues for more than a decade now. I'm realizing this as I answer this question, but he's one of the few people that have been in so many different sides of the arts with me...as educator, writer, director, performer, and friend. Collaborating and performing in his Hip Hop Children's trilogy were some of the greatest moments of my career. I'm so excited for his work as writer and director. He's finally getting the recognition he deserves.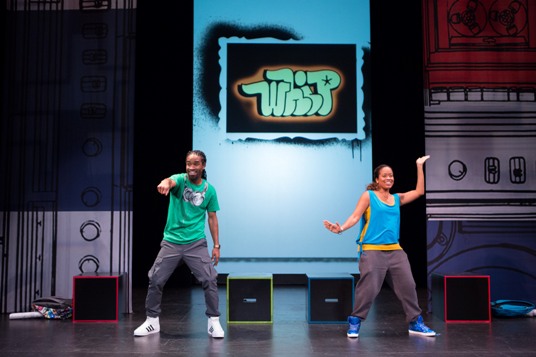 The work you create always has music as one of the big components. Is this a conscious choice?
Definitely. I'm a multi-tonal learner and performer, which means that I prefer to have music, movement, visuals etc to enhance my ability to express and communicate. Hip-hop always comes first but there's usually a nod to many different genres of music in everything that I do.
Besides Queens Girl in Africa what does the 2017/18 season hold in store for you?
I've got a busy season that includes lots of travel and collaboration. I've got some stateside B-FLY dates and residencies, but then I go as far as Bermuda, India and Europe this year. I'll also be returning to the Wharton Center in Michigan to star in Lungs by Duncan Macmillian, directed by Bert Goldstein. I'll round out the season with directing Clove at UMD. I am truly living the dream.
Special thanks to Kennedy Center's PR Coordinator for Non-Classical Lauren Holland for her assistance in coordinating this interview.
Theatre Life logo designed by Kevin Laughon.