Click Here for More Articles on DC - Theatre Life
BWW Interview: Theatre Life with Laura Giannarelli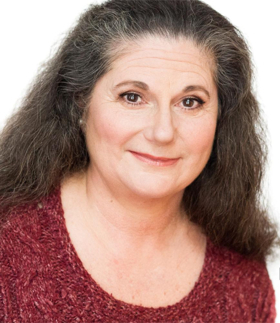 Today's subject Laura Giannarelli has been living her theatre life for many years now on both sides of the footlights. As a performer she just completed a star turn in Gulf View Drive at Washington Stage Guild (WSG), the company she helped found back in 1986. The company's current show Resolving Hedda runs through April 14th at their home at The Undercroft Theatre at Mount Vernon Place United Methodist Church.
As a director, her current project is Ghost-Writer at Quotidian Theatre Company (QTC). The production begins performances on April 5th and continues through April 28th at The Writer's Center in Bethesda, Maryland. Previous QTC direction credits are Faith Healer and A Lesson from Aloes.
As a performer, Ms. Giannarelli has performed all over town at some of the area's biggest theatres. Select credits include A Prayer for Owen Meany at Round House Theatre, Pangs of the Messiah at Theater J, Rapture at MetroStage, Doubt at Everyman Theatre, and Angel Street at Olney Theatre Center. Her many credits at WSG, either as a performer/director or translator, include Pygmalion, A Child's Christmas in Wales and Other Stories, Widower's Houses, It's A Wonderful Life: A Live Radio Play, In Praise of Love, and The Game of Love and Chance. Those credits are only a sample of the ones collected during Laura's long and prolific career, but you get the idea.
As we all know, many theatrical artists need a day gig to help support themselves. Read on to see what Laura's is and how her theatre work complements it.
She is married to sound designer Clay Teunis and they are parents to a very large and lovable Labrador retriever named Markie.
Laura Giannarelli has been around the DC theatre scene for many years putting out great art both on and off stage. I'm sure Ghost-Writer will be no exception. I also encourage you to check out Resolving Hedda at WSG as it is one of my favorite area companies. Laura is living her theatre life in so many ways and, in turn, she gives us so much great work to enjoy.
What was the first theatrical production you ever saw and what do you remember most about it?
Actually, the first show I remember seeing wasn't a theatrical production. It was the ballet The Nutcracker, which my parents took me to see. Don't recall exactly where we saw it; likely it was at DAR Constitution Hall or some other huge place. I remember dancing down the street afterwards twirling madly; I was probably about 7 years old and I wanted to be a ballerina! What I remember most is that I was enthralled by the music and the grand sweep of the story. Once I hit third grade, I was cast in a production of The Sleeping Beauty at my elementary school - not a ballet! It was just a little playlet. And I wasn't cast in the lead, as I had hoped to be, but rather as the third good fairy (not even the first fairy!)... I was bitten by the theatre bug and began seeking out the opportunity to be in plays from then on. Luckily, the music teacher at my elementary school was very forward thinking, and we actually did plays - musicals, even. In the sixth grade, I was the female lead in a kooky play that the music teacher and one of the English teachers wrote about two kids discovering a Martian in the field behind their house and bringing him to school with them disguised as a regular human kid. It was a blast. Then, in the 10th grade, I played Rebecca Nurse in The Crucible and my fate was sealed. I had to become an actor.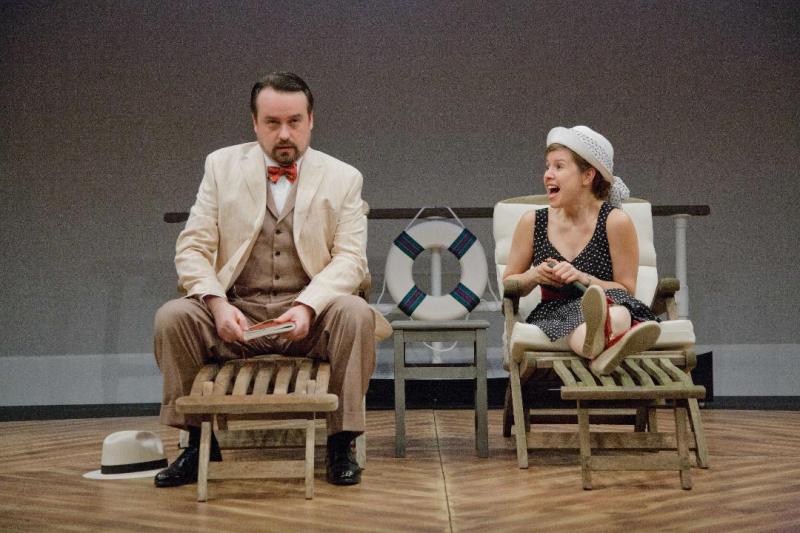 You are a theatre artist who works on both sides of the footlights. Which came first for you acting or directing?
Oh, definitely acting came first. When I was quite small, my Mama would play "let's pretend" with my sister and me. And I have a vivid memory of being about five or six and leading the neighborhood kids in a version of Babes in Toyland out in the backyard. (So, well, maybe I was a director, too, even early on....) I acted in plays all through school, and was a double major in Drama and French at Catholic University of America (CUA) in college. I only began directing later in my career - first, with the Playwright's Forum, directing staged readings for the wonderful Ernie Joselovitz. Little by little, I got more confident, and in 2012 I directed my first learn-their-lines-wear-costumes-and-everything fully staged production - G.B. Shaw's Village Wooing at WSG - with the hilarious Michael Glenn and the luminous Rana Kay as the two sparring lovers. That's when I discovered that I love directing just as much as I do acting. May I also say that my husband, Clay Teunis, really encouraged me to start directing? He noticed how I would remark on aspects of productions we would see together, and kept telling me I was ready to be at the helm. I think it would have taken me a lot longer to work up the courage to take the plunge without Clay...and of course, Bill Largess, WSG's Artistic Director (AD), who took a chance on me!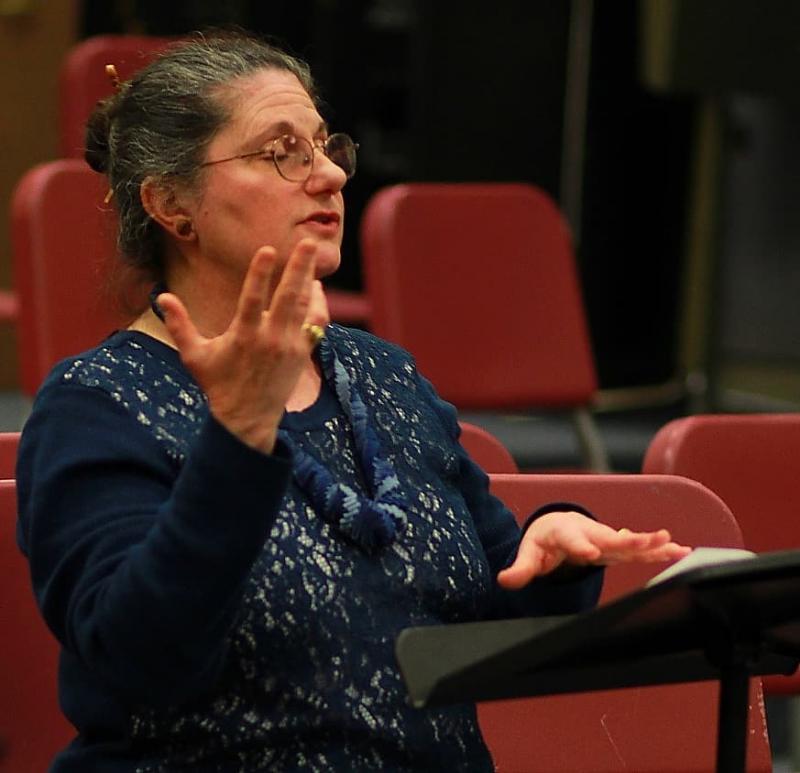 Your current directorial project is Ghost-Writer at QTC. Can you please tell us almost everything we need to know about the show?
Everything?! Well, Ghost-Writer is a jewel of a play. The central character is a woman employed as the typist - or amanuensis, to use the somewhat arcane term for her job common in the 19th and early 20th centuries - to a great writer. In our production, this woman Myra, is played by the marvelous Carol Spring. When the play begins, she is addressing an unseen visitor to the room in which she worked for years, typing the manuscripts of Franklin Woolsey's novels as he dictated them to her on the fly. Apparently, Mr. Woolsey died some months ago and she is now - astonishingly - finishing the book. NOT, she claims, in her own words, but as the words 'come' to her, as if from beyond the grave. Mr. Woolsey, played by QTC's longtime company member Steve LaRoque, is present on stage almost throughout the play and from time to time he speaks and takes Myra back in time to revisit one or another memory from their shared past. Steve brings real gravitas to his role; and as a writer in his own right, there's an authenticity to the scenes in which Mr. Woolsey is composing his novels before our eyes. The third character in the play is Mrs. Woolsey - QTC's multi-talented Stephanie Mumford - who is, understandably, not too thrilled to have her deceased husband's typist garnering attention by reportedly taking dictation from a ghost! It's a perfect recipe for exploring the nature of memory, creativity and human relationships - both platonic and romantic. If I told you more than that, I'd spoil the fun and magic of coming to see the play. (And it goes without saying that I am so grateful to QTC for asking me to direct the play. This is the third time I've directed with the company, and it's a pleasure to return to Bethesda and work with such talented and welcoming people. Jack Sbarbori and Stephanie Mumford and the whole of QTC have been so gracious. And not unlike WSG, they are committed to bringing work to the stage that is faithful to the playwright's intent.)
What was it about Michael Hollinger's script for Ghost-Writer that made you accept the project?
As an actor, I've been in a number of Mr. Hollinger's plays at WSG over the years and I love his writing. All of his plays are so different! They all have different genres, different tones and moods. I was in both the riotous Incorruptible and the more haunting Tiny Island, among others. Yet all of Hollinger's plays are written with love - for his characters, for the human condition and for the mysteries of Life. The chance to direct a play of his was irresistible. Hollinger never answers all of our questions - we leave the theatre wondering about the characters and situations in his plays. What I love about this play in particular is the way it explores the writer's creative process coupled with the resilience of memory. The dead are never really gone, are they? Memories pop into our brains in real life just as vividly as they pop up for Myra in the theatrical conceit of this play, when Mr. Woolsey interrupts her as she talks to her unseen visitor, pulling her back in time to one particular moment or another in their past.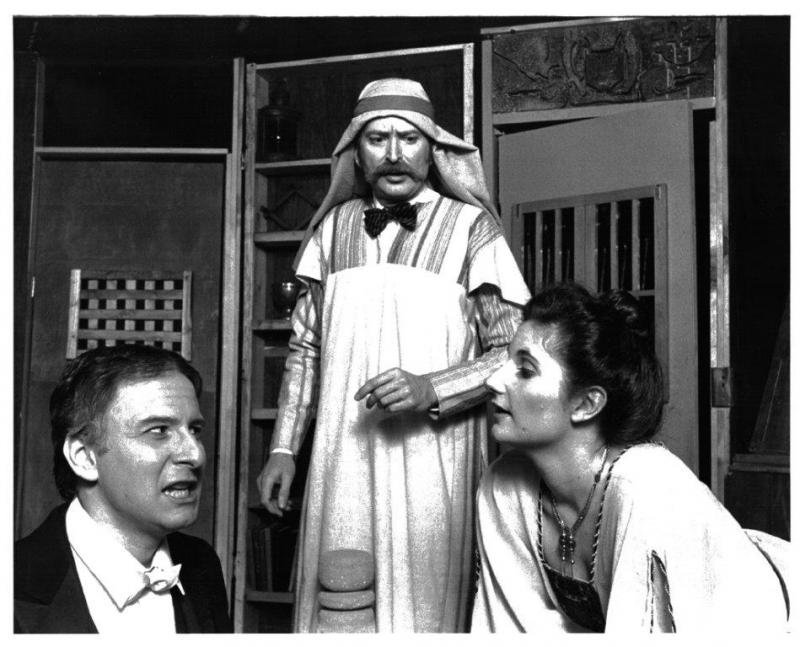 You are a founding member of Washington Stage Guild and have either performed in or directed many of their productions over the years. How has the company changed and grown since its very first season 30 plus years ago?
WSG has grown in many ways since we first formed the company in 1986...and yet we are still dedicated to the same mission - producing neglected classics, unfamiliar works by familiar playwrights, and stimulating new plays from around the world, presented in a style that is WSG's own-direct and clear, with a strong commitment to adhering to the author's intent.
We began as an Equity company, unlike some other theatres that were 'born' in the 80s as we were. We've had a contract with Actors' Equity Association (AEA) from the very beginning. That has been challenging, as under an Equity contract, the producer makes contributions (over and above the salaries paid weekly to our employees) toward the actors' and stage managers' pension and health plans. It can get expensive, balancing those costs with the production costs of sets, costumes, lights, and sound! But we embraced that challenge from the start. We have worked with a core of actors over the years, but always brought new people into the circle. It's kept things fresh.
I will also say that we've always had a commitment to encouraging people to embrace other opportunities. If one of our actors, slated to act in this play or that, gets a call from the Shakespeare Theatre, Arena or the like, they go with the higher paying gig and we recast their role without question or concern. (There is a more-remunerative-employment clause in the AEA contract, but actors sometimes worry that if they take advantage of it, the smaller theatre will resent it and be reluctant to cast them in the future. Not at WSG!)
Over the years, we inevitably lost some of our beloved colleagues, of course. Our founding Artistic Director, John MacDonald, tragically died suddenly in 2008. That was quite a blow, as he was a dear friend, as well as the company's leader and husband of our Executive Director, Ann Norton. (Bill Largess ably took over as AD.)
Another company stalwart and friend, Bill Hamlin, known to audiences at many area theatres, passed away of lung cancer in 2008. He had performed in a number of our productions, many of them Shaw plays and cut such a dashing figure with his mane of hair that turned a beautiful white as the years passed. He played Hector Hushaby to my Ariadne Utterword in the Guild's "ur-production" of Shaw's Heartbreak House at Source Theatre in early 1986, the production which inspired us to form the Washington Stage Guild later that same year and then graduated to the role of Captain Shotover when WSG revisited the play some years later in Carroll Hall.
And the vibrant Tricia McCauley was murdered in 2016.
We carry on and add new performers and directors to the WSG mix. All but one of the actors in our current production of Resolving Hedda are making their WSG debuts. In recent years, we've produced more modern scripts - the 2018-19 season was completely comprised of contemporary plays! - but our commitment to the classics continues. We produced the complete Back to Methusalah cycle of plays by G.B. Shaw between 2014 and 2017. This coming season promises a return to our 'house playwright' with one of Shaw's early plays slated for the boards.
After 30+ years at the helm as Executive Director, Ann Norton retired from the job at the end of last season, although she remains on our Board of Directors to help guide us forward. (Ann is now the Performance Manager for George Washington University's Corcoran School of the Arts and Design, so she is hardly 'retired' in the true sense of the word! She's still a very busy lady.)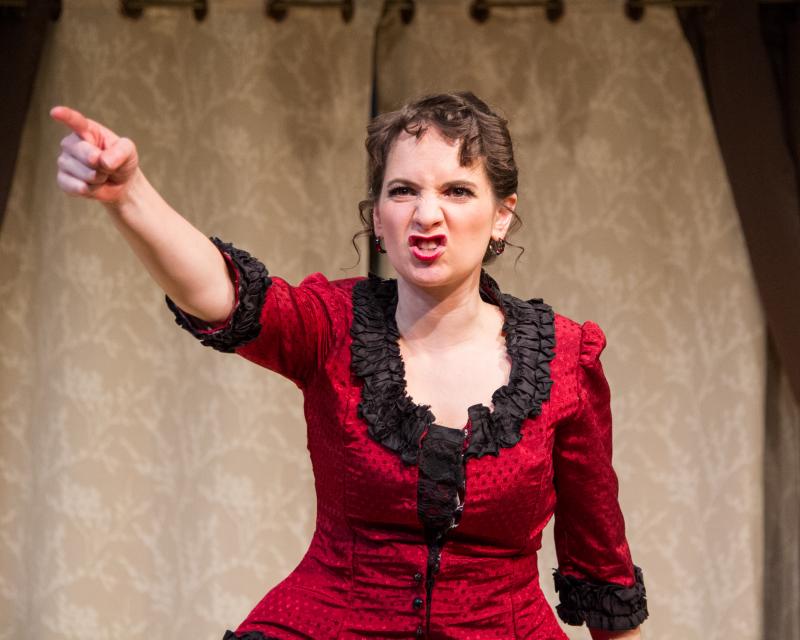 Can you please tell us a little bit about Washington Stage Guild's current production of Resolving Hedda?
Jon Klein, an established playwright nationally, with several well-known scripts to his credit, has also taught at CUA for the last 15 years. As a prof, he taught Ibsen's play. And to hear him tell it, Hedda herself began to speak to him. Resolving Hedda is the result. The character - not the actor playing her! - steps out of the play and objects to her fate. Comic mayhem results! I should also add that you don't need to know anything about Hedda Gabler to enjoy this modern take on her plight. It totally stands on its own.
When not performing or directing your "day gig" is recording audio books for the blind at the Library of Congress and elsewhere. How long does it take from the point of recording to the book being available to borrow? What is the process?
Wow. That's a big can of worms! Recording audio books is a fascinating job that I feel enormously fortunate to have landed. I have narrated books for the National Library Service (NLS) for the Blind and Physically Handicapped since 1979! No, that's not a typo. I was only a year out of college when I was hired and I never looked back. Each book is different - size of the print, complexity of the syntax, amount of pronunciation research required (proper and place names, phrases in languages other than English, etc.) before getting in the booth behind the mic to record. That said, usually it takes about a month to narrate a book. We work in sessions of three hours in length, with a break halfway through; and a narrator generally is schedule to record two to three times a week. So, about a month, give or take to record the 'average' book is a fair estimate. Then, it has to be reviewed for errors, corrections made and then the book is checked again by the Quality Assurance section....so it can actually take several months before a book is available for patrons to download or borrow from their Talking Book Library. Since taking the job, I've narrated over 900 books to date, some of them fabulous, some not so much! But I love my job.
I imagine you have to record all different kinds of books. If the book is a particularly dry read, material wise, how do you make it interesting for the listener? Is this a case where your theatrical background helps the recording?
We record all kinds of material. I generally consider myself to be the voice of the author. If a book is dry, I just act like it's fascinating! I've always felt that my job isn't to editorialize or comment on the book with my narration. I just tell the story and let the listener decide what they think of it for themselves. The rule of thumb is to remain engaged and energized without overdoing it. I do think my theatre background helps enormously. Most of my fellow narrators at NLS are also area actors. The ability to play the role of the storyteller and commit to the material, whether or not you personally espouse the author's point of view, is second nature to actors.
You've been around DC theatre for many years. What would you say are some of the biggest changes you've seen since you first started working in DC theatre?
Well, DC theatre has just exploded since I graduated from CUA back in the day. Then, if one got one's Equity card, the only real option was to move to New York. The only AEA theatres in town then that hired local actors were Arena Stage, the Folger Theatre Group, and Hayloft Dinner Theater out in Manassas, VA. Now, people come from other states to compete in our vibrant theatre market!
Social media and the decline of print newspapers have also had an effect on how theatres market their productions. It has become more difficult, in some ways, to get the word out beyond the theatre faithful. Back in the day, everyone read the paper, so your rave review in the Washington Post was likely to catch the eye of, say, a K Street lawyer browsing the Style section before his 9 AM meeting. He/she would see the headline and the inviting photo accompanying the review and consider it might be something to attend this coming weekend. Now, with various theatre web sites and even the Post mostly accessed online, people must choose to go looking for what's happening in the theatres around town. You have to go looking for what's playing around town; it doesn't just present itself before your eyes as it did in the old print media days. Much harder to stumble upon that rave review and make a choice to do something out of one's usual pattern of recreational behavior.
What upcoming projects do you have as a performer and/or a director?
At the moment, I have nothing specific on the horizon as actor or director - except that I will very likely be directing a play at WSG this coming season. I recently auditioned at the Greater Washington AEA Liaison Auditions (attended by many of our area theatres' casting reps), so we'll see if the phone rings....
Theatre Life logo designed by Kevin Laughon.