Click Here for More Articles on DC - Theatre Life
BWW Interview: Theatre Life with Kevin McAllister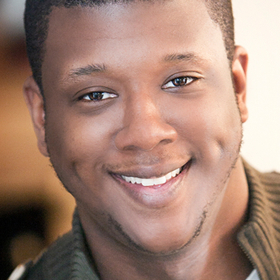 Today's subject, Kevin McAllister, always has dynamic stage presence no matter the production. Currently he is living his theatre life onstage at Signature Theatre singing the Ken Page track in Ain't Misbehavin' .The production runs through March 10th in Signature Theatre's MAX space.
Kevin's previous Signature Theatre credits include A Little Night Music, Titanic, SCKBSTRD (workshop), Brother Russia, The Break (21/24 workshop), Show Boat, and Sweeney Todd.
Other DC area credits include Washington National Opera's Lost In The Stars; Ford's Theatre's productions of Ragtime, Come from Away, 110 In The Shade, A Christmas Carol, Freedom's Song, The25th Annual Putnam County Spelling Bee, Violet (Helen Hayes nomination, Outstanding Lead Actor), Our Town, Parade (Helen Hayes nomination, Outstanding Supporting Actor), the 2011, 2013, 2015 Annual Galas, and The Civil War; Arena Stage's production of Five Guys Named Moe; Olney Theatre Center's Cinderella; the 2013 Gala, James and the Giant Peach, and The Phantom Tollbooth at Kennedy Center. He also appeared in the Expanding the Cycle Series at Baltimore Center Stage; Rent, Dreamgirls and Ragtime (Helen Hayes winner, Outstanding Lead Actor) at Toby's Dinner Theatre; and Brooklyn, Side Show, and The Wild Party at Teatro 101.
Kevin was recently part of the Broadway Company of Come From Away where he understudied and went on for several roles.
You might also remember his direction of Assassins at St Marks Players a few years back.
He is also the Artistic Director of the Baltimore based theater company ArtsCentric, Inc.
Kevin McAllister, with his rich baritone/bass sound, might be the closest local performer we have to a Norm Lewis or Brian Stokes Mitchell type. As you will read below, it's no surprise that then that Ragtime was the show that started Kevin on his musical theatre journey.
In Ain't Misbehavin,' Kevin's rendition of "Your Feet's Too Big" truly stops the show and his seducing of Nova Y. Payton in "Honeysuckle Rose" brings Kevin's charm as a performer out in full force.
The joint known as Signature Theatre is truly jumpin' with Kevin McAllister and company this winter so grab your tickets before they are all gone. If you were to miss the show, "That Ain't Right."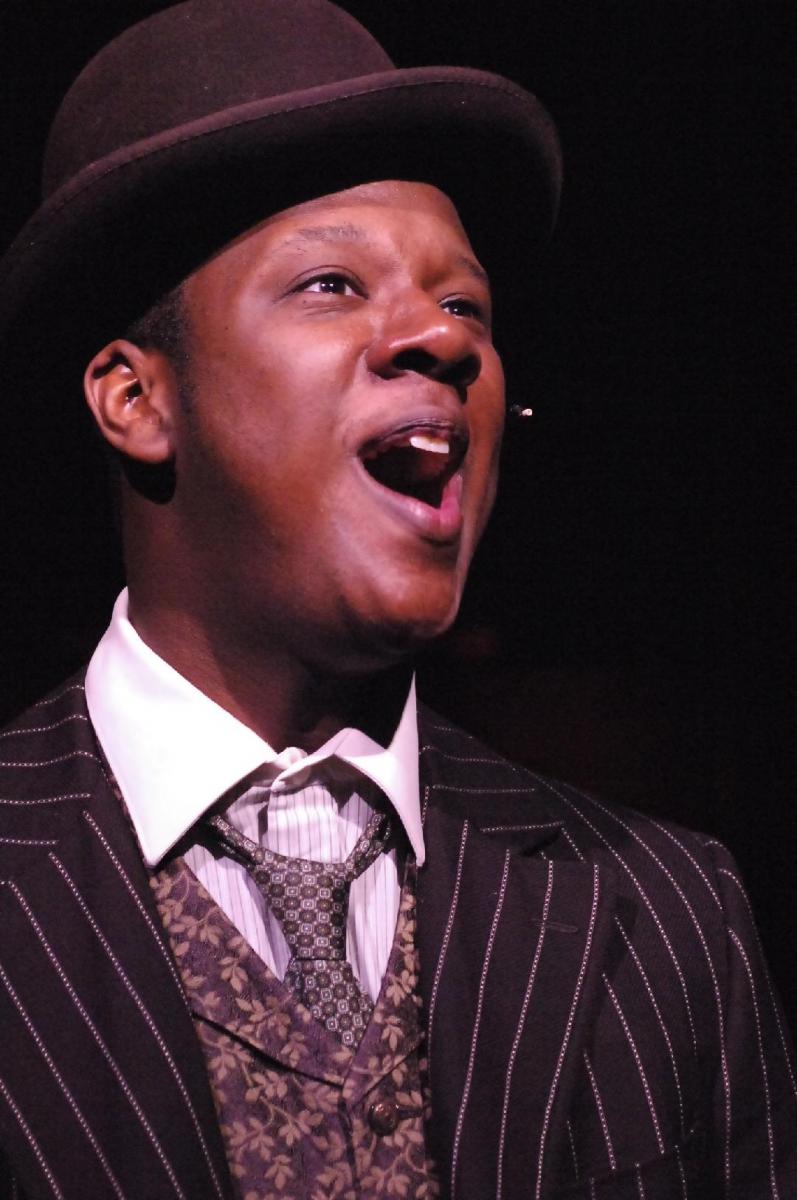 Who do you credit with giving you your start in the theatre?
I honestly believe that there are people who come into our lives when we are at a crossroads and, if we are lucky, steer us in a direction that leads us to find better versions of ourselves. Before Toby Orenstein (Artistic Director and Owner of Toby's Dinner Theatre), theatre was not a huge part of my life. I was trained to be a classical singer. Something in me always knew I was never going be an opera singer, but I didn't know of any other options, so I studied Opera.
I auditioned for Toby at her Baltimore location after I got a phone call from her directly saying they were looking for a Coalhouse Walker understudy in Ragtime to cover the role for matinees. I was singing regularly at a church in Towson, MD and the minister of music recommended me. Of course, I went to the audition because I was desperate for something new in my life. I was nervous. I kind of sang the songs. I rushed the sides. It was a lot for me. Who knew musicals required so much?!
Despite my negative thoughts about my audition, I was offered the role, but was told very directly by Toby that I was not a good actor, at all! She was right. I wasn't. I didn't know what I was doing, but I wanted to learn. She told me she would teach me and she kept her word. She rehearsed me privately before rehearsals began and sometimes kept me after to give me a true assessment of my progress and the categories that still needed work. She believed in me and because she believed in me, I learned to believe in myself. Soon after, I learned that the guy I was covering was no longer doing the role and I was asked to do it full time. I didn't hesitate to accept. I was ready. I did the role and because of her guidance I never doubted.
She, being the loving, amazing teacher that she is, changed my life. She showed me the power of storytelling, the importance of text, and "giving of self" needed to create a well-rounded character like Coalhouse Walker, Jr. Most of all she showed me her love and respect for the gift that is theatre and through her I came to share the same affinity for the craft.
After Ragtime, there was no going back. I wanted to learn more about acting. I wanted to learn about directing. I wanted to learn how to lead a group of actors and have them wholeheartedly trust in a vision I had for shows. I was hooked on musical theatre because of that woman. I truly believe the things I learned at Toby's Dinner Theatre from Toby Orenstein gave my life meaning. She gave me my first directing job. She also allowed me to direct her teen professional camp for many years. There are guardian angels on this earth and I truly believe Toby Orenstein to be one of mine. I honestly, have no idea, where I'd be without her. It has been over ten years and she is still a continued blessing on my life. I walk this journey that is my life hoping that each artistic endeavor I undertake is one that makes her proud.
What was your first professional performing job in the DC area?
My first professional gig in DC was at Kennedy Center. I was cast as King Azaz in a Theatre for Young Audiences touring production of The Phantom Tollbooth. I also got to be a Toy Soldier, a Demon, and a Mad Scientist's Assistant. We toured all over the country for about seven or eight months. On that tour I met lifelong friends and DC actors, Jonathan Atkinson and Carolyn Agan. I even got to work with soon to be NYC actors, Lindsay Roberts and Margo Seibert. It was a great learning experience to be around so much talent.
Had you seen or performed in any other productions of Ain't Misbehavin' prior to being cast at Signature Theatre?
I have seen the original Broadway production many, many, many, many times. It's truly a great example of how powerful black artistry can be when the giant tricks of scenery and lighting are stripped away and one is left with nothing but the power of their own song. Nell Carter, Andre DeShields, Armelia McQueen, Charlaine Woodard, and Ken Page are the perfect mix of pride, sex, sass, charisma, voice, and dance. It's an unbeatable combo. I'm honored to follow in their footsteps.
I did a small production of the show with my company ArtsCentric when we were first starting out, but we didn't know what we were doing. I think everyone in the cast was choreographing and directing. It was chaos for a while, but sometimes it's the only way to learn. The production turned out well, but the steps to get there were not something we ever wanted to repeat.
Can you please tell us almost everything we need to know about Signature Theatre's production of Aint Misbehavin?
This production, directed by Joe Calarco, musically directed by Mark G. Meadows, and choreographed by Jared Grimes, features some of DC's most amazing chocolate talent and I'm honored to be standing beside them nightly. Iyona Blake, Nova Y. Payton, Korinn Walfall, and Solomon Parker III are all stars. They sing and dance from their souls. They give and give nightly, never asking anything in return. They are true artists and I stand in awe nightly that I get to perform with them. They never disappoint.
In addition to the talent, the audience is getting the chance to take a peek at what goes on backstage with these performers before they hit the stage. On each side of the performance area, audiences are privy to see the performers in their dressing rooms. The relationships offstage are sometimes in direct contrast to the joy seen onstage and I think it's an interesting perspective for audiences to be reminded that the people onstage often have lives very similar to their own when the curtain drops. There is an interesting journey taken by every character that I don't think is seen in most productions and it keeps it exciting nightly because we are allowed to color in the story every night. This means our production is different every night. In true Signature style, this is a production that you will never see anywhere else. See it more than once and I guarantee you will see something entirely new. Don't miss it. We run until March 10th.
What is it about Thomas "Fats" Waller's music that makes it so much fun to perform in a theatrical setting?
The music is fun in this setting because Fats Waller was a genius. There's a message in every song he writes. He cleverly teaches both the performer and audience about ourselves, but he never makes it obvious because he wants us to always enjoy ourselves first. He writes up-tempo songs about heartbreak ("Looking Good"). He writes jazzy, catchy tunes about classism and racism ("Lounging At The Waldorf"). He writes about the flaws in all of us and the judgment of our fellow man ("Tain't Nobody's Bizness If I Do", "Fat and Greasy"). He makes us laugh at the very worst parts of ourselves and then makes us cry as African-Americans are forced to speak out about the hatred they ensue for loving the best parts of themselves ("Black and Blue"). Every song is a story. Every lyric provokes the mind. Every chorus is an anthem. This is what you want in any great piece of musical theatre. He's a true icon and this show truly represents a man whose musical genius continues to inspire us over one hundred years later.
Of all the songs you perform in Ain't Misbehavin' do you have a particular favorite?
Interestingly enough, my favorite song is "Your Feet's Too Big." I very rarely get the chance to have this much fun onstage. Working with Jared Grimes, our choreographer, we were able to carve out a number that's very different from the rest of the show. It's just pure fun. Most of the roles I play are pretty serious so this one is a good chance for me to let loose and show another side of myself.
You are the artistic director of the Baltimore-based theatre company ArtsCentric. Can you please tell us how the company got started and what was its initial goal at the beginning?
ArtsCentric actually started when I was wee lad in college at Morgan State University in Baltimore. I felt I was having a hard time being seen for artistic opportunities in the area, and soon discovered many of my classmates were experiencing the same thing. We were not being seen for leading roles because of lack of experience and for other heartbreaking reasons we would never be able to change about ourselves. So, we created ArtsCentric, as a place for Cinderella to be African-American in Into the Woods, or for the Phantom to be black in The Phantom of The Opera - and we didn't apologize for it. We did operas. We did mentoring programs. We wrote our own shows and soon all the places who rejected us before were now taking a second look at our resumes. While we were now grateful for the opportunities, we realized very quickly that we had the potential to carve our own paths by continuing to grow our own company.
We realized quickly that this need for representation was much bigger than us and ArtsCentric soon became an organization committed to creating, nurturing, and supporting actors and stories of color. We took a break for years once we graduated college because being an adult is boring and time consuming. We revamped in 2012 and went non-profit in 2016. Our mission now says, "ArtsCentric is a color-conscious organization committed to re-examining traditional roles in the arts, advancing stories of specific cultures, and fostering educational advancement to strengthen the community through the power of theatre."
This simply means we choose shows where the color of skin doesn't change the narrative. In the past we've done All Black productions of Elton John and Tim Rice's Aida and Chicago. We write our own stories now and we currently produce five shows a year. In April, we are bringing back an original piece we created told entirely through dance called Snapshots about a young black man who was killed at the hands of law enforcement. We created this musical theatre ballet after the death of Freddie Gray in Baltimore. And finally, we run a musical theatre summer intensive for three to four weeks every year for artists aged 13-22. We fundraise almost $25,000 every year to scholarship the majority of the participants who are accepted. This year the summer intensive will mount Once On This Island.
ArtsCentric is a huge part of my life and I'm still surprised this little dream from college is still a part of who I am today.
What do you consider to be some of ArtsCentric's greatest achievements thus far?
I think our greatest achievements are the very artists who have graced ArtsCentric's stage. I'm extremely proud of the artists who have shared themselves and their artistry over the years. It warms my heart to know that someone who didn't know much about theatre came to us and found their calling. We now have former ArtsCentric cast members on stages all over the world. ArtsCentric is on Broadway. We are at The Metropolitan Opera. We are background singers for International Artists. We are Grammy Award winners. We are on almost every stage in the DMV. We are singing, dancing, directing, choreographing, painting, designing, and even teaching. Our greatest achievement will always be the people we've helped along the way. The arts in the African-American community of Baltimore has changed many lives. ArtsCentric will always be proud to celebrate Baltimore and the amazing artists who continue to rise because we said yes to their young artistry when the rest of the world failed to see just how beautiful their talents would soon become.
After Ain't Misbehavin' closes what does the rest of 2019 hold in store for you?
After Ain't Misbehavin', I have three other shows coming up. I don't know if I'm allowed to say their names yet. I love DMV theatre. The talent here is some of the best in the world. I will be around as long as they have me. ArtsCentric will keep me pretty busy as well. I will be directing three of the shows this season. Not to mention, I will continue to teach private voice and lead a couple master classes. In June, I will be doing a workshop of a musical I've been writing. I have no plans to slow down any time soon.
Special thanks to Signature Theatre's Deputy Director, Creative Content and Publicity James Gardiner for his assistance in coordinating this interview.
Additional photo assistance was provided by Kennedy Center's Senior Press Representative Brendan Padgett and Cheryl Clemens-Everidge at Toby's Dinner Theatre.
Theatre Life logo designed by Kevin Laughon.