Click Here for More Articles on DC - Theatre Life
BWW Interview: Theatre Life with Heather McDonald
As a playwright you always hope that your script gets a first class production at a top theatre. Today's subject, Heather McDonald, is currently living her theatre life on a high as her world premiere play Masterpieces of the Oral and Intangible Heritage of Humanity is receiving such royal treatment. Featuring the likes of performers Holly Twyford, Felicia Curry, and Yesenia Iglesias, the production plays through April 7th in Signature Theatre's ARK space.
Heather's other plays include An Almost Holy Picture, When Grace Comes In, Dream of a Common Language, Available Light (produced at Signature Theatre in 2000, The Rivers and Ravines, Faulkner's Bicycle, The Two Marys, Rain and Darkness,and (upcoming) The Suppressed-Desire Ball (developed at Sundance - Ucross Writers Retreat). Her work has been produced on Broadway (starring Kevin Bacon) and Off-Broadway and at such theatres as The Roundabout Theatre, Arena Stage, McCarter Theatre Company, Center Stage, Berkeley Repertory Theatre, Seattle Repertory Theatre, Indiana Rep, California Shakespeare Theatre, Round House Theatre, Signature Theatre, Yale Repertory Theatre, Actors Theatre of Louisville - Humana Festival of New Plays, and The La Jolla Playhouse. Internationally, her work has been seen in Italy, Spain, Portugal, England, and Mexico.
A recent work, STAY, was the result of a two year collaboration with choreographer Susan Shields. STAY combines theatre, dance, music, and SLAM multimedia projections. Working with a group of actors, dancers, a photographer/filmmaker, and set and lighting designers, STAY was built in devised workshops at Theater of the First Amendment, Woolly Mammoth Theatre Company, and was produced at The Shakespeare Theatre Company.
On a grander scale, Heather wrote the libretto for the opera, The End of the Affair, adapted from the novel by Graham Greene. McDonald and her collaborator composer Jake Heggie (Dead Man Walking) were commissioned by the world famous Houston Grand Opera (HGO) to create it and it went on to have several more national and international productions after its premiere at HGO.
Heather's works have been honored with a nomination for the Pulitzer Prize, three NEA Playwriting Fellowships, and The First Prize Kesselring Award. She was also a finalist for the Susan Smith Blackburn Prize.
She has also directed many productions, most recently Middletown by Will Eno, Stephen Adly Guirgis' The Last Days of Judas Iscariot, a steampunk version of The Elephant Man, The Cripple of Inishmaan by Martin McDonagh, and the world premiere of Two-Bit Taj Mahal by Paul D'Andrea. Her production of Dream of a Common Language was nominated for eight Helen Hayes Awards (including Best Direction) and won four Helen Hayes Awards including Outstanding Resident Production.
She received her MFA from NYU Tisch School of the Arts and is Writer-in-Residence and Professor of Theater and Film at George Mason University.
When I reviewed Masterpieces of the Oral and Intangible Heritage of Humanity I said it was one of the best plays you will see at a local theatre this season. Heather's writing takes some of the form of absurdist theatre and makes it accessible to a mainstream audience. Complete with a fine cast and superb production elements all under the helm of director Nadia Tass, I highly urge you to see Heather's play Masterpieces of the Oral and Intangible Heritage of Humanity before it ends its run at Signature Theatre. It takes a lot to get me excited about a piece of theater, but Masterpieces of the Oral and Intangible Heritage of Humanity certainly made me excited, and I wholeheartedly believe it will have the same effect on you. Heather McDonald's work is one you won't soon forget and I mean that in the best possible sense.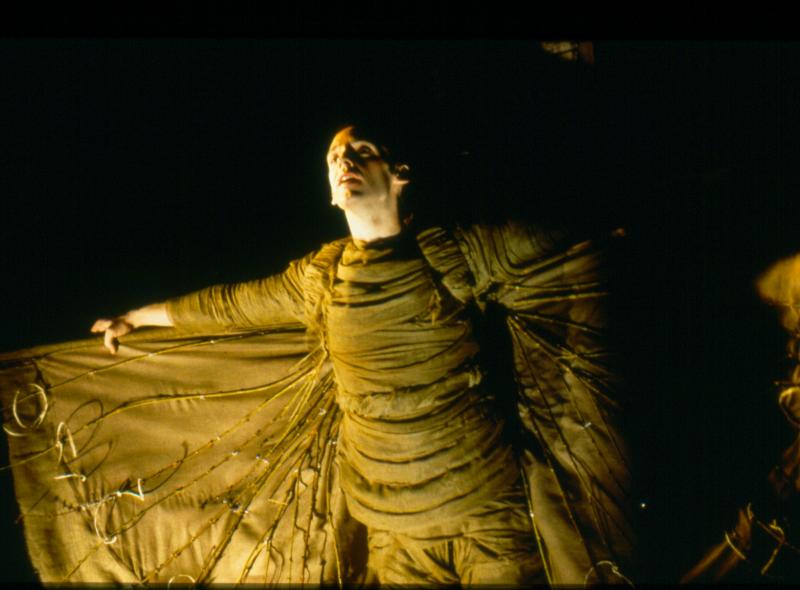 Had you been working in another area of theatre before becoming a playwright?
I did not work in another area of theatre before becoming a playwright. When I came to playwriting, it was through other writing. I thought I'd be a journalist or a novelist and when I found playwriting it just felt like I'd found my medium. I'd studied English and Religion and Art History, though, and when I got to NYU Tisch, I felt terribly behind all the smart savvy theatre students so I decided to catch up. I'd walk up to The Drama Book Shop, which was then in that little shop on the 2nd floor in Times Square, and I read a play a day for a year.
When you start out writing one of your plays, where do the ideas come from?
Most of my plays begin with an image that just won't go away and haunts me.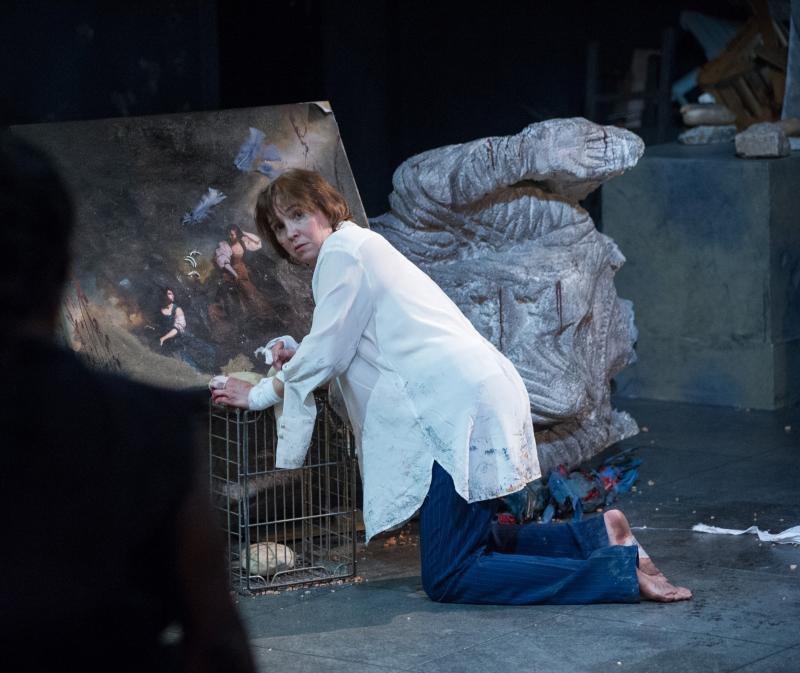 Can you please tell us about your latest play Masterpieces of the Oral and Intangible Heritage of Humanity?
Masterpieces is set in a world that has been at war for "a hundred years, give or take a day" and is set in a room in the Museum of Art and Antiquities that is being used as a prison. It's about who and what you want to save in the event of a catastrophe, how we see people as "other," and the saving grace of a Rembrandt painting. And, oh, a rhinoceros.
How long was it from first draft to what we are going to see stage at Signature Theatre for Masterpieces of the Oral and Intangible Heritage of Humanity?
I started writing this play about five years ago and then life and disaster intervened. I've been working on this draft fairly consistently at Signature Theatre for the past two years.
What would you like audiences to take away from a performance of Masterpieces of the Oral and Intangible Heritage of Humanity?
I hope that audiences will be moved to think about what truly matters to them, what gives them meaning, and to look deeply at every person they meet to see the fullness of that person's mysterious, complex humanity.
You wrote the libretto for the opera The End of the Affair. What are some of the differences between writing for opera and writing for theatre?
I think the biggest difference I found between writing the libretto for The End of the Affair and writing a play is the tremendous compression. Someone said to me when I was preparing to do that project, "Think of it as thought you get 7 photographs to tell the story. Choose wisely." The other lovely part is that in revealing character music and song can go deep into emotional truth in a way that hits the heart hard. Another big difference is that operas are in BIG venues and playwrights are often in SMALLER spaces so thinking about scale and operatic emotion was thrilling.
What advice can you give to a young thespian just starting out in their playwriting career?
For a young playwright, I'd say to find your people, find your tribe. Almost everything that has ever happened for me has happened because of a connection to a person. I don't mean networking, but an actor or a director or a designer who I connect to and we want to figure out a way to work together. And be sure you love it and have a life outside of theatre, because that love of making new things with good people and the life you create will sustain you through the inevitable failures and dry periods. And figure out a way to make a living. You're gonna need that.
Can you please tell us about any upcoming projects you have?
My next play, Blue Umbrella Happy, will take me back to Mississippi where my first play, Faulkner's Bicycle, was set and birthed. It's about my father and music and the river and grief and barbecue.
Special thanks to Signature Theatre's Deputy Director, Creative Content and Publicity James Gardiner for his assistance in coordinating this interview.
Theatre Life logo designed by Kevin Laughon.
Related Articles