Interview: Theatre Life with Christiane Noll and Matt Bogart

I, like many musical theatre nerds, get excited every time a world premiere musical comes to town. Arena Stage is providing that fix right now with an Alaskan-rooted premiere of Snow Child. Today's subjects Christiane Noll and Matt Bogart are currently living their theatre lives as the leads in this production, which runs through May 20, 2018.
Although Snow Child is Christiane Noll's Arena Stage debut, she is no stranger to DC area theatergoers. She won a Helen Hayes Award for her portrayal of Mother in the Kennedy Center's production of Ragtime, and received Tony Award and Drama Desk nominations when the production moved to Broadway. Other DC area appearances include Kid Victory, Ace and Witches of Eastwick at Signature Theatre, the Washington National Opera (with Placido Domingo), and multiple concerts with National Symphony Orchestra. She starred on Broadway in Chaplin (Drama Desk nomination), It Ain't Nothin But the Blues, and Jekyll & Hyde. Off-Broadway productions include Elf at Madison Square Garden, 1776 and New Moon at Encores!, and Closer than Ever. She has toured the country in Urinetown, Mambo Kings, Grease, Miss Saigon, and City of Angels and won regional theater awards for Next to Normal and Follies. You might also have seen Christiane in an episode of Madam Secretary, Law & Order SVU, and The Good Fight on television. You also probably saw her in The Sound of Music Live or heard her voice the role of Anna in the animated version of The King & I. She also has five solo albums to her credit.
Matt Bogart returns to Arena Stage where he previously played Val in Orpheus Descending, Lancelot in Camelot (Helen Hayes nomination), and Joe in Damn Yankees. Other DC credits include Side Show and 110 in the Shade at Signature Theatre and Paul in Company for Kennedy Center's Sondheim Celebration. On Broadway, Matt starred in Jersey Boys, Aida, Miss Saigon, The Civil War, and Smokey Joe's Café (also filmed for TV/film). National tour credits include Camelot and his Off-Broadway credits include Himself and Nora. He has performed across the United States in some of the most venerable venues, including Lincoln Center, Kennedy Center, and Carnegie Hall. You might have seen Matt on television in Vinyl (Robert Goulet), JFK, Smash, or possibly Law & Order: SVU. He has recorded three solo albums.
It's always exciting to work on something original and help bring it to fruition. With Snow Child you have two of Broadway's top talents back in the Nation's Capital, living their theatre lives to the fullest, and doing what they do best. Both have worked on new musicals and turned out great performances. Here they will be introducing audiences to the world created by Arena Stage's Artistic Director Molly Smith and writers John Strand (Book) Bob Banghart and Georgia Stitt (Music and Lyrics). With the new Wharf now open, make an evening or afternoon of it, and check out Snow Child at Arena Stage. A brand new musical to make us musical theatre geeks beam...I love when that happens.
How did you get interested in performing?
Christiane (C): My father was a conductor and my mother was an opera singer and I got to experience life behind the curtain and a little bit [of] on stage action as well with them as I was growing up. It was a family business.
Matt (M): My mother always encouraged me to be involved in something musical whether it was in the church choir, playing piano or guitar, but it wasn't until high school that I had a very influential teacher who introduced theatre to me, and gave me the notion that people pursued performing professionally.
What was your first professional performing job?
C: I was 4 and was given a few tasks to do for the production of The Mikado by Gilbert and Sullivan that my folks were doing. Putting me in the show was easier than getting baby-sitting.
M: I was plucked from the hell of working in a steel mill in Ohio by a director friend of mine to do a new musical on the Chester Stage at Goodspeed Opera House called Blanco, which was based on a Bernard Shaw play. I had just turned 18 and was thrilled to be on stage with Bill Perry, Catherine Cox, and Gabriel Barre, to name a few.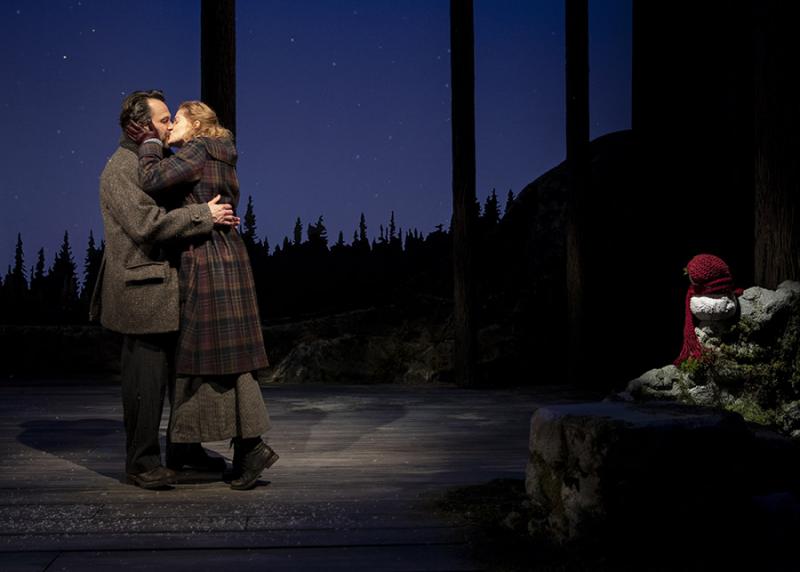 When performers take on a world premiere musical, there is usually something about the material that draws them in. What was it about Snow Child that did that for you?
C: I have known and respected Georgia Stitt for years and have also longed to work with Molly Smith at Arena Stage. I loved Eowyn Ivey's novel, which was an Alaskan riff on a magical folktale quite familiar in many cold region cultures. I was fascinated to see how they were going to capture the immensity, ferocity, beauty, and mystery that is Alaska. Then they mentioned puppetry, projections, and other bits of magic and I was truly intrigued.
M: Firstly, I'll do anything with Arena's Artistic Director, Molly Smith. Besides the shows we've done together in the past, she's incredibly loyal and supportive of me and my work. I've been involved in several developmental workshops of Snow Child and I enjoy playing my character's extraordinary arc. Additionally, I love to be in rooms working on new pieces with great people and collaborators such as John Strand, Georgia Stitt, and Bob Banghart.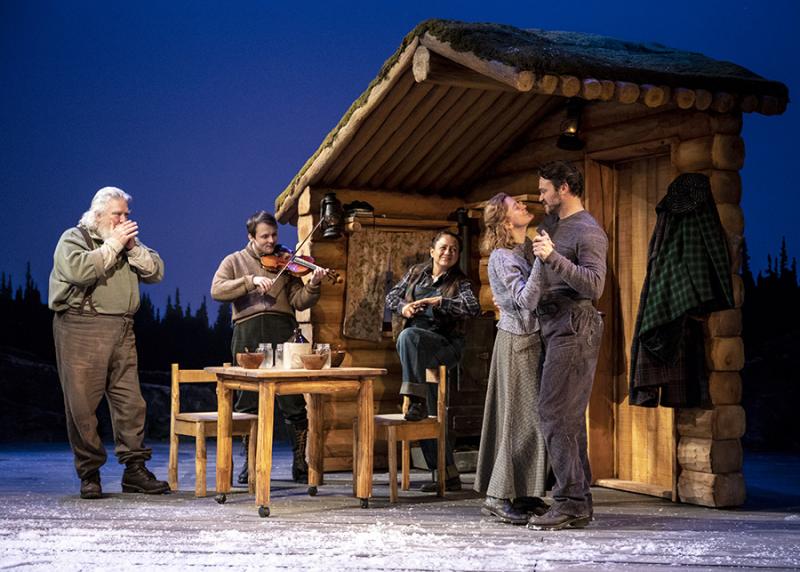 Can you please tell us a little something about your characters?
C: I play Mabel. She is an educated, childless, Pennsylvania woman of the 1920s who suffers an incredibly traumatic miscarriage. She and her husband run to Alaska with the early Homesteader movement to find a new life free from the pain of that loss, but what they find is far more than they were expecting.
M: Jack wishes to leave a painful life behind in the hope for his wife's wellness, but quickly finds homesteading in Alaska to be just as daunting. Jack learns lessons about his own strengths and weaknesses as a man, as well as an appreciation for the landscape around him and his wife's untapped potential.
Snow Child goes on to Perseverance Theatre in Alaska after its engagement here in DC. Will this be the first time you will have the opportunity to perform in Alaska?
C: This will be my third trip. I have sung with the symphony in Anchorage twice. I have never been to Juneau before.
M: Yes, I'm very enthusiastic to travel to Alaska for the first time and to present this Alaskan story in its rightful home.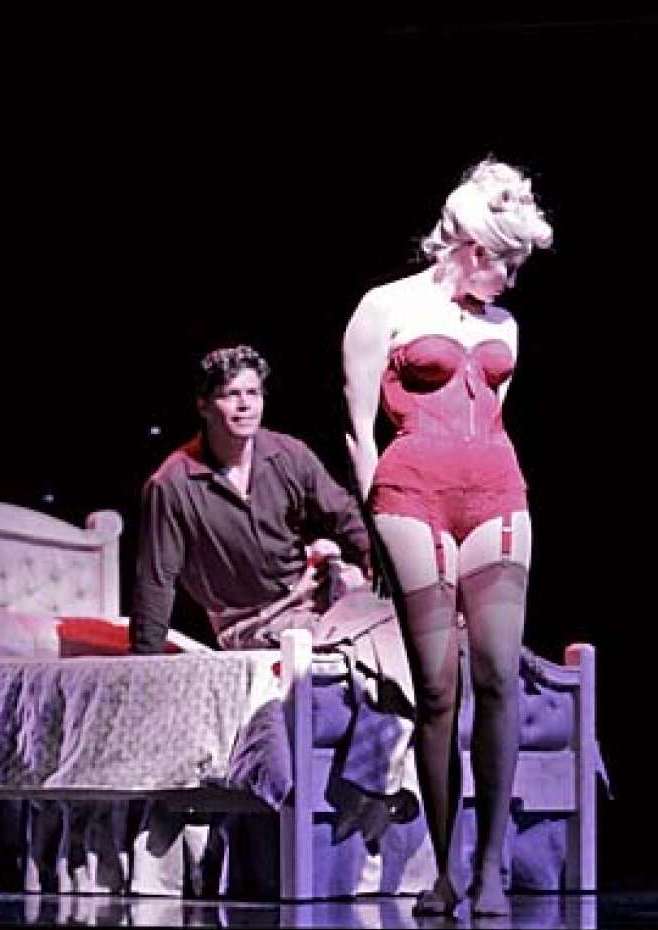 You have both been part of world premiere musicals. Are there any that you had worked on that you were surprised didn't go further that they did?
C: Although I wasn't surprised, I was disappointed that The Mambo Kings didn't get to open on Broadway. The band was hot, hot, hot and thanks to Sergio Trujillo, it had some of the most exciting dancing I had ever seen on a stage. I still have hopes for October Sky! Fingers crossed that it finds a home in the next few years!
M: I've been excited by many new projects, but that's always tempered by the knowledge of how difficult it is to write, perform, and produce a new show. One in particular was a beautiful show called Camille Claudel that I had done at Goodspeed. Linda Eder was the star and Frank Wildhorn wrote the music. Of course, I've been disappointed about several new works I've had the opportunity to be involved [with] because, let's be honest, in the beginning, they're all going to Broadway.
Christiane, you have recorded several solo albums. When putting one of those together, what would you say is the biggest challenge in creating something that is artistically satisfying for you as the performer, while still trying to reach as wide a listening audience as possible?
You are funny. I don't really think that most people who release musical theatre albums have the notion of trying to reach a wide listening audience. Ha. Although with You Tube I suppose anything is possible these days. I have been extremely fortunate to have been able to record five solo CDs. Most of them have come from or became shows that I did live. So I suppose to answer your question, the biggest challenge was figuring out a theme or a reason for doing the evening in the first place. The why.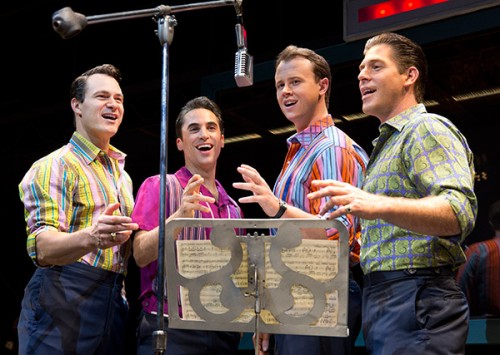 Matt, you performed in Jersey Boys on Broadway for many years. How did you keep your performance fresh for all that time?
Jersey Boys was a wonderful show to do for an extended period of time because it was so entertaining for the audience. Besides having my young family to support, I loved playing the comedy and finding my own place in the show every night. Audiences were excited to be there whether they were celebrating their birthdays, anniversaries, or holidays and this is always reason enough to attempt to focus to make each show better than the one before it.
After Snow Child concludes, what does the rest of 2018 hold in store for each of you?
C: I have a number of symphony concerts coming up in Utah and the Czech Republic.
M: My biggest project is putting together a concert for the release of another solo musical theater album entitled Sky Above Manhattan, with songs by writers of my generation, including Todd Almond, Michael John LaChiusa, Ricky Ian Gordon, Mike Reid, Sarah Schlesinger, and more.
Here are Christiane Noll and Matt Bogart in rehearsal for Snow Child performing The Perfect Snow. They are accompanied by Musical Supervisor Lynne Shankel on keyboard and composer Bob Banghart on mandolin.
Special Thanks to Arena Stage's Media Relations Consultant Deb Fiscella for her assistance in coordinating this interview.
Theatre Life logo designed by Kevin Laughon.