Click Here for More Articles on DC - Theatre Life
BWW Interview: Theatre Life with Britney Coleman and Tim Rogan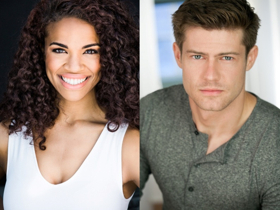 Today's subjects Britney Coleman and Tim Rogan are currently living their theatre lives at Arena Stage performing in one of the golden age of Broadway's more underrated musicals, The Pajama Game. They are playing the roles of Babe Williams and Sid Sorokin, respectively. The production runs through December 24th.
While this is Britney's Arena Stage debut, her list of credits is very impressive. She recently appeared on Broadway as Lucille in Beautiful: The Carole King Musical and the revival of Sunset Boulevard, starring Glenn Close. Britney also performed with the first national tour of Beautiful: The Carole King Musical.
Select regional credits include Guenevere in David Lee and Steve Orich's eight-person adaptation of Camelot (Two River Theater and Westport Country Playhouse) opposite Robert Sean Leonard, and appearances at The Old Globe, Theater Under the Stars, Marriott Lincolnshire, and North Shore Music Theater. She also performed in A Very Potter... Musical / Sequel / Senior Year featuring Darren Criss and her fellow Starkids.
She holds a Bachelor of Fine Arts from the University of Michigan.
While this is Tim's Arena Stage debut, he is no stranger to working in DC theatre. He has appeared at Signature Theatre, Shakespeare Theatre Company, Theater J, Toby's Dinner Theatre, Washington Savoyards, No Rules Theatre Co., Olney Theatre, Center, the Kennedy Center, Adventure Theatre, and Studio Theatre.
National tour credits include Lancelot in Camelot and Gaston in Disney's Beauty and the Beast. Regional credits include Joseph in Joseph and the Amazing Technicolor Dreamcoat, Chad in All Shook Up, Miles Gloriosus in A Funny Thing Happened on the Way to the Forum, Trevor Graydon in Thoroughly Modern Millie, and Tony Elliot in Billy Elliot.
You might have also seen Tim in your living room on the TV shows Younger and Shades of Blue.
He holds a Bachelor of Music from Catholic University.
With the holidays fast approaching and with many, many holiday theatrical options to choose from in our area, The Pajama Game is one that should be on the top of your holiday viewing list. It isn't performed very much so that is a reason enough to go see it right there. The fact that is stars two high powered performers like Britney Coleman and Tim Rogan makes it that much more a top pick.
If you only have a "Once a Year Day" at the theatre this holiday season, please consider spending it with Britney, Tim, Donna McKechnie, Eddie Korbich and the rest of the company that make up Arena Stage's production of The Pajama Game. With all that talent, you're guaranteed to walk out saying "Hey There" that was excellent!!
How did you become interested in performing?
Britney (B)- I grew up watching my Dad sing and play drums in his R&B/funk band. He even had me make a cameo on one of his albums when I was four or five! My elementary/middle school in Ann Arbor, MI had an incredible music and arts program. Every student had to participate in a one-act version of a musical each year and I officially caught the bug after playing Mary in The Secret Garden in third grade. I pursued just about every role in every show after that. Other noteworthy elementary school roles include Anita in West Side Story and Ruth in The Pirates of Penzance.
Tim (T)- It all started for me singing in choirs and performing in my school shows. Once I did my first musical, I was hooked.
Were you the type of kid that listened to Broadway cast recordings growing up? If so, what were one or two of your favorites?
B- This isn't necessarily an Original Broadway Cast Recording, but one of my middle school teachers gave me Audra McDonald's "Happy Songs" as an eighth grade graduation present. That was the first "Broadway" album that I listened to on repeat. It was incredibly inspiring to hear someone who looked like me sing in that luscious, legit style -at that point I thought I would be limited to roles in West Side Story or The Lion King! That album also introduced me to a lot of the Broadway Golden Age repertoire that I eventually added to my own book.
The first true Broadway cast recording I learned inside and out was Into the Woods after I was cast as the Baker's Wife in high school. Hilariously enough, those lyrics have stayed with me throughout my career. I have since played Florinda, Rapunzel, and Cinderella since my introduction to the show. My running joke is that I'll have played every role by the time I retire!
T- Absolutely. My family would take long car trips up to Massachusetts and we would wear out The Phantom of the Opera cassette. We were also a Disney family and would listen to the animated film soundtracks over and over again, like Aladdin and The Lion King.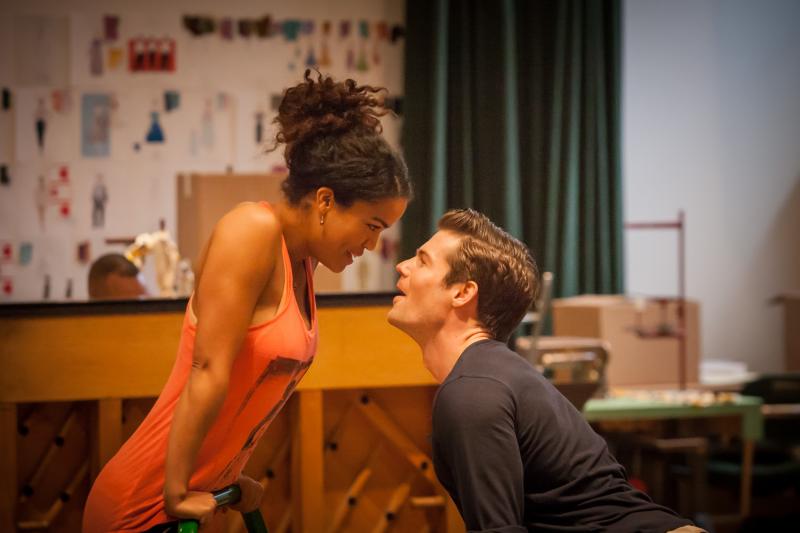 For those not familiar with The Pajama Game can you tell us a little something about your character?
B- Babe is the leader of the Grievance Committee at the Sleep Tite Pajama Factory. She helps organize and lead the union workers' strike for a 7 1/2 cent raise throughout the show. She is a passionate, no-nonsense firecracker of a woman, years ahead of her time. She has a big heart that she guards closely. What I love about her is that she has no problem saying NO to Sid's advances at the top of the play! He has to match her wit for wit to bring her around (oh-so-similar to Kate and Petruchio in The Taming of the Shrew) amidst the circumstances of being on opposite sides of the strike.
T- Sid is a 28-year-old guy from Chicago who just landed a great job in Cedar Rapids, Iowa. However, he arrives right during the middle of a labor dispute about a raise in wages, and the woman he is falling for is on the opposing side.
Britney, you recently completed a run of Sunset Boulevard on Broadway starring Glenn Close. Can you please talk about your experience of working on that production, including how does one keep from being star struck when onstage with Ms. Close?
I will be the first to tell you that we were thoroughly spoiled as a company in Sunset Boulevard. Not only was there was a wealth of talent and professionalism both onstage and off, there was an overall sense of support and kindness that fueled our performances in the show. I believe the morale of a company starts at the very top, and at the beginning of the rehearsal process our director, Lonny Price, reminded us all of the need to lift one another up and to never take these rare opportunities for granted. I'm so grateful that we really committed to that as a cast--it made for an unforgettable experience.
I loved working with Ms. Close!! She's the kind of leading lady I want to be when I grow up: incredibly present and kind, humble, wonderfully generous, and completely accessible to everyone in the company. It's hard to get star struck when she treats you as an equal with all of the respect and responsibility that comes with sharing a Broadway stage. :)
Tim, you started out performing in DC theatre before branching out on national tours and playing other regional theatres across the country. What do you think is the best thing about our local theatre scene here in DC?
The sense of community. There are some amazing, world-class artists in this town and there is a camaraderie that gives our shows something special. In any given show, when you have a few creative team members or performers that have years of history together, it elevates the entire production because of that combined experience.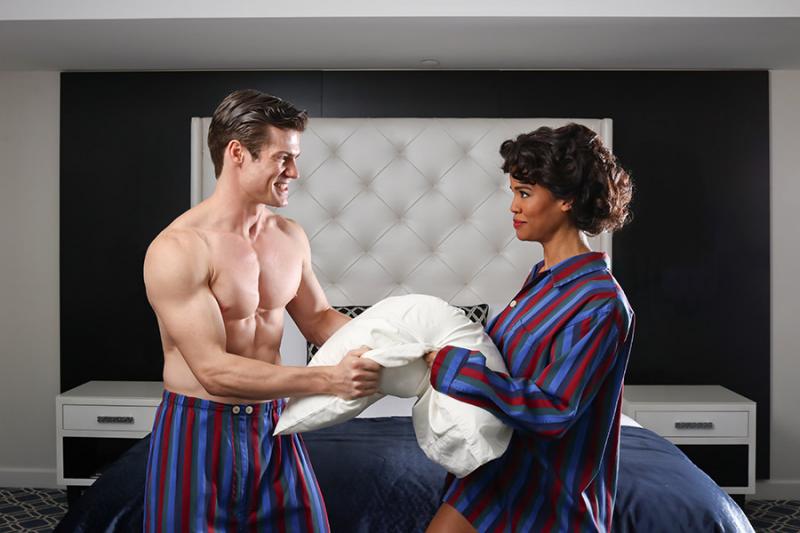 The Pajama Game was written during a simpler and more innocent time of musical theatre. 63 years after it premiered on Broadway, why do you think The Pajama Game is still relevant to today's audiences?
B- It may have been written in a simpler and more innocent time, but this musical is anything but! The resistance movement is alive and well in 2017 and The Pajama Game just goes to show how cyclical history can be. Many of us are still fighting the same fight for the equal pay and fair wages that the characters are fighting for in the musical. Babe and Sid struggle with many of the same issues that bipartisan couples face today. It raises the question of just how much are you willing to risk in order to fight for what you believe in. I'm thrilled to see what aspects of this show resonate with DC audiences this holiday season.
T- The thing that makes the show relevant is that in any given moment of time, there will always be instances of people fighting for what they think is right or fair. No matter how small it may seem. Something like a $15 federal minimum wage is still a hot button issue. Even though it is only a few dollars, it all adds up to something much larger.
After The Pajama Game concludes its run, what do you have coming up for 2018?
B- I'm looking forward to announcing my next project, but I'm not at liberty to say just yet! I'm in the midst of renewing my passport for it though...
T- For right now, just heading back to New York!
Special thanks to Arena Stage's media consultant Deb Fiscella and Arena Stage's media relations fellow Skye Lindberg for their assistance in coordinating this interview.
Theatre Life logo designed by Kevin Laughon.