Anita Maynard-Losh Named Arena Stage's Senior Artistic Advisor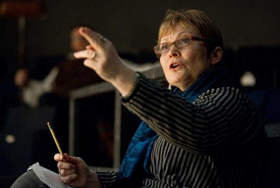 Arena Stage at the Mead Center for American Theater Artistic Director Molly Smith and Executive Director Edgar Dobie announce that Anita Maynard-Losh, who is entering her 15th season with the organization, will become Senior Artistic Advisor in addition to responsibilities under her current title of Director of Community Engagement.
"Anita joined Arena Stage in August 2004, and under her leadership as a strong manager and motivator, she has grown the Community Engagement programs to educate inside and outside of the classroom: creating Camp Arena Stage and the Arena Stage Academy, Actors Arena, and overseeing the local growth and international reach of Voices of Now," shares Smith. "She has worked in an artistic capacity on more than 40 Arena Stage productions where I consider her my secret weapon because of her strong ideas, and has cultivated cutting-edge workshops and programs to involve younger, more diverse audiences in our theaters."
Maynard-Losh's updated title as Director of Community Engagement and Senior Artistic Advisor more accurately reflects her current responsibilities, which include not only overseeing the Arena Stage Community Engagement department, but also advising and leading artistic projects at Arena Stage, including directing, associate directing, text directing, vocal and dialect coaching and serving as a member of the artistic team.
"I am deeply grateful to Molly Smith for giving me the opportunity to work on multiple vibrant artistic projects at Arena Stage, in addition to leading a remarkable team of artist-educators in Arena Stage's Community Engagement department," shares Maynard-Losh. "The connection between the work on our stages and our work in the community is deep, and I am honored to have this title reflect the artistic side of my life at Arena Stage."
Anita Maynard-Losh is entering her 15th season at Arena Stage. She directed the world premiere of Our War and served as associate director on several productions, including Sovereignty, Carousel, Oliver! and Oklahoma. Anita trained and taught at American Conservatory Theatre in San Francisco, was on the faculty at Webster University in St. Louis, headed the theater department at the University of Alaska Southeast and was the associate artistic director of Perseverance Theatre in Juneau, Alaska. The Alaska Native-inspired production of Macbeth that Anita conceived and directed was performed in English and Tlingit at the National Museum of the American Indian in D.C. Through Arena Stage's devised theater program, Voices of Now, Anita has collaborated on creating and directing original plays with communities in India and Croatia.
Arena Stage at the Mead Center for American Theater, under the leadership of Artistic Director Molly Smith and Executive Director Edgar Dobie, is a national center dedicated to American voices and artists. Arena Stage produces plays of all that is passionate, profound, deep and dangerous in the American spirit, and presents diverse and ground-breaking work from some of the best artists around the country. Arena Stage is committed to commissioning and developing new plays and impacts the lives of over 10,000 students annually through its work in community engagement. Now in its seventh decade, Arena Stage serves a diverse annual audience of more than 300,000. arenastage.org