Experience An Authentic Night At The Grand Ole Opry In Nashville, Tennessee With NASHVILLE LIVE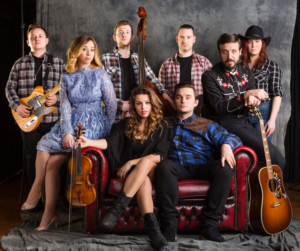 Direct from Music City, U.S.A, American country music spectacular Nashville Live is to get its UK premiere in June.
Transporting audiences right into the heart of downtown Nashville, Nashville Live will take spectators on a journey through the country music history books with some of its biggest stars.
Featuring music from classic artists such as Johnny Cash, Willie Nelson and Dolly Parton; to more recent performers such as Garth Brooks and the Dixie Chicks, Nashville Live is a celebration of the biggest legends of country music, and the fascinating stories behind their global hits including Folsom Prison Blues, Crazy, Jolene, The Gambler and many, many more.
Nashville Live will open at Glasgow Concert Hall on June 7 and tour to Eden Court, Inverness June 8, Dundee Rep Theatre, June 9, Arbroath, Webster Theatre, June 10, Aberdeen, His Majesty's Theatre, June 11 and Edinburgh's Usher Hall, June 12.
More dates to be announced.
The evening is in the style of a Grand Ole Opry live radio show complete with the Opry announcer, live commercials and the cast revealing the hidden histories of country music, while audiences can enjoiy a mixture of classic solos, stellar duets and fantasy group harmonies.
The band of on stage musicans will be led by British Country Music Association 'Musician of the Year' (2017) Luke Thomas as MD, and the cast also features four top West End performers:
Scottish-born Robbie Durham, who starred as Johnny Cash in Million Dollar Quartet, plays Johnny Cash, Hank Williams and Kenny Rogers; Chris Grahamson, Billy Elliot (West End) and Charlie and the Chocolate Factory (West End), plays the announcer, Willie Nelson and Garth Brooks; Lisa Wright, Sunny Afternoon (West End), plays Dolly Parton and Tammy Wynette. Helena Gullen, the hit musical Once (West End), plays Patsy Cline and Loretta Lynn.
Nashville Live is produced by Maple Tree Entertainment Ltd whose production The Simon & Garfunkel Story, is currently playing at the Lyric Theatre in London's West End, and has been seen by hundreds of thousands of people across the world.