Canadian Stage's Artistic & General Director Matthew Jocelyn to Step Down After Nine Seasons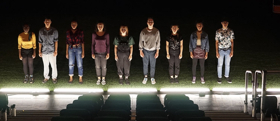 Canadian Stage today announced that Matthew Jocelyn will be stepping down as Artistic and General Director after nine seasons in order, in his own words, "to make room for what might happen next." Jocelyn will remain in his role until June 2018 and program the company's 18.19 season, to be announced later this spring.
He continued: "It has been a true honour to lead Canadian Stage into its present position as a flagship organization of and for contemporary performing art in Toronto, nationally and internationally. I am deeply grateful to have had the opportunity to work with many of our country's most innovative stage artists - as well as their colleagues from around the world - to help foster a globally-engaged network of artistic curiosity and excellence." "I would like to thank all of our artistic and institutional collaborators, as well as the Canadian Stage staff and board of directors, without whom this work would not have been possible, and with many of whom lasting friendships have been forged. Most importantly, I wish to acknowledge the wide spectrum of Canadian Stage audiences who - through their appetite for bold, innovative performance - have reinforced the pursuit of an artistic vision positioned at the very heart of the world within which we live. I am proud of what we have accomplished together.
"
"For nearly a decade, Matthew has awed, inspired and, at times, confronted us, while paving the way for cutting-edge live performance in Canada. On behalf of the board, we express sincere gratitude for his outstanding artistic leadership and wish him all the best in his future endeavors," said
Alexandra Baillie
, co-chair of the Canadian Stage Board of Directors. "
Matthew Steer
ed the company through a daring transition with uncompromising commitment to the art and set the foundation for Canadian Stage's future. Our dedicated board and management teams look forward to working with the new wave of creative leadership to build on that strong foundation and take the company into its next chapter," added co-chair
Tony Baylis
. An international search for Jocelyn's successor, led by the Canadian Stage board and executive team, will begin in the coming weeks. Joining the company in 2009 following the 17-year tenure of Marty Bragg, Jocelyn unveiled a vibrant new mandate establishing Canadian Stage as a home for boundary-breaking multidisciplinary contemporary work from Canada and around the world. Over the course of eight seasons, the Toronto not-for-profit commissioned, produced or presented award-winning large-scale creations by such celebrated home-grown artists as
Robert Lepage
(
887
);
Crystal Pite
(Olivier Award-winner
Betroffenheit
); Atom Egoyan (
Martin Crimp
's
Cruel and Tender
); Marie Chouinard (
The Garden of Earthly Delights
), and Stan Douglas - whose groundbreaking multimedia noir
Helen Lawrence
continues to be toured by Canadian Stage, most recently with an engagement at Los Angeles'
CAP UCLA.
Promoting unprecedented global exposure, Jocelyn's vibrant programming model - distinguished by an exceptional diversity of producing partnerships - also allowed Toronto audiences to discover renowned international companies through the Spotlight Festival series, numerous works in translation and memorable touring presentations like the critical favourite
Kiss & Cry
by Belgian artists Jaco van Dormael and Michèle Anne de Mey, and British choreographer
Akram Khan
's sold-out hit
DESH
. These curatorial efforts were rewarded with a historic win at the 2016 Dora Awards: the first time in Dora history that a single company was awarded outstanding Production Awards in the General Theatre, Dance and Touring categories. Strengthening Canadian Stage's longstanding commitment of supporting emerging artists, Jocelyn also helped establish the professional careers of such theatre creators as Jordan Tannahill (
Botticelli in the Fire and Sunday in Sodom; Concord Floral; Declarations
-upcoming) and
Britta Johnson
, whose new musical
Life After
opened Canadian Stage's 30th anniversary season to unanimous acclaim. His tenure also saw the creation of the York University-Canadian Stage MFA in Stage Direction (now in its seventh year), and the Berkeley Street Theatre Company-in-Residence Program (past: Studio 180, Company Theatre, Necessary Angel, Theatre Smash, Crow's Theatre), currently welcoming Sandra Laronde's Red Sky Performance and theatre composer Njo Kong Kie. Under Jocelyn's revamped repertory format, Canadian Stage's beloved pay-what-you-can Shakespeare in High Park summer series steadily expanded its local audiences. Jocelyn will work with Interim Managing Director and longtime Executive Producer,
Sherrie Johnson
, to lead the company through the remainder of its current season. Prior to Canadian Stage, the Toronto-born Jocelyn held the position of Director of France's Atelier du Rhin for 10 years, creating a body of work for which he was awarded the title of Chevalier des Arts et des Lettres by the French Ministry of Culture. He continues to work as a freelance director and writer of theatre and opera; his most recent project, the libretto for Brett Dean's opera
Hamlet
at the 2017 Glyndebourne Festival, having garnered rave reviews from international press. Jocelyn's Canadian Stage directorial highlights include
Melissa James Gibson
's THIS, the English-language premiere of
Liv Stein
by Georgian playwright Nino Haratischwili, and
Simon Stephens
'
Harper Regan
. From November 26-December 17, he will direct another Canadian premiere of a Stephens play,
Heisenberg
as part of Canadian Stage's 30th anniversary line-up.