BWW Review: Go Go Go See JOSEPH AND THE AMAZING TECHNICOLOR DREAMCOAT at Theatre Aquarius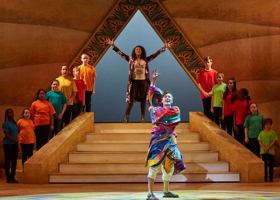 This holiday season, a delightful production of JOSEPH AND THE AMAZING TECHNICOLOR DREAMCOAT is on stage at Hamilton's Theatre Aquarius. This production is loads of fun for the entire family, and makes for the perfect holiday excursion.
This now classic musical by Andrew Lloyd Webber and Tim Rice is based on the 'Coat of Many Colors' story in the Bible's Book of Genesis. Joseph is the youngest of Jacob's twelve sons. He is a dreamer and he has started to discover how to interpret the meaning of his dreams. Joseph's brothers are not interested in his potential prophecies and are incredibly jealous of the love that Jacob shows for Joseph and of the beautiful multi-colour coat that he gives him as a gift. They form a plot to sell Joseph to some passing Ishmaelites and then tell their father that he has died. Joseph endures many different challenges on his journey, but his gift eventually saves him when he is able to interpret the Pharaoh's dreams.
This production, directed and choreographed by Mike Jackson, offers stellar performances all around. The costumes and set design by Ivan Brozic bring the audience into this world (and all it's variations based on musical style) and the excellent company keeps us there. The production strikes a perfect chord in its blending of humour and sentimentality. The show never takes itself too seriously, yet there are still powerful messages of faith, hope and forgiveness.
Robert Markus plays the titular role, and does well to make it his own. My viewing partner has seen many productions of JOSEPH over the years, and commented that she has seen the lead role be played as either incredibly cocky or incredibly innocent and naïve. Depending on the choice made, the journey of the character changes considerably. Markus' Joseph is certainly more on the innocent side, but it is clear that the character is not simple-minded, and that his initial naiveté comes from him simply not having had the opportunity to see the world beyond his home. Furthermore, Markus' Joseph seems aware from the start that he has something special to offer the world. He never comes off as braggadocios though. He is simply confident in himself. His flaw is that while he views his gift as something he can share with his family, he fails to see how this could make his brothers jealous.
When Markus first appears on stage and sings with the wonderful Children's chorus. He has a notable twinkle in his eye. By the end of the show, the twinkle is still there, but layered along with it is a deeper understanding of family, forgiveness, and what it means to overcome adversity. It can all truly be seen on his face as he meets his family again, now in a position of power.
Markus' singing voice is outstanding. His performance of "Close Every Door" will leave you with chills.
Also outstanding, is Vanessa Sears as the Narrator. Her engaging stage presence and her gorgeous singing voice literally guide the audience through the story on stage. Her performance is magical from the moment we meet her. Like Markus, she has great chemistry with the children's chorus. They hang onto her every word...and so do we.
Something that makes JOSEPH such a timeless and beloved musical is the fact that there really is something for everyone. Andrew Lloyd Webber and Tim Rice explore a variety of different styles of music from Country Western, to French ballads, to jazz, to rock, to music inspired by Elvis. The company is up to the challenge and each number is wildly entertaining. A favourite had to be "One More Angel In Heaven" (lead vocals performed by Justin Bott) which switches from a slow, melancholy country song, to an upbeat ho-down-depending on whether or not the patriarch, Jacob (Laurie Murdoch) is within earshot. The over-the-top fake-mourning-turned-celebrating of Joseph's death is played in a hilarious fashion by the ensemble. This was the number that I had stuck in my head for my entire drive home.
The entire company is fantastic. The singing and dancing are excellent, and each character has a moment to shine. A particularly memorable role in any production of JOSEPH is that of Pharaoh-played here by David Cotton. Styled in the fashion of an Elvis impersonator, with the singing style to boot, Cotton is great in the role. At times, it is hard to discern exactly what Pharaoh is saying because in true Elvis fashion, Cotton holds the microphone right up to his mouth. But, this is so in character that it works anyways.
The headline of this review may be the most predictable headline of all time, but I just had to do it because that is the message I want to convey. If you are looking for family friendly entertainment that will make you laugh, make you think, and encourage you to dream this holiday season...then Go Go Go see JOSEPH.
JOSEPH AND THE AMAZING TECHNICOLOR DREAMCOAT directed and choreographed by Mike Jackson, continues at Theatre Aquarius in Hamilton, Ontario until December 24, 2017. Tickets available at www.theatreaquarius.org
Company: Eric Abel, Christy Adamson, Gabriel Antonacci, Carla Bennett, Alex Black, Justin Bott, Devon Michael Brown, David Cotton, Aaron Hastelow, Alexandra Herzog, Bethany Kovarik, Robbie Graham-Kuntz, Ayrin Mackie, Robert Markus, Laurie Murdoch, Nicholas Nesbitt, Stephen Patterson, Jennifer Rider-Shaw, Vanessa Sears, Kolton Stewart
Children's Chorus: Lindi Abrams, Ozioma Agbassi, Chiara Agro, Nicole Angelone-Lantin, Ella Bradley, Emma Bown, Paige Crevar, Annie Collins, Alexander Davis, Kaitlyn Davis, Ian Dekker, Marcus Dudley, Zoe Edwards, Angelica Galway, Shelby Galway, Grace Godsmark, Mujan Izadian, Kadynce King, Jessica Malek, Kiana Medeiros, Kaylee Montague, Sophie Moores, Brendon Elian Mueller, Alice Okpere, Giselle Palakumae, Samantha Santos, Zeke Stanton, Sabine Ortiz Valencia
Photo Credit: BankoMedia