Photo Flash: First Look at Davis Gaines and Victoria Strong in Cabrillo Music Theatre's KISS ME, KATE
Davis Gaines (Southern California's Longest-running PHANTOM) and Victoria Strong star in the Thousand Oaks Civic Arts Plaza premiere of Cole Porter's most raucous, sexy, and best loved musical ever, KISS ME, KATE! Cabrillo Music Theatre's 20th Anniversary Season kicks off with the popular favorite, playing until Sunday, October 27th, at the 1,800-seat Kavli Theatre at the Thousand Oaks Civic Arts Plaza, located at 2100 Thousand Oaks Boulevard in Thousand Oaks. BroadwayWorld has a first look at the cast in action below!
KISS ME KATE has been charming audiences for generations. With a clever combination of Shakespeare's TAMING OF THE SHREW and backstage shenanigans during the production of a musical version of the play, KATE, with a book by Sam and Bella Spewak, is considered to contain Cole Porter's most popular score. It's no wonder that the show, a Tony winner for Best Musical, was later revived on Broadway, winning another for Best Revival. The movie version, starring Howard Keel,Kathryn Grayson, and Ann Miller (and featuring Bob Fosse andBobby Van in small roles) became a classic as well.
The plot brings together a self-absorbed director/star, his temperamental ex-wife/co-star, a fame-driven starlet, a fast-footed gambler, a pair of hoodlums, a power-mad General, and many others, as the comedy confusion flies fast and furious. The score leaps nimbly from hit song to hit song, including "Too Darn Hot," "Another Op'nin', Another Show," "So In Love," "I Hate Men," "Tom, Dick or Harry," and "Brush Up Your Shakespeare," to name just a few. And the dances run the full range of musical theatre styles, dazzling at every turn. The result is a unique blend that has audiences laughing and cheering from beginning to end. Theatre star
Davis Ga
ines makes his Cabrillo Music Theatre debut as Fr
Ed Graham
, the production's leading man and director, as well as the role of Petruchio in the show-within-the-show TAMING OF THE SHREW. A popular theatre favorite for years, Gaines is perhaps best known as the title role in THE PHANTOM OF THE OPERA, a role he has played more times in Southern California than any other actor in history. The recent Ovation Award Winner will join forces with Southern California theatre mainstay
Victoria Strong
as Lilli Vanessi (also as "Kate," the shrew),
Scott Reardon
("Prince Dauntless" in Cabrillo's ONCE UPON A MATTRESS) as Bill Calhoun and Lucentio, and
Reba Buhr
("Sally" in Cabrillo's CHARLIE BROWN) as
Lois Lane
/Bianca. Local theatre favorites, and frequent Cabrillo stars, Steven Perren and Ronald Rezac play Gener
Al Harrison
Howell and Harry Trevor/Baptista Minola, respectively. Joining them will be (in alphabetical order); Orlando Agawin,
Francesca Barletta
,
John Paul
Batista,
Michael Byrne
,
Danielle Campbell
, Allen Darby,
Martin Feldman
, Jay Gamboa, Lexi Greene, St
Eve Greene
, Abigail Herman, Natalie Rose Iscovich, Raquel Nicole Jete, Kurt Kemper, Anna Lamonica, Tellina Lee, Derek A. Lewis, Tom G. McMahon, Timothy Reese,
Shelley Regner
, Tracy Ray Reynolds, Harry Schantz, Joey Sponseller, Megan Stonger and Lamont Whitaker. Directing will be Southern California favorite
Richard Israel
, returning to Cabrillo after last year's successful ONCE UPON A MATTRESS.
John Todd
makes his Cabrillo debut as Choreographer, and
Darryl Archibald
returns as Musical Director, leading the full, professional Cabrillo Music Theatre Orchestra. "I can't believe that KISS ME, KATE has never been performed in the Civic Arts Plaza, "says
Lewis Wilkenfeld
, Cabrillo's Artistic Director. "It's one of the very few 'classics' that has been on our audience's wish lists for years and years! I'm very pleased to be able to finally give this show the Cabrillo quality production it deserves." Adds Wilkenfeld, "With
Davis Ga
ines in the starring role, making his local debut, KATE will be more than 'another op'nin', another show,' - it promises to be 'too darn hot,' too!! With KISS ME KATE, Cabrillo Music Theatre launches its second season of Arts Education. KISS ME, KATE provides a fun way to learn about one of Shakespeare's most famous comedies, THE TAMING OF THE SHREW. Study Guides are available and accessible for teachers at public schools, private schools and home school parent/teachers, and any parent or individual interested. The Study Guide supplements a fun musical outing with an educational experience that helps students take a difficult subject like Shakespeare, and understand and apply the subject matter and the language in a modern setting. With music that is remembered forever, to dance that you'll never forget.... With comedy and romance from beginning to end..... Cabrillo Music Theatre's KISS ME KATE has something for everyone, and, though it has a touch of adult languages is recommended for all audiences! Start Cabrillo's 20th Anniversary Season off with a red-hot bang, and "get thou" to see KISS ME KATE at the Thousand Oaks Civic Arts Plaza! KISS ME, KATE opened October 18th, 2013 and runs through Sunday, October 27th. Performances are Thursday at 7:30pm, Fridays and Saturdays at 8:00pm, and Saturdays and Sundays at 2:00pm. A post-show discussion with cast, staff and audience will follow the Saturday, October 19th, 2:00pm performance. A signed performance for the deaf and hard-of-hearing will take place on the Friday, October 25th performance.
Tickets are on sale now and may be purchased at the Thousand Oaks Civic Arts Plaza Box Office located at 2100 Thousand Oaks Boulevard in Thousand Oaks or through any Ticketmaster location or by phone (800) 745-3000. For groups of 10 or more, call Group Sales, Cabrillo Music Theatre at (805) 497-8613. Ticket prices range from $30-$65. For ticket and theatre information, call (805) 449-ARTS (2787). CABRILLO MUSIC THEATRE performs exclusively at the Kavli Theatre, Thousand Oaks Civic Arts Plaza, Bank of America Performing Arts Center, at 2100 Thousand Oaks Boulevard in Thousand Oaks.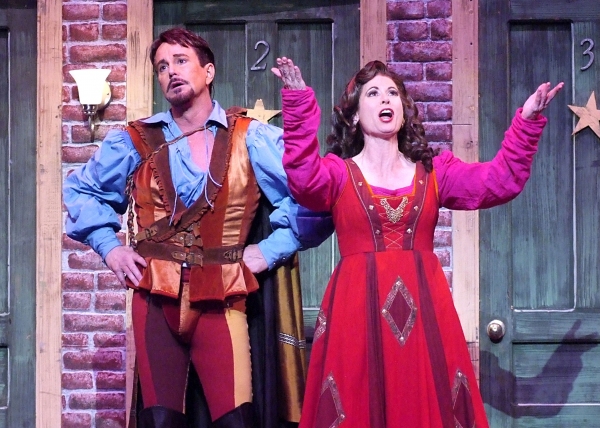 Davis Gaines and Victoria Strong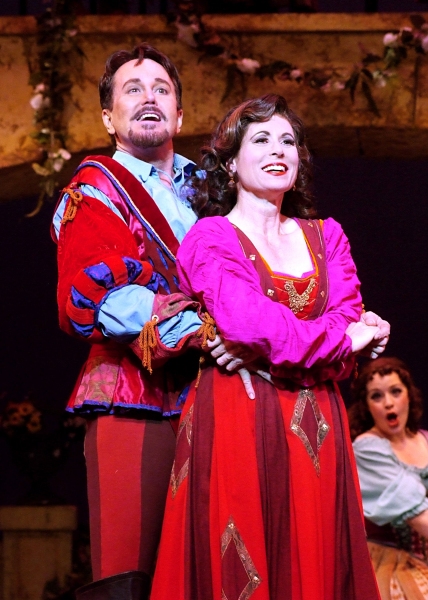 Davis Gaines and Victoria Strong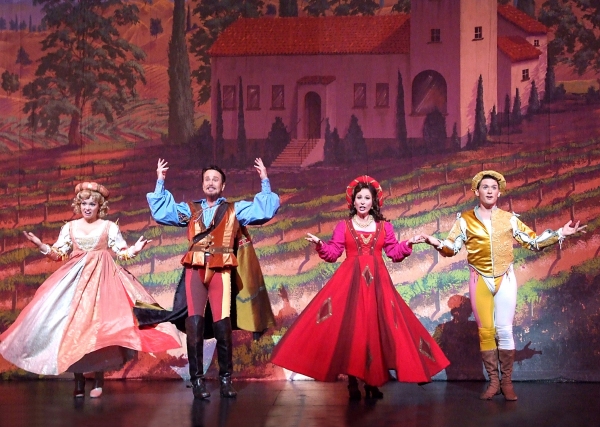 Reba Buhr, Davis Gaines, Victoria Strong and Scott Reardon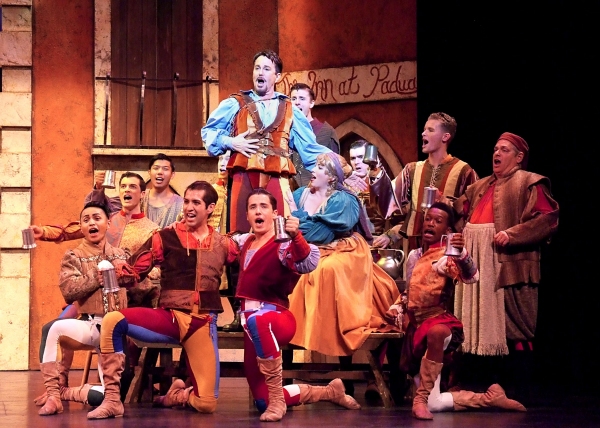 Davis Gaines and Company

More Hot Stories For You