SPRING AT THE WILLOWBROOK INN, Featuring Wesley Eure And George Dvorsky, To Play Tampa Fringe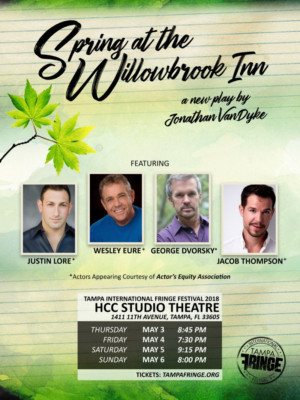 SPRING AT THE WILLOWBROOK INN, a new play by Jonathan Van Dyke, will be featured at the Tampa International Fringe Festival at the HCC Studio Theatre in Tampa, FL. May 3 - 6, 2018, starring Wesley Eure (TV's Land of the Lost, Days of Our Lives, Dragon Tales), George Dvorsky (Broadway's Scarlett Pimpernel, Passion, and Madam Secretary), Justin Lore (Forbidden Broadway, Disney's Finding Nemo), and Jacob Thompson (The Perfect Murder). Directed by Jonathan Van Dyke, SPRING AT THE WILLOWBROOK INN was awarded Outstanding Production and Outstanding Lead Actor in a Play at the All Out Arts: Fresh Fruit Festival in NYC.
SPRING AT THE WILLOWBROOK INN follows the lives of Cooper Stanwyk and Joshua Hill from their first meeting in 1967 at a motivational conference. This unlikely pair develop a deep relationship based on mutual understanding as their lives unfold separately. Through correspondence and decades of meeting at the Willowbrook they become a pivotal role in each other's lives, supporting each other through the unpredictable events each one faces. SPRING AT THE WILLOWBROOK INN is a timely story that touches on the struggles of different eras, the sadness of regret, and the hope and courage of two people who are ultimately connected.
For tickets and showtimes at HCC Studio Theatre in Ybor, please visit: https://tampafringe.ticketleap.com/spring/
WESLEY EURE (Joshua) Wesley is a veteran television star of DAYS OF OUR LIVES (Michael Horton) and LAND OF THE LOST (Will Marshall), an author of five books, the developer of PBS' hit show, DRAGON TALES, and he hosted Nickelodeon's game show, FINDERS KEEPERS. His professional acting career began at The American Shakespeare Festival in Stratford, Conn. Wesley has starred in many productions including BUS STOP and BUTTERFLIES ARE FREE. For the last few years, Wesley has been co-producing a new Steven Schwartz musical titled SNAPSHOTS. After all of his classical training, Wesley is now known for his line from TV's classic LAND OF THE LOST... "Run Holly! Run! There's a dinosaur!"
George Dvorsky (Cooper) Broadway credits include the title role in THE SCARLET PIMPERNEL, GENTLEMEN PREFER BLONDES, PASSION, MARILYN: AN AMERICAN FABLE and THE BEST LITTLE WHOREHOUSE...National Tour: CHITTY CHITTY BANG BANG. Off-Broadway: THE FANTASTICKS, CLOSER THAN EVER, PETE N KEELY, DAMES AT SEA and 'AND THE WORLD GOES ROUND. George starred in the NYC Premiere of Rodgers and Hammerstein's CINDERELLA as Prince Charming at Lincoln Center. TV: MADAM SECRETARY and was featured in PASSION: LIVE AT LINCOLN CENTER starring Patti LuPone and starred with Bea Arthur and the Boston Pops in BERNSTEIN'S BROADWAY. His solo CDs are available on the JAY Records label. www.georgedvorsky.net
JUSTIN LORE (Young Joshua) Justin played both younger and older Joshua in the original staged reading of SPRING... in 2012. NYC: SPRING...WILLOWBROOK INN (2014 Reading w/ Greg Louganis). Regional: GODSPELL (Jesus), URINETOWN (Bobby), BOEING BOEING (Robert), SOUTH PACIFIC (Billis) Forbidden Broadway, DISNEY CRUISE LINES Currently: FINDING NEMO The Musical (Marlin) at Walt Disney World. BFA: University Of Tampa.
Jacob Thompson (Young Cooper) Jacob Thompson graduated from Wagner College, NYC and has performed around the world playing the title roles in BEAUTY AND THE BEAST, BYE BYE BIRDIE and IDOLS OF THE KING: THE Elvis Presley STORY. He was last seen in Florida onstage at The Wick in THE DROWSY CHAPERONE and you catch him on you TV in THE PERFECT MURDER this summer. Check out jacobthompson.net for videos and more!
Jonathan Van Dyke (Writer and Director) is the author of TOTALLY ELECTRIC (productions in Tampa, New Orleans, Denver) and HOLIDAY INCORPORATED (Event Show Productions The Straz Center). He has directed productions of PIPPIN, BEEHIVE, I LOVE A PIANO, BOEING BOEING, and JERRY'S GIRLS. Upcoming productions include Neil Sedaka's BREAKING UP IS HARD TO DO and CINDERELLA. He was a producer and scriptwriter for Event Show Productions, and was part of the creative team for the act TellAVision as seen on America's Got Talent.