Previews: THE ELEPHANT MAN at TampaRep
John Merrick is a beautiful soul ennobled by his suffering, projecting his inner humanity through what most of society would say is a grotesque exterior.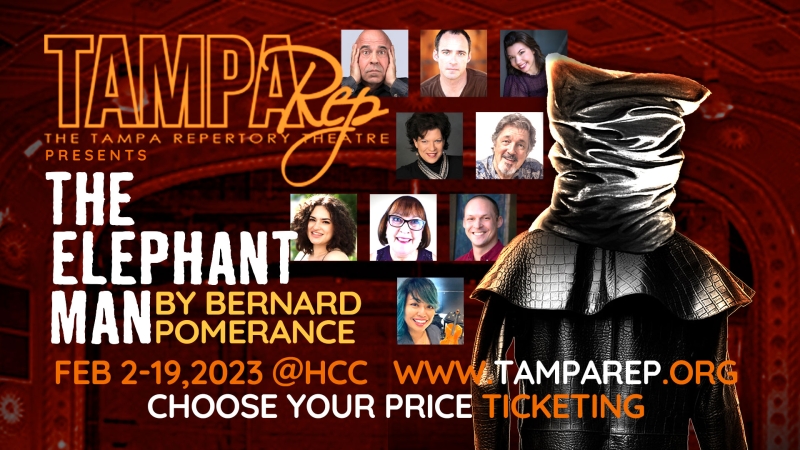 Opening on February 2-19 at HCC Ybor is TampaRep's production of The Elephant Man. Based on a true story and directed by Emilia Sargent, the play features Paul Potenza in the iconic role of Joseph Merrick, a man disfigured by a rare skin and bone disease in late 19th-century London. Admitted to Whitechapel Hospital, he is taken under the wing of Frederick Treves, a young doctor who tries to help him be accepted by society - only to be denied his dream of being seen as just a man.
Christopher Marshall plays Frederick Treves, and Georgia Mallory Guy plays Mrs. Kendal. Rounding out the cast are Ami Sallee, Don Walker, Bridget Bean, and Maya Quinones.
This production is especially poignant as it was a conversation between the late beloved C. David Frankel, co-founder and artistic director of TampaRep, and Paul that set the show in motion, only to be delayed years by the pandemic.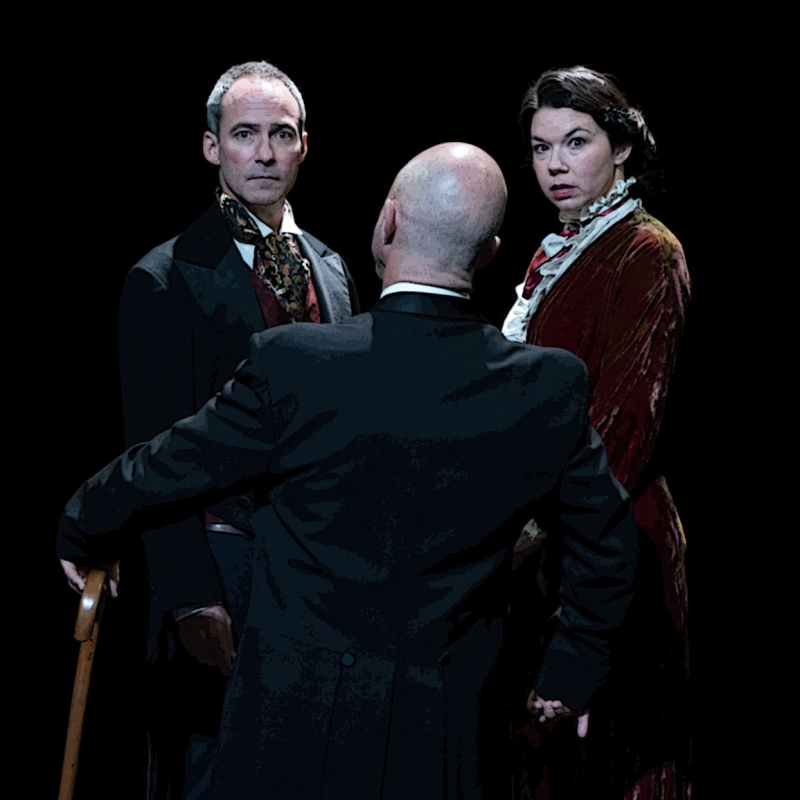 Emilia explained, "I was committed to doing David's legacy projects that meant a lot to him to make sure they came to fruition."
Emilia is proud to bring his vision to life.
"It's really fun because it is a period piece in that it's based on the historical figure, Joseph Merrick, and other historical figures. It is a bit of a bare stage with projections, minimalist but with Victorian garb. We have a live cellist playing, underscoring our transitions, which I think is lovely and adds to the storytelling. It's been an epic theater Brechtian approach: the audience can stand back and know they're watching a play at moments. There are scenes that sort of break with reality, like a dream scene specifically where we see the inner workings of what's happening with Doctor Frederick Treves in a particular scene."
Using actual projections of Joseph Merrick, the audience will have a sense of what he truly looked like, while Paul takes on the physical characteristics without makeup prosthetics. Paul explained that portraying a character with such physical disfigurement was both challenging and rewarding. The transition is slowly described in medical terminology in a lecture room on stage.
"In the text, at the beginning of the play, Doctor Treves described the physical abnormality of Joseph Merrick. During that time, I'm in a neutral condition. As those afflictions are described, I take them on physically: facial contortion, neck, arms, fingers, legs, and back," Paul explained. "They're augmented from what we would know as a normal walking person, as best I can become John Merrick and all his physical abnormalities and disabilities. It's my job to put a voice and body to that (projections) without taking on any special effects. As Doctor Treves describes it, I become that."
Emilia added, "That's a great example of where the audience really does know they are watching a play because they actually watch Paul turn into Joseph Merrick on stage."
Paul said that despite life giving his character the worst hand physically and mentally, abused, poverty, and hunger, he still had grace in his life. He was a man of faith who lived truthfully.
"I'm amazed how he is written in this text, how beautiful a person he is."
Emilia said, "To add to what Paul said about Joseph Merrick and this character - he's truly a beautiful soul and a man ennobled by his suffering. This beautiful soul is able to project his inner humanity through what most of society would say is a grotesque exterior. I think it's going to remind us all to look beyond the superficial. This is a situation where someone is different and just wants to fit in, which we can all resonate with, the story of an outsider who's working to be accepted. It's about looking at a person's identity and not their exterior and accepting each other for the souls that we are."
The Elephant Man is February 2-19, 2023, with performances on Thursdays, Fridays, and Saturdays at 7:30 pm and Sundays at 3 pm at HCC Ybor. To learn more and to buy tickets, visit http://www.tamparep.org/