BWW Review: #JOBSITEROCKSTHEBARD with The Complete Works of William Shakespeare Abridged (Revised) at the Straz Center for the Performing Arts in Tampa, FL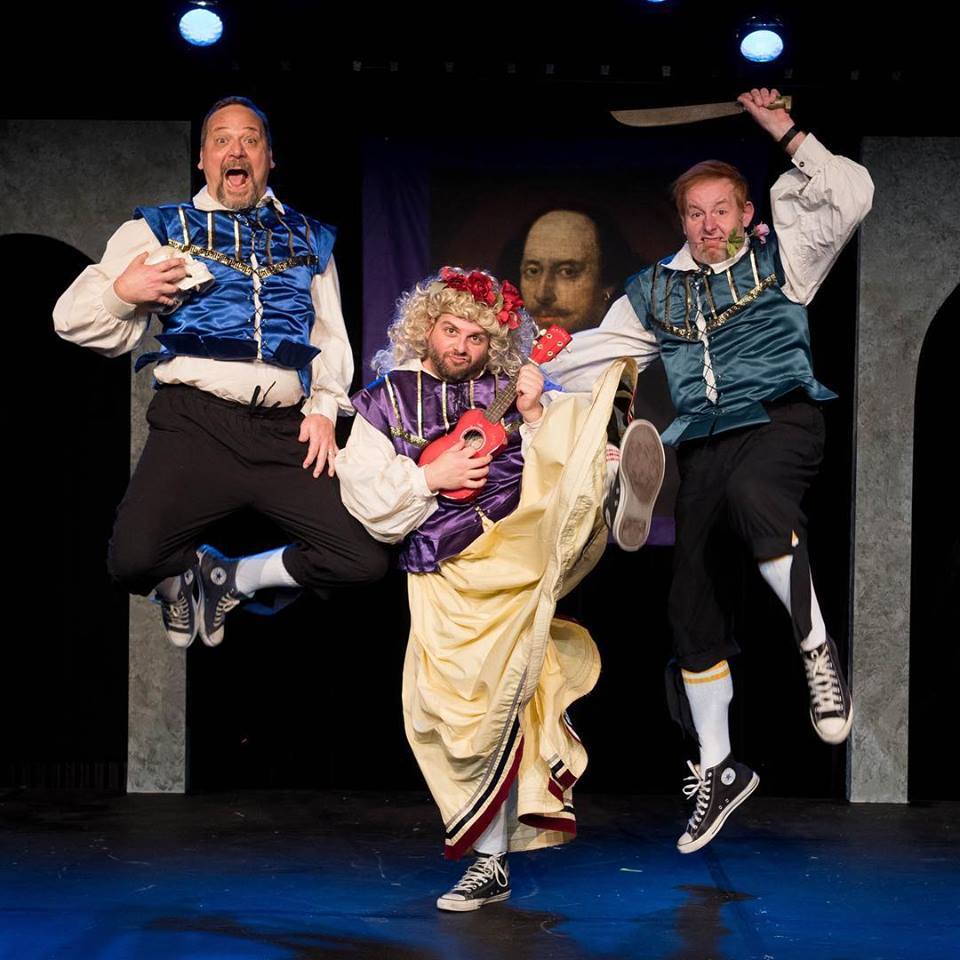 After a 14 year hiatus the bad boys of Shakespeare took to the stage and command the stage they did. For the next 90ish minutes the audience was thrust into a world of side-splitting head over heels laughter. Jobsite's Artistic Director David Jenkins entered the space with a hilarious curtain speech. One of the most memorable moments was when he said, "We are in a small space, so if you're talking and thinking you can't be heard you can... and if anyone came with a child shut the little bastard up and let them fend for themselves." Introducing the facts that over the next hour and a half the audience will be thrust into a world unknown to some, a place of Elizabethan England; Stratford on Avon to be exact, and thus he went forth and introduced all of the players that would be seen that evening.
Shawn Paonessa was introduced as a pre-eminent Shakespearian scholar, having received all training and subsequent certificate of achievement from pre-eminentshakespearescholar.com, that which would be soon found hilarious as the minutes passed on. Spencer Meyers also a featured player in the events entered from the audience and the cast began by saying, "May the Bard be with you."
The cast began by explaining that Shakespeare wrote a total of 39 plays and approximately 154 sonnets. Beginning with Shakespeare's famed tragedy Romeo & Juliet, the bad boys of Shakespeare donned different outfits and briefly re-told all of Shakespeare's famous and not so famous works.
From the start hilarious antics and unbelievable amounts of costume changes made this production a Tour de Force for any well-adjusted actor. Between the three actors costumes and pieces were changed an astonishing 49 times, and I too may have even missed some. The Benvolio fight ...
"bite my tongue..." was set up like a final round battle in a preemptive match of Mortal Kombat complete with finishing moves. Spencer Meyers was hilarious entering the space dressed as Juliet and singing Madonna's anthem to young love, "Like a Virgin." The hilarious take on such an infamous tragedy came to a close with an almost traveling minstrel version of "A Glooming Peace" complete with a ukulele, tambourine, and a mini piano. The bad boys of Shakespeare were clearly pulling out all the stops.
Having been familiar with this show in particular but having never seen this interpretation I knew I was soon in for a treat. Then came the company's rendition of Titus Andronicus or as explained in the show Tight-ass Androgynous and presented as a cooking show. Complete with silly string representing blood, this rendition of one of Shakespeare's most revered works had me nearly on the floor with laughter.
Jobsite has a niche in the Tampa-Bay area for tackling Shakespeare and supplementing their own singular twist on what could be reveled as our greatest playwright and I commend them for always going above and beyond in that instance. Anyone privy to past productions done by the company will remember their most recent take on Othello: the Moor of Venice. Once again Spencer Meyers stole the scene in the first few moments by mistaking Moor for Moar and came out subsequently wrapped in tiny boats tied to a string. They explained African American heritage is the central plot, but it must be African Italian as they are in Venice. The rendition of Othello closed with a rap battle very reminiscent of Hamilton and everyone proclaimed "Wakanda Forever!"
Four Weddings and a Transvestite, is exactly how it sounds. Imagine sixteen comedies, all ran together and pieced in a manner unlike anything else. Comedic Diarrhea at its finest and I was here for every minute. After delving into the world of comedies our troupe came full circle back around to the tragedies. Macbeth often referred to in the theatre world as the "Scottish play" is a namesake all but feared within our hallowed halls. The actors made a great play on this superstition and even shot a beach ball into the audience. Complete with over the top Scottish Accent and a Character unable to roll his "R's" this was a comedic feat with an ever present tragic result. One version of the "Scottish Play" I soon won't forget. I don't know if irony is the word for the next play...but sitting in the audience when the company re-enacted Julius Caesar on the penultimate Ides of March was exceptionally perfect.
Prior to Intermission the audience bear witness to a few "Problem Plays" and when Troilus & Cressida came about suddenly an unforgettable interpretative dance involving a Blow-up doll and R2D2 ensues thus we have the "Problem Plays." Rounding out the first act we have the "Histories" presented as a football game, and we skip the "anus" play. Lights are up on a sidesplitting act one, leaving us all wanting more, and David Jenkins with his pants down, truly a hilarious ending.
What truly impressed me with this production aside from the incredible amount of costume changes was the audience interaction. Now there always seems to be a faux pa with breaking the proverbial "fourth wall" and interacting with the audience, but in this case an exception could be made. Act two begins with David Jenkins being left on stage, his cohorts have left. Nothing left to do except pass the time, David decides to conquer all 154 sonnets, a feat in grandeur for three men, let alone one man. So David in exceptional comedic timing pull out a 3X5 card with all sonnets written and he passes it around the audience.
His cohorts return and we dive back into the final play of our plight. Helmet a play about the King of Denmark mourning the loss of his father and truly contemplating the meaning of life within his own hallucinations was a raucous good time had by all. However, how does one make Hamlet funny; by including dialogue from Bernardo, and saying things like, "Get thee to bed fellatio.."when Bernardo was clearly speaking to Horatio. At this point in the production obviously, "something is rotten in the sea of Denmark," and Hamlet can't remember his speech, "to be or not to be...." Included in this very interesting and hilarious re-telling is Hamlet rubbing his nipples for comfort, and an unbelievable nod to RuPaul's Drag Race¸ a water take and a dip into a "Floridian" analysis of the ID, EGO,SUPEREGO, and SUBCONCIOUS. At this point I was literally crying with laughter and couldn't imagine how they could do anything else. When we reach the encore I see a similarity to a Ken Ludwig curtain call, and in rather explosive fashion a re-cap of Hamlet is streamlined to a few seconds. Then faster, and even done exceptionally well backwards that even the dialogue was backwards.
In everything the night came to a close with the audience on their feet. An exceptional production, with a stellar cast, and one I will remember for many years to come. If you are looking for something out of the ordinary, or to give you a hearty belly laugh, look no farther than the bad boys of Shakespeare. These boys make bad look good, and they truly #RocktheBard. Exceptional mention goes to each individual in the cast, David Jenkins with exceptional comedic timing, and facial expressions, Spencer Meyers for the water take, and making me never be able to look at Juliet or Ophelia the same way ever again, and Sean for the exceptional scholarly take on Shakespeare unlike anything I've heard before. Gentleman and Jobsite family alike, I commend you all on a job well done, and the free cookies. In Shakespeare it's no easy task to tackle the Bard, but this company brings a fresh take every-time, so if it's something different you seek, you shall soon find, with opening night an extreme success "All is well that ends well," and I wish to thank all involved for a truly different take on the Bard, and for making me laugh every second. Don't sleep on this show, "To sleep, per-chance to dream," this show is in sell out mode and the company deserves every standing ovation it receives.
Photo Credit: Jobsite Theatre