Review: Annie Baker's Brilliant Pulitzer Prize Winning THE FLICK at Jobsite Theater is a Movie Lover's Dream Play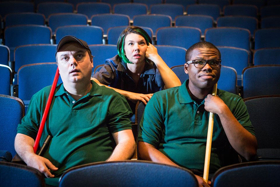 "Harry, I'm going to let you in on a little secret. Every day, once a day, give yourself a present. Don't plan it. Don't wait for it. Just let it happen. It could be a new shirt at the men's store, a catnap in your office chair, or two cups of good, hot black coffee." --Agent Cooper (Kyle MacLachlan) in "Twin Peaks"
"Free candy and soda as often as I want? Who'd give up that job?" --Chip, Monica's high school friend, about working at a movie theater on "Friends"
It was one of my first jobs. Home from college for two summers in the 1980's, I worked as an usher at a movie theater outside of Atlanta. I wore the white button-down shirt, black jacket and bow tie, resembling a pathetic Mark "Rat" Ratner from Fast Times at Ridgemont High. Ushering was the best. We got to see films for free, debate the merits of Stanley Kubrick, and mop floors sticky with soda. We rhapsodized about life, stopped patrons from entering with bags of outside food, and even learned Italian while sneaking peaks from a hidden Berlitz book. If ever I hear Frank Mills' annoying instrumental, "Music Box Dancer," which was played on a muzak loop at our theater, I can't help but to harken back to those good ol' days.
Playwright Annie Baker understands this movie house life. More than that, she understands the world we currently live in. And her Pulitzer Prize winning play, THE FLICK, follows the paths of three employees of a rundown movie house in Massachusetts. Sam is a dowdy thirty-five-year-old who still lives with his parents and sees the much younger employees moving up in the world faster than he. Avery is a whip-smart movieholic film snob who is expert on a variation of Six Degrees of Kevin Bacon. And Rose is the quirky projectionist who stirs things up. In Baker's expert hands, these three go through quite a maze, a three hour tour of emotional desolation and the search for purpose in the modern world.
For the record, I get tired of hearing if a show is too long or not, especially from fellow critics. And if the show works, as this one mightily does, then who cares if it's three hours or three days? It delivers, and every moment we watch matters, even when two characters sit side by side unable to say a word. And it's a fast three hour ride; I have seen 10 minute plays that seemed longer. The genius of Baker is that we understand these characters better than many people in our own lives (we may know some of them, or in the case of THE FLICK, we may be some of them). We understand them through what is not said (Baker's signature long pauses), by mere looks and fragments of sentences. It's a show for movie lovers and theater aficionados. And it's a play I not only enjoyed to the hilt but needed to see. It's one my favorite theater going experiences since...well, since the last Baker play that I saw (The Aliens at Stageworks).
Brian Shea as Sam is at the center of this universe, and this may be the ultimate Brian Shea performance. It's a very affected, theatrical performance, perhaps a bit much for Baker's writing style, and you always get the feeling that he's acting instead of just being. But the character is also accused of "acting" and not being real, so this works here. And Shea hits just the right emotional notes. I thought he groaned way too much, almost as if he suffered from constipation, in the last performance of his (Jobsite's A Skull in Connemara), but he's a sensation here. Imagine Philip Seymour Hoffman, Paul Giamatti and Michael Cera all rolled into one doughy persona, and you have Shea's Sam. He's a marvel. And you haven't lived until you've seen his attempt to wiggle his booty in an imitation of Britney Spears.
Thomas Morgan is very natural as Avery, very real, but oftentimes we lose some of his words due to enunciation or projection issues. We unfortunately can't hear some of the rich Baker dialogue. But he nails his lengthy monologue where Honeymoon in Vegas acts as a warped and surprising sign of salvation, a monologue that earned sustained applause from the audience.
But the show belongs to Georgia Mallory Guy's Rose. This is a performance that I didn't want to see end. She's like Sarah Silverman and Laurie Metcalf merged with a green-streaked space alien; I've never seen anything quite like it. I couldn't wait for her to enter the stage, and I was always wondering, what will she do next? Her electric Act 1 Dance Party routine was nothing short of sublime; I could have watched it--and her--all night. It's a comic tour de force, tied with Ned Averill-Snell in Jobsite's Gloucester Blue as the best performance I've seen all year.
Summer Bohnenkamp's deft direction (her actors should make her quite proud) works wonders. Brian Smallheer's set is a triumph. It actually looks like a sad-sack movie house, complete with carpeted steps and fake rosy walls as if someone threw-up Hawaiian Punch all over them. Popcorn litters the stage; all that's missing is the sound of the employees' shoes as they walk across the grossly sticky floors. Ryan Finzelber's lighting design is also quite winning. And Katrina Stevenson's costumes, painfully average collared work shirts (they change colors when the movie house gets new leadership), hit just the right note.
David M. Jenkins, in charge of the sound, picks an amazing variety of movie songs for the pre-show and between scenes. You'll hear "To Sir With Love," "As Time Goes By," "Back in Time," "Mrs. Robsinson," and "Moon River," to mention just some of them.
The show was so real, and the audience so transfixed, that at one time an audience member shouted "YES!" to a question one of the characters asked. It reminded me of a movie moment--Rodney Dangerfield shouting "YES!" while lost in a James Joyce reverie in Back to School.
As a movie lover, I adored every filmic reference, every title, every trivia question. With mentions of hundreds of movies, like The Wild Bunch, Mulholland Drive, Boogie Nights, Goodfellas, the Criterion Collection, it's a movie lover's wet dream. An iconic monologue from Pulp Fiction is even reenacted. I found myself playing along with Sam and Avery's movie game, and in connecting the last set of names--"Makaulay Culkin and Michael Caine"--I actually bettered Avery by coming up with a mere two degrees away: Culkin was in Home Alone with Daniel Stern, and Michael Caine and Daniel Stern were both in Hannah and Her Sisters.
This is the most fun a movie geek like me has had at the theater in a long, long while.
The timing of this play matters. Last year, the week after the Pulse night club shooting, I saw "5 Lesbians Eating a Quiche." I needed to see that particular show, to experience its joys and its message in the shadow of such hate; the community needed it also. It stressed to me the importance of local theater, that we need it in rough times more than ever. I feel the same way after watching THE FLICK at Jobsite Theater in the wake of Hurricane Irma. We need this show, as a community, as individuals in need of some relief, and mainly as survivors. We got through an extraordinary tough time, and we got through it together. So it's time to celebrate, and we need to do it like Agent Cooper in "Twin Peaks"--with a gift for ourselves. It can be something simple--a vanilla shake, a little time alone, or an extra slice of pie. Or maybe, best of all, it could be a Pulitzer Prize winning play. And there's no better gift to give yourself right now than treating yourself to see THE FLICK--a funny, moving, hands-down terrific show at a time when we need it the most.
THE FLICK plays at the Shimberg until September 24th.