Latest News on Ned Averill-Snell
Ned Averill-Snell News
Review: Lucas Hnath's A DOLL'S HOUSE PART 2 at Tampa Repertory Theatre
by Drew Eberhard - Nov 5, 2022
Playwright Lucas Hnath was born and raised in Orlando, Florida. Later his move to New York led him to study Pre-Med, but soon he changed his major to Dramatic Writing, where he studied at Tisch School for the Arts earning a BFA, and subsequently following an MFA. Hnath is the playwright of 10 Dramatic works. His Broadway Debut and most notably his best work A Doll's House Part 2, debuted on Broadway in April of 2017 and closed in September later that year. Commissioned by South Coast Repertory in Costa Mesa, California, Hnath's contemporary spin/sequel to the Ibsen classic starred Laurie Metcalf, Chris Cooper, Jayne Houdyshell, and Condola Rashad. Metcalf later went on to win a Tony Award for Best Performance by an Actress in a Leading Role in a Play for her portrayal of Nora Helmer. Subsequently, Hnath's work was also a nominee for Best Play at the time.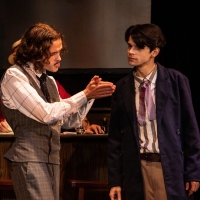 Review: STEVE MARTIN'S ABSURDIST PICASSO AT THE LAPIN AGILE TAKES CENTER STAGE at JOBSITE THEATER
by Drew Eberhard - Sep 19, 2022
Anyone who has any grasp on popular culture knows of, or has heard of Comedic Actor Steve Martin. With such notable roles in films such as Father of the Bride, The Jerk, Cheaper by the Dozen, and It's Complicated, Steve Martin has graced both small and large format screens with some of the finest actors/actresses of our time. Outside of Film, Steve Martin plays bluegrass music, and as a writer has written several plays, and co- wrote Bright Star with Edie Bricknell.
Review: Jobsite Theater Presents Steve Martin's Absurdist Comedy PICASSO AT THE LAPIN AGILE at the Shimberg
by Peter Nason - Sep 17, 2022
Albert Einstein meets Pablo Picasso (as well as some surprise guests) in this hilarious but sometimes forced comedy.
Review: MATT HARMON'S EXHILARATING AND POIGNANT "EXHIBITS IN THE ZOO" at ThinkTankTYA
by Drew Eberhard - Aug 14, 2022
Matt Harmon's Exhibits in the Zoo displays what life was like for people prior to the Holocaust living out their days in the confines of the Warsaw Ghetto. To much knowledge and further proven by history, the ideas of the Holocaust, or what our immediate resonance with the tragedy conveys is the Concentration Camp angle. With plays like Martin Sherman's Bent, and Diary of Anne Frank, and novels such as Night and Number of the Stars, we have learned at length the tragedies that struck the communities of Jews at the hands of Hitler's Regime.
Jobsite Theatre Announces Cast of PICASSO AT THE LAPIN AGILE
by A.A. Cristi - Aug 9, 2022
Jobsite Theater, resident theater company at the Straz Center, is thrilled will kick off its 24th season with this hilarious comedy from the original "wild and crazy guy," Steve Martin.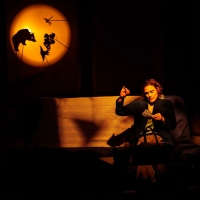 Review: RAJIV JOSEPH'S ANIMALS OUT OF PAPER PROVES TO BE A MASTERCLASS FOLLOWING A 4 YEAR HIATUS at JOBSITE THEATER
by Drew Eberhard - Jul 16, 2022
In its complexities of storytelling, we find a narrative grounded in teacher-student relationships that surround the 100-minute One-Act currently onstage at the Shimberg Playhouse at Tampa's Straz Center. Written by Rajiv Joseph in 2008 this one-act quirky romantic comedy packs a punch just boiling below the surface. Analyzing the relationship between student/teacher/mentor we meet three unlikely individuals whose lives are impacted by lessons grounded not just in origami, but also in the way that as humans we feel pain and how we adapt/deal with such. Rajiv Joseph won the Pulitzer Prize for Drama in 2010 with his work Bengal Tiger at the Baghdad Zoo, which enjoyed a stint on Broadway featuring the late great Robin Williams. Rajiv Joseph also went on to win an Obie Award for his work Describe the Night in 2018. No stranger to telling the inner workings of human relationships, Rajiv Joseph has garnered critical acclaim for his many works, and yet still is considered slightly unknown in certain arenas.
BWW Review: 25TH ANNUAL PUTNAM COUNTY SPELLING BEE SHINES at STAGEWORKS THEATRE
by Drew Eberhard - Jun 4, 2022
Every so often in our lives along comes a musical full of heart. The 25th Annual Putnam County Spelling Bee, is a musical comedy with Music & Lyrics by William Finn, with a book by Rachel Sheinkin. The Broadway Production opened in 2005 and was directed by James Lapine. Since its opening, many productions both locally and regionally have been produced throughout the United States. Spelling Bee was nominated for 6 Tony Awards, winning two including Best Book. This fast-paced musical comedy features 6 adult performers playing children in a local annual spelling bee competing for the top prize, and a savings bond for furthering their education. At the judge's table and moderator for the events of the bee are past spelling Champion Rona Lisa Peretti, who is also a local Real-Estate Agent, and Vice Principal Douglas Panch. The unique aspect of the show is that four audience members are invited on stage with the performers in the show to compete in the bee. The Announcer and Moderator switch off by ad-libbing mixed sentences and various definitions for the words often to hilarious ends. One by one the performers playing middle school-aged children take their turn at the mic and perform their unique form of spelling by talking into their hand, writing the word on the floor with their foot, or drawing the word on their arm all competing to make sure each word is spelled correctly.
BWW Review: "THE RESISTIBLE RISE OF ARTURO UI" Stakes Claim to His Name at Jobsite Theater
by Drew Eberhard - May 22, 2022
The show opens with a Ghost Light center stage. As most shows of a Brechtian nature go, characters of nondescript fashion layout the evening events in the manner of Prologue. The Resistible Rise of Arturo Ui, or as it is subtitled "The Parable Play," tells the story of the rise of Arturo Ui a fictional Chicago Mobster as he ruthlessly tries to control the Chicago vegetable market despite opposition. A political satire based on Adolf Hitler's rise to power in Nazi Germany prior to the events of World War II.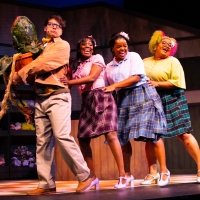 BWW Review: Breathing Fresh Air Into a Cult Classic with LITTLE SHOP OF HORRORS at Straz Center
by Drew Eberhard - Apr 9, 2022
Little Shop of Horrors is a horror comedy rock musical with somewhat of a cult following much like Hedwig & the Angry Inch, and Rocky Horror Show. Read our critic's review.
Straz Center to No Longer Require Audience to Wear Masks
by Marissa Tomeo - Mar 4, 2022
Because of the downward trend in COVID cases and hospitalizations in our area, as of Mon., March 7, the Straz Center will no longer require audiences to wear masks. This applies to A Clockwork Orange beginning Thu., March 10. Those who wish to or need to be masked to protect their unique health condition(s) are welcomed to do so.