BWW Review: GYPSY at Quincy Music Theatre
It's Stage Mom Time at Quincy Musical Theatre With Gypsy
At Quincy Music Theatre's production of "Gypsy," Vaudeville music streams over the speakers as the audience is seated. The stage is bracketed by red and white decorations, and a red light centers itself on the stage as the performers prepare to enter.
Baby June (Mallory Greisl) and Baby Louise (Alice Kinch) ask "May We Entertain You?" at the start of Uncle Jocko's Kiddie Show, accompanied by their fellow young performers. There is so much more behind their question than a simple query about a performance. May we please our stage mother? May we put on makeup and costumes night after night, in town after town, in an effort to survive?
Baby June is the focus of the group, with her blonde ringlets, blue dress and white pinafore, not to mention her high-pitched squeals. "What's YOUR name?" she asks the audience after introducing herself as June. It's not long before Mama Rose (Shiloh Elliott) makes her presence known, micromanaging everything about the small band of kid actors.
Rose doesn't plan to stop at anything to propel June to success. As her father's (Byron Spires) financial support comes close to running dry, her scheming ramps up to another level. The red tablecloth in the simple dining room where they discuss their financial philosophy differences provides a pop of color in the threadbare room, with her father's solid gold retirement plaque being the other shiny, valuable item in the room. He treasures it for the memories; she sees the trade-in value.
As Rose, June, Louise and the troupe travel around the country looking for work, the changing times and decline of vaudeville begin eroding their work options as the children are growing into not-so-adorable preadolescents.
This production uses an interesting strobe effect to accompany and represent the young actors' transition into older actors. All of a sudden, Dainty June (Colleen Towey) is a little less winsome, an older young woman forced by Rose's machinations into the childlike persona.
Herbie (Ken Lambert) joins the roving band, drawn by his goal of marrying Rose. The juxtaposition of his love of children and Rose's single-minded ambition stands out as he remains ever-hopeful and she grows increasingly frantic.
Performers who have only ever known one life have a hard time seeing the changes ahead, especially when they are only children themselves. "I wonder how old I am," sings Louise (Meredith Pearce) in the plaintive "Little Lamb."
Later, June and Louise (Meredith Pearce) have a memorable moment of honesty when they can manage to get themselves out of Rose's earshot. Louise, who has taken a distant second place in Rose's affections to June, hears June's honest opinion about their work.
Tulsa (Blake Stallings) and Louise share a moving interaction when he is performing "All I Need is the Girl." Louise is so subtle about her motions that indicate she is yearning to be his dance partner. It's a quiet, gentle scene amid a show that can be loud and raucous.
The changing times come to a head when the only way Louise and Rose can earn money in June's absence is at a burlesque show. The transformation Pearce portrays as Louise moves from a meek tomboy in shapeless clothes to a diva of adult entertainment is both gradual and profoundly moving. Is this the same kid who was relegated to the back of a papier-mache cow prior?
The three strippers -- Tessie Tura (Kelly Greisl), Mazeppa (Colleen McClure) and Electra (Lenoir Brewer) are a wanton, funny, over-the-top delight. They create a drastic counterpoint to Louise's evolution.
The lighting effects toward the end of the show when Louise took her star turn were masterfully done, putting the audience "backstage" and seeing Louise silhouetted as she stared down the spotlight.
Even though Rose comes across as the overbearing stage mother she is, Elliott's portrayal, while it gives Rose the tenacious, silverware-stealing desperation that makes Rose so memorable, never loses the hint that Rose really at the heart of it all wants to be acknowledged for being special and wants to be loved.
This show was a delight. It simultaneously walked audience members through the decline in vaudeville and profiled the individual evolutions of June, Louise and Rose. The arc from the tiny June at the beginning of the show and Rose's dilution of her innocence to the powerful Louise at the end and Rose's frustration at having nothing to do to help said a great deal about the acting life. The message was timeless and well-delivered.
"Gypsy" is directed by Keith Meccia. The music director is Bradley Gay, the choreographer is Jacob Arnett and lighting was designed by Jacob Inman.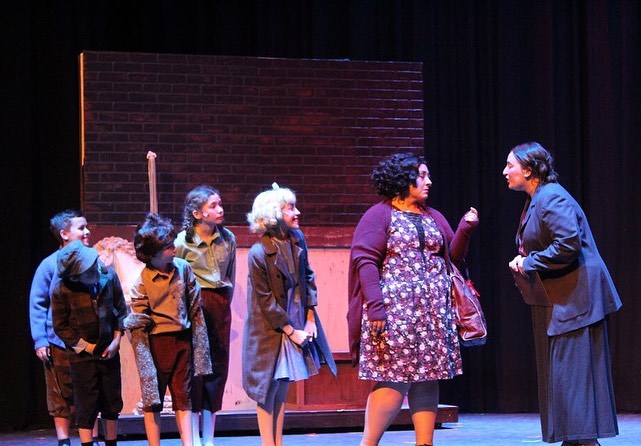 The show has performances through August 25. Visit qmt.org for ticket information.
Photo credits: Quincy Music Theatre
Related Articles View More Tallahassee

Stories

Shows