Throwing Shade Theatre Co Presents Classic Absurdist Play THE CARETAKER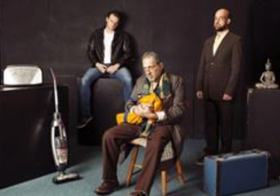 An old bum receives shelter in a cluttered room of an abandoned house. Aston lives in personal and emotional isolation, tinkering with gadgets and dreaming of building a shed out in the yard. And Mick, who carries on like a man of affairs, inhabits a dream world that resembles an extrovert's nightmares.
It is winter. Into his derelict household shrine Aston brings Davies, a tramp - but a tramp with pretensions, even if to the world he may be a pathetic old creature. All that is left of his past now is the existence in Sidcup of some papers, papers that will prove exactly who he is and enable him to start again. Aston, too, has his dreams: he has always been good with his hands and there is so much to do in the house. Aston's hopes are tied to his flash brother Mick's; he has aspirations to live in a luxurious apartment. Human nature is a great spoiler of plans, however...
Throwing Shade Theatre Company (Metamorphosis, Vincent River) brings a classic of absurdist theatre to the Sydney stage from Wednesday 22nd November 2017. Directed by Courtney Powell, The Caretaker stars Alex Bryant-Smith (The Cherry Orchard, As You Like It), Andrew Langcake (Love Song, Marat / Sade) and Nicholas Papademetriou (Who's Afraid of Virginia Woolf, An Unseasonable Fall of Snow).
The Caretaker is, of course, a classic, but the wonderful thing about the script is its timelessness: the themes of isolation, longing and loneliness are ideas that transcend any specific context, ideas that every one of us have lived and experienced. Watching three damaged, desperate characters interact, hurtling toward mutual implosion, is both sad and satisfying all at once, and with Pinter's beautiful language underpinning the proceedings, it's a wonderful play that we're thrilled to be staging, and it's an especially significant honour given that next year is the ten year anniversary of Pinter's passing. Courtney Powell, Director.
THE CARETAKER by Harold Pinter
Cast: Alex Bryant-Smith, Andrew Langcake and Nicholas Papademetriou
Directed by Courtney Powell
Produced by Andrew Langcake and Alexandra Voyage
Wed 22nd Nov to Sat 2nd Dec 2017, nightly at 7:30pm,
2:00pm Sat 25th November and 5:00pm Sun 26th November
The Playhouse, The Actor's Pulse Studio, 103 Regent St, Redfern NSW
Tickets Preview / Tues: $25.00 Full: $35.00 Conc: $30.00 | Book www.throwingshade.com.au/caretaker
Throwing Shade Theatre Company has made a name for itself producing critically acclaimed shows that are dynamic, compelling and entertaining. Our vision is to engage and collaborate with a culturally diverse collective of local artists to provide exciting, challenging and unique theatre experiences for regular and casual theatre-goers alike.
www.throwingshade.com.au | www.facebook.com/ThrowingShadeTheatreCompany

Related Articles View More Australia - Sydney

Stories

Shows
More Hot Stories For You